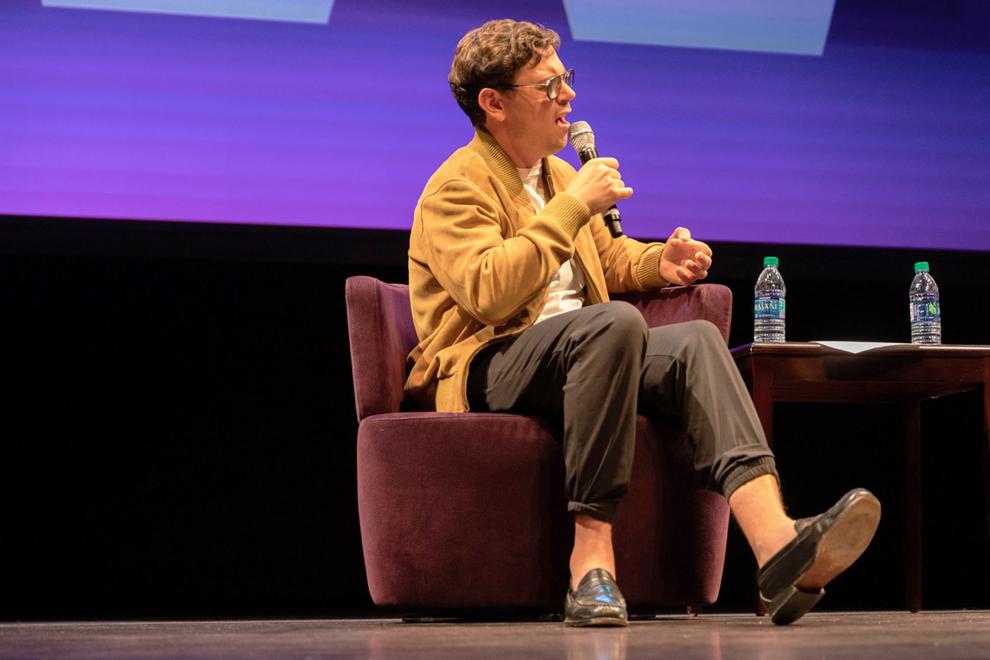 Among the nearly 300 events to welcome first-year students, ASUW Arts + Entertainment hosted a talk with writer, actor, LGBTQIA+ activist, and disability advocate Ryan O'Connell in Meany Hall on Sept. 21. 
Before O'Connell sat down to talk, ASUW Vice President Kevin Mendez came to greet the audience and share some appreciative words on O'Connell's Emmy-nominated Netflix show "Special."
A semi-autobiographical story that displays O'Connell's unique experience of navigating life as a gay man with cerebral palsy, "Special" is a heartfelt comedy that explores the complexities of embracing your individual identity. For Mendez, the show's representation "highlights the intersectionality that ASUW and [the] UW strive for." 
After a brief introduction, O'Connell walked on with a smile and sat down with Mendez, saying he was "addicted" that everyone came. His enthusiasm lit up the stage. 
The two talked about how the show "Special" came to be. 
"I went out with my gay mafia and pitched it to all these networks," O'Connell said. "It was four years of like no, no, and f--- no. And then we went to Netflix and they just bought it. It was so weird." 
O'Connell elaborated on this experience of rejection, noting that because the show follows someone who is both gay and disabled, networks had a hard time wrapping their heads around what the show would look like. 
"I was told 'no' for so long," he said. "There were so many times where I was like 'f--- this, I wanna quit.'" 
But his perseverance paid off. "Everyone has a profound imagination," he said. "You just have to really believe that you have something to say that's worthwhile, even when everyone around you is saying you don't." 
O'Connell also talked about self-acceptance and the self-harm that inevitably results from denying who you are. Just like in his show, O'Connell was hit by a car when he was 20-years-old. When he moved to New York to go to school, he used the accident to mask his cerebral palsy, hiding his disability from those around him. 
"Being gay, in a weird way, is more accepted and understood than being disabled," O'Connell said. "I think disability is not discussed. There are so many conversations about being gay. These chairs are gay. I don't think people know how to talk about [disability]." 
Even though the first few years of hiding his cerebral palsy seemed glamorous and great, O'Connell realized that not embracing his disability was ultimately hurting his overall wellbeing.
"Spoiler alert, when you lie about who you are, it's not good," he said. "It always comes back, honey."
It wasn't until he talked openly about his disability in a blog post shortly before the release of his memoir, "I'm Special: And Other Lies We Tell Ourselves," that he felt truly himself.  
"For the first time in 28 years of my life, I was being who I was, and I wasn't lying about something," he said. "It was always either being gay or being disabled, and I was finally just me." 
O'Connell also highlighted the importance of representation in television. A major reason he chose to play himself in "Special" was to ensure that his specific disability was accurately portrayed. Furthermore, he made sure that every gay character in the show was played by a gay actor. 
"It's really important that when our stories get told, they get told by us," O'Connell said frankly, pointing out that in many Hollywood movies, queer characters are played by straight actors or the movie is created by straight directors and writers, including, as O'Connel mentioned, "Call Me by Your Name."
Throughout the conversation, O'Connell continuously brought laughter to the room with his humor and personality. His thoughts on Kamala Harris and his reality television addiction as a "reality TV garbage b----" generated rounds of laughter throughout the hall. 
O'Connell's authenticity and genuine message resonated with the audience. During a Q&A session after the talk, O'Connell received several heartfelt thanks from students, one grateful for his validating message, another thanking him for creating a space for open discussions.  
"I really liked the diverse range of topics he covered," a first-year student said after the show. "I think that the work he's done both as a comedian and an activist is so cool." 
O'Connell even stayed afterward to meet students and take pictures, answering questions and giving advice to students who asked. 
Reach writer Andrew Ronstadt at arts@dailyuw.com. Twitter: @AndrewRonstadt 
Like what you're reading? Support high-quality student journalism by donating here.