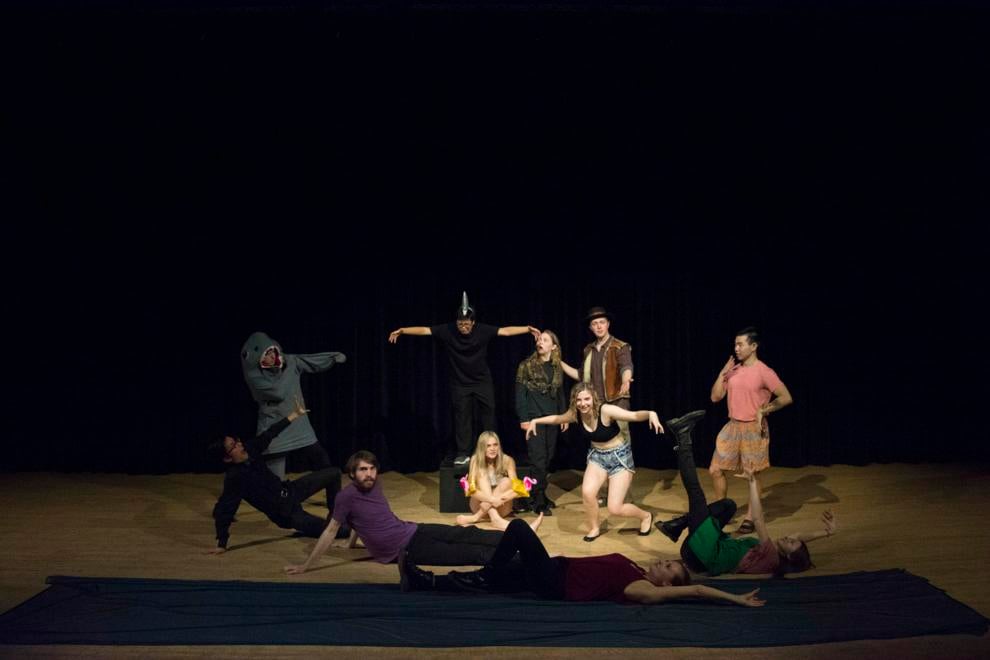 Disclaimer: two actors in this play, Elijah Pasco and Aaron Kerschner, work for The Daily.
The energy was palpable last Friday night as the tiny room in Hutchinson Hall continued to fill up as time ticked closer to 10 p.m. As the body heat amped up with each person crowding in, so did the anticipation. The connection in the community was obvious as everyone greeted each other with loving hugs and shouts across the room. 
The crowd never stopped growing, and more chairs needed to be fit in around the sides of the room as well as the end of rows. Past 10 p.m., the overflowing audience had to be seated on the ground. The conversation grew louder and louder concerning what was to be expected of undergraduate director Darby Sherwood's rendition of "Everyone Gets Eaten by Sharks: A Cautionary Tale."
Originally written by Marshall Pailet as a children's play, it was performed "by adults, for adults" by Sherwood, and executed on stage by the Ensemble of Asbestos Productions. The play ran close to 40 minutes, including the introduction and round of applause that ended the night with a standing ovation. This low-budget play in a no-budget theater was another perfect component, adding to the college theater ambiance made up of passionate undergraduate students coming together to support a budding director.
The set was the room itself, with props found either around the theater department or in a household, including makeshift chairs, bathing suits, and inflatable floaties. Other props include pieces of meat attached to oars, seen during a particularly well-received scene that presented a couple rowing a boat in a shark-infested river, the boyfriend showing off his valor and worth to his girlfriend, who was actually a shark in disguise.
The "cautionary tale" was properly named, as the play literally consisted of everyone getting eaten by sharks. The entire play was a witty back-and-forth between the two main characters, Adventure Dan (Will Schlott) and Sweet Bonnie (Laura Schmitt).
Adventure Dan gave Sweet Bonnie and the audience eight essential pieces of advice on how to not get eaten by a shark. As Adventure Dan gave advice on what to avoid, the next scene that followed was another set of actors doing what he warned against, and dying from it.
Adventure Dan's second piece of advice was to not create a genetically-modified super shark. The next scene consisted of a team of scientists creating genetically-modified super sharks, and the sharks eventually eating the scientists. This character and his advice, juxtaposed with the absurdity of characters actually dying from these specific events, was a simple, comedic hit.
There is no doubt that a lot of practice and effort went into this production, yet there was no escape from falters in the actors' delivery and early cues, when actors would react to a line that had not been said yet. However, this added to the charming, college-like feel of the play, and was not a significant dilemma. As a comedy, there was no need to perfectly execute a line as in a dramatic play, so a couple of slip-ups here and there did not take away from the tone. 
Something I found quite impressive was the quality of sound and sound effects. In many inexperienced or low-production theaters, shaky audio is something that is to be expected, but that was not the case for this crew. Each sound effect hit spot on with the actors' movements and enhanced the viewing experience, especially because in a comedic play like this, sound effects are a huge factor in getting a laugh. 
Overall, the community-focused environment that was displayed for "Everyone Gets Eaten by Sharks" was the main success of the night. The support and energy the crowd gave to the cast and crew only made their performance better. As a 40-minute comedy play with little production cost, Sherwood and the Asbestos crew created a night that the theater community could enjoy and celebrate together.
Reach contributing writer Jasmine Choi at arts@dailyuw.com. Twitter: @jjasminechoi
Like what you're reading? Support high-quality student journalism by donating here.