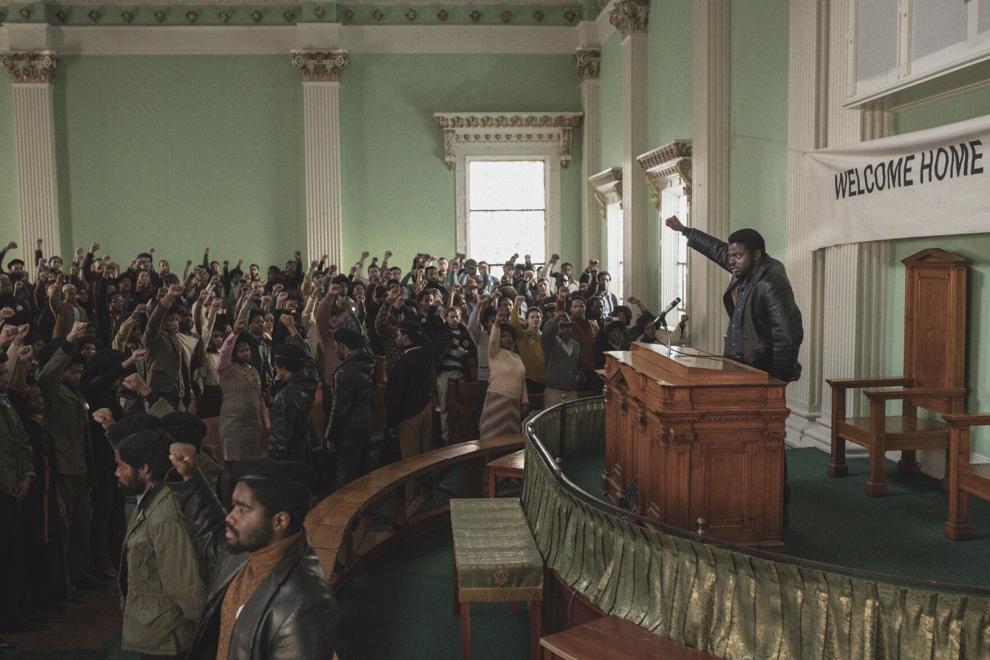 The revolutionary messages in director Shaka King's "Judas and the Black Messiah" resonate to this day. Prior to the film's Feb. 12 release, the film's talent participated in a virtual summit and college roundtable. The movie stars Daniel Kaluuya as Fred Hampton, chairman of the Illinois Black Panther Party (BPP), LaKeith Stanfield as William O'Neal, and Dominique Fishback as Deborah Johnson.
"Our goal was to really make a movie that captured 1968; but so little has changed between 1968 and 2021 that we don't really have to draw parallels to the present," King said in notes from the film's production.
Before watching the film, viewers should brush up on their history. Fred Hampton, who became chairman of the Illinois chapter of the BPP in 1968, was put on the FBI's "Agitator" index and treated as a "threat to national security." The FBI placed William O'Neal as an informant inside the Illinois BPP — an alternative to jail time, as O'Neal had previously impersonated an FBI agent and drove a stolen car across state lines. 
In 1969, the FBI assassinated 21-year-old Hampton based on information provided by O'Neal, firing 99 shots into his home. In 1990, at the age of 40, O'Neal committed suicide. 
"I truly believe there's a reason why we don't learn about Fred Hampton's assassination in school," King said. "That would mean we as a country would have to start acknowledging what the government did to Hampton, along with its quelling of other voices of Civil Rights and revolution … then we would have to acknowledge the government's part in instigating genocide and suffering, from the Native Americans to slavery."
Though O'Neal could be considered the villain of the story, arguably the real culprit is the American government.
"We all like to think that we would make the decision to be a part of the Black Panthers, but realistically, most people would probably do what William O'Neal did," Stanfield said, remarking that he is particularly intrigued by villains. "You learn a lot from things that you don't want to be."
It's also necessary to recognize the role of the American public education system in obscuring parts of our country's history, including the impactful work of the Black Panther Party. In an "Eater" article, former BPP member Norma Amour Mtume says the BPP influenced the government expansion of the free breakfast program for schoolchildren, which today provides meals for children from low-income households.
Mobilization on behalf of Black Americans was central to the BPP. The BPP's Ten-Point Program highlights a comprehensive plan for self-determination and Black liberation that continues to inform social service policy.
"I mean, in 1975, states all across the country had to step up and feed children, and it was really based on that model … it was free mental health clinics … free legal services," activist Marshall Hatch said in the virtual summit.
Chairman Fred Hampton's fiancé, Mama Akua, and his son, Fred Hampton, Jr., played an essential role in the creation of the film. They acted as technical consultants and observers on set and developed close relationships with many of the cast members. Kaluuya and Fishback even met up with them in the Hampton House, Fred Hampton's childhood home in Chicago.
"Quite honestly, I don't think many people know this history," King said. "Even reading what was put forth about the Panthers, more than 70% of it was authored by reporters or writers paid by the FBI to present a certain portrayal of them."
Fred Hampton, Jr., helped correct misrepresentations and factual inaccuracies from the historical sources used in the screenwriting process.
An important message of the film that Mama Akua and Fred Hampton, Jr., embody is the radical nature of Black love and Black motherhood.
"How revolutionary is it to create love and to create life and give it, surrender it to the world?" Fishback said in the roundtable.
"When I saw [Kaluuya and Fishback] in that movie I hadn't realized how much I missed the love and camaraderie," Mama Akua said at the summit. "They had real chemistry."
During the summit, Fishback said she now understands unconditional love in a way she previously hadn't. Fishback spoke of the sacrificial act of Mama Akua shielding Fred Hampton's body during his murder. She said it was an honor to portray such an earth-shattering and "transcendent" love. 
"I know this is not a romance, but I'm a romantic, and that's the lens that I'm going to be coming to this film with," Fishback said at the roundtable, in reference to a previous conversation with King.
Fishback, who is also a spoken-word poet, suggested to King that she include this art form in the film, seeing as Mama Akua used to write poetry as well. Throughout the film, we see Johnson carry around a brown leather notebook. Fishback said that this was a way for her character to have a purpose beyond being committed to a man and to have something that belonged to just her. Fishback later explained in the summit that she wrote poems for every moment in the journey of Johnson and Hampton's relationship to develop their love story.
Fishback wanted to rewrite the narrative in this genre, showing that Hampton loved her character for her mind and being, and emphasizing that she didn't have to do anything to be worthy of his affection.
"Black women are overlooked and aren't shown as worthy of love, until we ride out with a man through jail or pregnancy — only then are we committed to," Fishback said at the roundtable.  
Mama Akua wants people to know that the Black Panther Party cubs  are fighting to save the legacy of the BPP. Fred Hampton's childhood home is accepting donations for its preservation via GoFundMe. Many BPP members are still in jail today, and Sarsour encouraged people to fight for the freedom of political prisoners.
"Everyone cannot be a revolutionary — and in fact this is an overextended word — but we can all contribute at our own comfort level," Mama Akua said in the summit, summarizing the main points of the speakers.
Reach writer Tiasha Datta at arts@dailyuw.com. Twitter: @TiashaDatta2
Like what you're reading? Support high-quality student journalism by donating here.