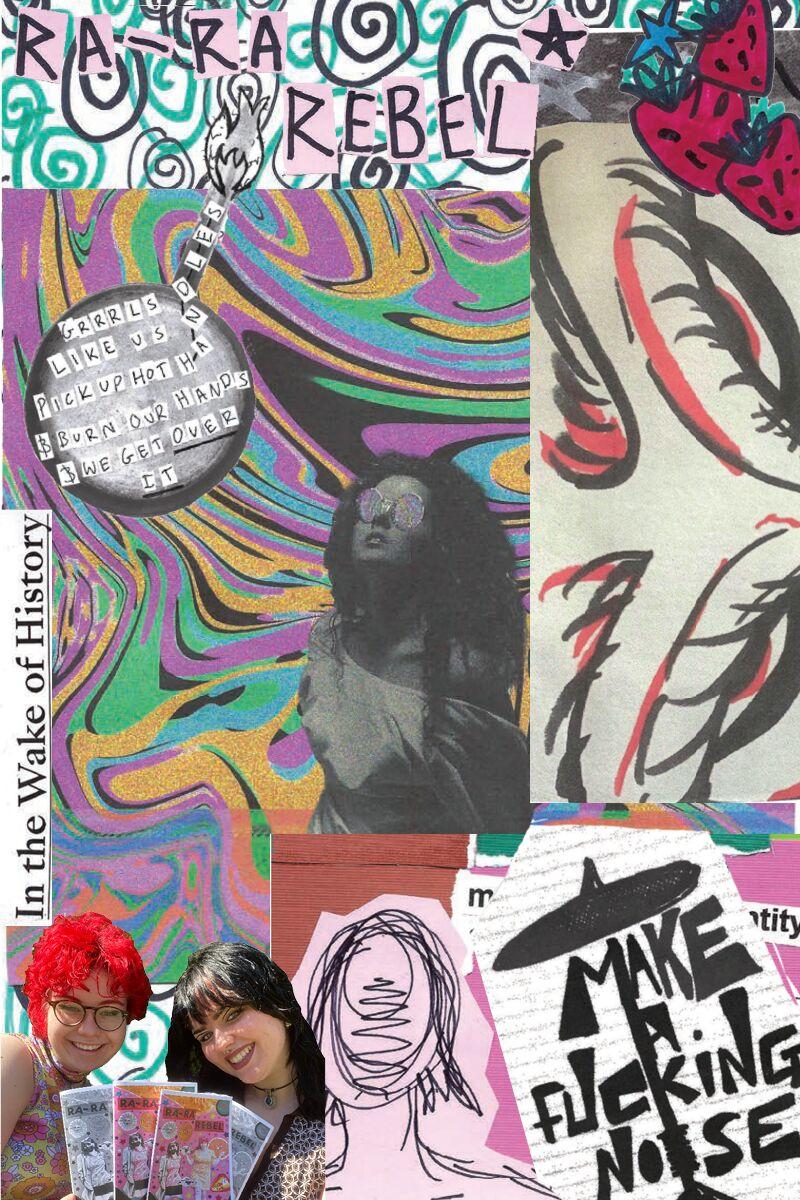 For those who are unfamiliar, Riot Grrrl is a feminist, punk rock genre and movement that began in the early 1990s in the Pacific Northwest. It was spearheaded by a number of bands — including, but not limited to, Bikini Kill and Sleater-Kinney — as frustrations with the blatant misogyny and rampant sexual harassment in the punk music scene reached a boiling point. The movement emphasized women expressing their thoughts and emotions creatively and independently, largely through locally circulated DIY zines.
Self-identified riot grrrls Sofia Krutikova and Kennady Quille met while working at KEXP as a part of their 90.TEEN program. Krutikova, a UW student, began working at West Seattle's Easy Street Records at 16. They have volunteered at the Vera Project in the Seattle Center as an audio engineer and served on MoPOP's youth advisory board; currently, they are working at Sub Pop Records. 
Quille is still working at KEXP, where she was hired as what she calls a "big girl DJ" in December of last year. However, her involvement in the Seattle music scene started when she was eight years old, with a local organization called Rain City Rock Camp, where she continues to volunteer today. 
The two co-founded Riot Grrrl Records and, in true riot grrrl fashion, a zine called "Ra Ra Rebel" after watching Hulu's 2020 remake of "High Fidelity." More broadly, the projects are influenced by the founders' involvement in the Seattle music scene — which remains male-dominated.
Quille describes the formation of Riot Grrrl Records as having happened "all at once" — an accumulation of the frustrations and creative inspiration similar to that of the original riot grrrls. 
"[We decided,] let's make a scene," Quille said. "We just had to deal with a lot of sexist stuff and we were fed up with it. We were just, like, this can't be just how it is in the Seattle music industry and the Seattle music scene."
According to Quille, the original vision for Riot Grrrl Records was a Seattle record store that was women-owned and -operated.
"There's probably like 20 [record stores in Seattle] and there's maybe four that have women working at them, that we've seen," Quille explained. "So, there's not really that representation, and I feel like it's something that's really necessary in Seattle."
In issues of "Ra Ra Rebel," readers can find everything from music reviews and interviews with local artists to feminist writings centered around subjects such as queerness. 
"I love that perfection is not even a worry when it comes to making zines," Quille said. "So, it's just whatever we want to put into it, whoever submits [materials] to us, and we can just print it all. It doesn't matter if it doesn't look perfect or if things are misspelled or if something is cut off, because that's just the whole beauty of having a zine."
Even in a pandemic that has wreaked havoc on the local music scene, Krutikova and Quille were able to source artists to profile in "Ra Ra Rebel" with relative ease.
"I feel like it hasn't been that challenging because we have the 'bestie mentality,' which is, like, everyone's a bestie," Quille said. "It just makes it really easy and comfortable to communicate with people. It's just like, 'Hey bestie, we love you. Come talk to us.' And I feel like social media especially has been a very amazing and powerful tool for reaching out to people."
The original Riot Grrrl movement was not without its faults. Even though it addressed pervasive societal issues, the movement's activism centered around the experiences of white, cisgender, middle-class women. In short, its 'bestie mentality' lacked the intersectionality of the modern-day feminist movement. 
"I just think that this time around, we want to be intersectional and we want to include everyone," Krutikova said. "We want to make sure that everyone's voices are heard. No matter who you are, we're here to tell your story."
Krutikova and Quille's future plans emphasize inclusivity above all else. 
"We also want to make Riot Grrrl Records into a label and start a vinyl plant where we can start pressing the 7" of local bands," Krutikova said. "We can democratize the vinyl industry so that it's not so gatekept. We can just, like, press ourselves and own the means of production." 
Quille elaborated on other projects that Riot Grrrl Records hopes to accomplish.
"Our dream would be to have a record store slash venue slash artistic collective space where people can come in and just exist and enjoy music and be friends with each other," Quille added. "I love the music community in Seattle. I know that [it] can be so much better and so much more inclusive, and we're going to help make it that way." 
The fourth issue of "Ra Ra Rebel" drops June 15. It will be available for purchase in a number of local Seattle record stores and online.
Reach writer Michele Rubinstein at arts@dailyuw.com. Twitter: @michelehalleru
Like what you're reading? Support high-quality student journalism by donating here.