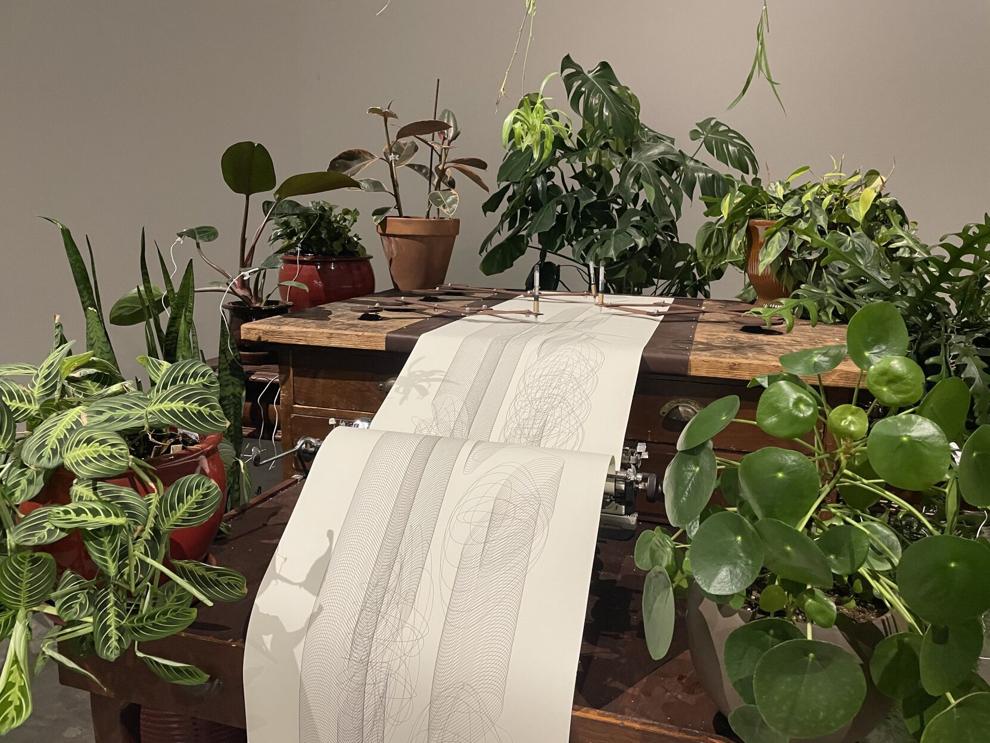 On May 26, Master of Fine Arts student Payton Cahill presented her thesis, "Ancient Future," as part of the UW School of Art + Art History + Design's 2021 MFA + MDes Thesis Exhibition at the Henry Art Gallery. The exhibition is available for viewing with free admission until June 27.
The primary theme of "Ancient Future" is Cahill's endless fascination with the natural world. Included in the work is a drawing machine that measures changes in the electrical conductivity of plants, activating a single motor that moves three sets of "drawing arms." A second motor is activated when humans touch a plant. This creates a circuit that controls the motor speed and direction using medical capacitive sensors translating data via microcomputers, resulting in a change in the drawing pattern on a roll of paper.
The second component of the work is a series of pictures and a video. The video is projected onto a wall at the end of a hallway and displays a time-lapse process of plants moving to absorb sunlight better during the course of a day. The side walls of the hallway mirror pictures of treetops taken from the ground. These elements serve as a continuation of the main piece and show other ways of seeing and comprehending nature. 
Nature has always been a part of Cahill's life, even if indirectly. In her childhood, a family tradition involved going to a small cabin surrounded by giant trees in the middle of the woods, where Cahill would spend hours playing. More recently, Cahill built a glass shop with her partner in Chico, California, where her desire to work with nature flourished in a more concrete space.
"It's interesting because I really thought that was the glass I was searching for, but I ended up leaving with this deeper sense of place within nature," Cahill said. "My work really shifted from being about the material to being subject-centered on the natural world."
The current circumstances also influenced Cahill's thesis. When she arrived in Seattle, glass was still at the center of her work. Cahill planned to continue her work with the material, but she became lost when the onset of the pandemic forced the closure of many glass shops. Cahill then resolved to find other ways to express her interests in timekeeping and the relationship between nature and humans.
Interrogation and discovery are also concepts that Cahill incorporated in her thesis. Her work prompts questions such as: Are we part of nature? And if so, what is our role within it? What are the infinite forms in which nature presents itself?
"Sometimes the simplest questions are the hardest ones to answer. For example, what is nature?" Cahill said. "An analogy I always go back to is, a bird is a part of nature, a bird's nest is a part of nature, humans organically are a part of nature, but is a human house a part of nature?"
Cahill's thesis presentation raises more questions than answers, but in doing so, it transcends the limits of the gallery space through a prompting of collective reflection.
"So much of my work is about questions; a lot of them are open-ended questions, and I don't know if I'll ever answer them, but maybe I'll get closer to finding those little bits of truth," Cahill said. "What's the point of doing work if I don't have a question? If I already have all the answers, there is nothing new to be discovered."
Reach writer Victor Simoes at arts@dailyuw.com. Twitter: @victorhaysser
Like what you're reading? Support high-quality student journalism by donating here.