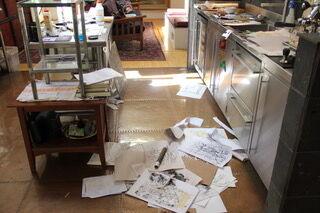 When demonstrating printmaking, interdisciplinary visual arts (IVA) chair and associate professor Curt Labitzke creates prints in his kitchen. This is not only the product of unusual circumstances, but also what he sees as a chance for students to realize that printmaking can happen anywhere.
"I was doing a study abroad in Rome when the pandemic started," Labitzke said. "The university called us to come home early, and then we were suddenly being asked to teach everything online in two to three weeks."
For Labitzke, shifting from the studio to his kitchen table was just one of many changes. For the first time, he needed to set up a camera, create a Canvas page, and determine a way to present demonstrations digitally.
"To even imagine doing art over Zoom seemed crazy to me," Labitzke said. "But after the steep learning curve, it became a question of how I wanted to convey my information."
Printmaking has always been a tactile experience. Even though his class was unable to share a physical space, Labitzke aimed to recreate this atmosphere with his students. He would provide a demonstration, then give his students a few class sessions to create their prints. Even remotely, Labitzke wished to maintain the benefits of a mutual workspace for his students — although he admits that creating art in his kitchen was an unexpected fulfillment of this intention.
"I decided to do all my demonstrations from my kitchen instead of my home studios, because most of my students were probably working from their kitchen, couch, living room, or [on the] floor," Labitzke said. "Everyone was so gracious, and just tried to make things work."
Once demonstrations were uploaded, students were given a timeframe in which they'd create their pieces. Even when elements of the traditional classroom had failed, there was a sense of camaraderie that assisted in the students' creative process.
Labitzke imagined that his students were not just living through a pandemic but may also have needed to contend with the potential disruptions printmaking could cause in their living spaces. Accessibility became the greatest priority in teaching printmaking remotely. Art supplies were sent to students to provide them with the necessary materials, even as space remained an uncontrollable variable.
"You just have to assume that everyone is trying their absolute best," Labitzke said. "You have no idea what kind of living situation your students are dealing with."
Labitzke found that his students had to learn new skills to adapt to the online environment. In addition to printmaking, the students were also required to learn how to set up lighting and present their works digitally. These were skills that Labitzke found to be an unexpected boon to student's learning. Whereas previous classes may not have required familiarity with practical applications of lighting and photography, students in the virtual space were encouraged to practice these skills.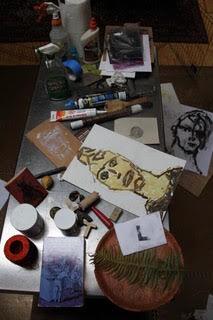 A sense of community remained present in Labitzke's classes. Students talked to one another and asked questions of their professor; art and relationships continued to be built; and everyday occurrences of the physical classroom mapped onto the Zoom sessions. Even the addition of shared Google Drives helped to bridge the gap between classes that, if in-person, would otherwise be separated by physical walls. Through the drives, students could share artwork with peers with a new, welcomed ease.
Labitzke believes that digital learning works because the foundation of an art education still applies: empathy remains vital to learning. This empathy became the philosophy of navigating the online space. Empathy was present in giving students the benefit of the doubt. But most of all, empathy was what allowed conversations seldom witnessed in the physical space to materialize in the digital.
"What's most important to me is helping students realize what is important for them to express, and with the online classroom, we were able to have really nice conversations," Labitzke said. "Some content you just don't get to in a normal classroom."
For Labitzke, teaching remotely has reminded him of our ability to stay connected. When students graduate, they often lose a sense of community; perhaps, he thought, through Zoom and other telecommunication platforms, people won't lose touch so easily.
"Our Zoom meetings became important for my students," Labitzke said. "It's not a substitute for seeing people in-person, but it is heartwarming to know that people are making genuine connections with one another."
Reach writer Andy Chia at arts@dailyuw.com. Twitter: @GreatBaconBaron.
Like what you're reading? Support high-quality student journalism by donating here.