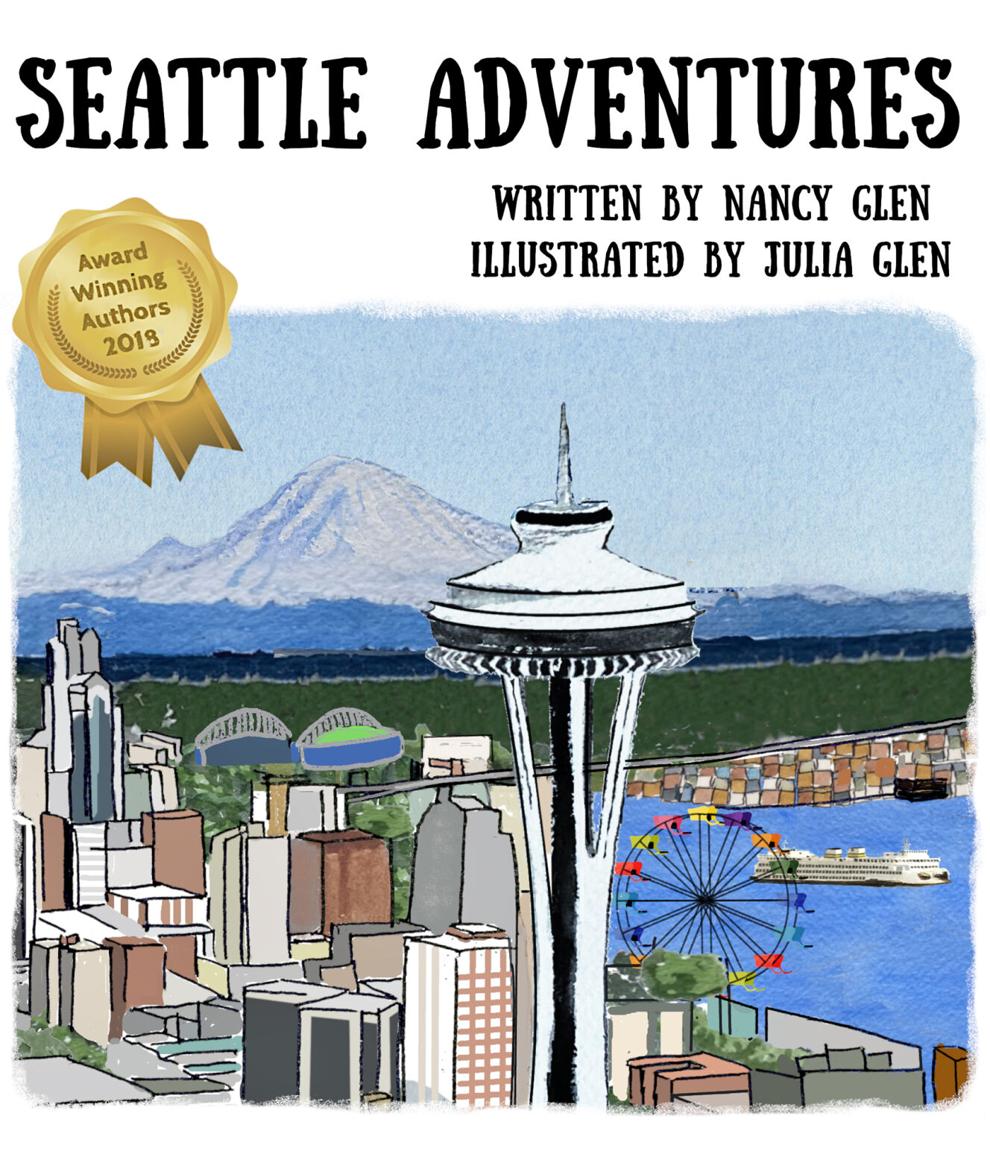 Adventuring through Seattle's arts and cultural history isn't as easy as it used to be, with so many of us spending our time indoors. Unfortunately, this is likely to worsen as we head into the harsh winter months.
Luckily, you don't need a raincoat to read a book, and the authors at Glen Creations are offering an opportunity for readers to explore illustrated versions of Seattle's greatest attractions from the comfort of their own quarantined homes.
"Seattle Adventures" is the latest edition of "City Adventures," a children's book series launched by sisters Nancy and Julia Glen. 
Each book serves as a tour guide for readers, using a lovable cast of hand-painted animal characters to teach readers exciting facts about the history of different cities and what roles the different locations hold within the community. 
"We wanted to have some really great, engaging literature for the kids to learn about their own community," Nancy Glen said. "The good history and the hard history." 
The series has already covered notable towns in Southern California, like Oceanside and Carlsbad, with more recent books taking place in Washington cities like Tacoma, Puyallup, and, now, Seattle. 
Prominent locations such as Pike Place Market, the Woodland Park Zoo , and the Fremont Troll are explored, but the authors also wanted to dedicate time to lesser-traveled spots like Magnuson Park and the Duwamish Longhouse and Cultural Center . 
"Seattle is amazing," Glen said. "It was hard to squeeze it all in. Seattle's been our biggest city, but we've tried to choose a number of locations from throughout the whole city." 
Since the Glen Sisters come from a "family of Huskies," it was essential to them that the UW play a prominent role in their upcoming book. From Husky Stadium to the Burke Museum, readers will have the opportunity to explore everything our campus has to offer. 
Readers may also meet a certain mythical North American icon boasting their beloved UW memorabilia (but you didn't hear that from me). 
These books should not be mistaken for colorful travel brochures, as the goal of this series is to be both instructive and entertaining. A focus is placed on the diverse cast of characters and their stories, some of which are presented with challenges or they must overcome in the book. 
Each copy also contains a curriculum section, where readers are presented with various vocabulary words, questions based on events from the text, and writing prompts to encourage further discussion. These curriculum portions are also available for free on the Glen Creations website.
Blending educational elements with the entertaining nature of an illustrated children's book was an intentional, early choice for the Glen sisters.
"I see everything as a curriculum," Glen said. "It's all learning." 
Nancy Glen works as a high school librarian in Washington and has had a great deal of fun discussing her experience in professional book-making with students interested in the writing process.
The Glen sisters themselves started in book publication without any prior experience. After taking a free small business seminar, Nancy Glen began learning how to produce published books, including the task of choosing a printer based in the United States. 
"It's all been a giant learning curve," Glen said. "And we're still learning." 
When their "Puyallup Adventures" book launch was interrupted by the closure of book stores earlier this year, they donated digital copies to local schools. In return, they asked only that the schools make a donation to a local food bank, if possible. 
This philanthropic focus has become a staple practice for Glen Creations, as they also ensure a percentage of their proceeds are donated to local literacy programs.
If you're interested in picking up a copy of "Seattle Adventures," the book's launch is planned for mid-November. While online orders are available, the authors encourage shoppers to buy from locally owned bookstores; they offer a list of potential locations on their website. 
Reach writer Hunter Bos at arts@dailyuw.com. Twitter: @_HunterBos
Like what you're reading? Support high-quality student journalism by donating here.