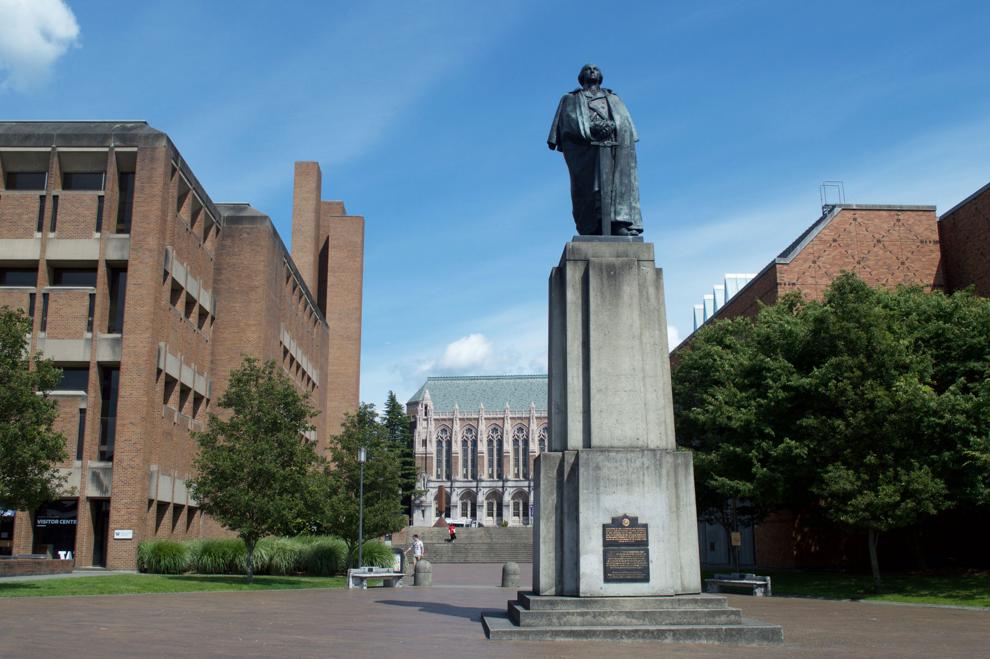 Editor's note: The Daily acknowledges that the art, buildings, and streets mentioned in this article are on the unceded ancestral lands of the Coast Salish people, including the Duwamish people past and present.
Thirty-eight feet tall with his bronze body and concrete pedestal, George Washington stands broad-shouldered and stoic, his lifted chin facing west, overlooking the Olympic Mountains. 
"Walking to class everyday and seeing this statue on Red Square — in [the] heart of campus — feels like an insult everyday," recent UW graduate Edom Bogale said in a message.
Three weeks ago, a non-Black ally created a petition calling for the removal of the largest monument on the UW campus and its replacement with a Black Power fist. The petition has drawn over 3,000 signatures as of Monday and caught the attention of the Black Student Union (BSU) and UW Black Lives Matter chapter (UW BLM).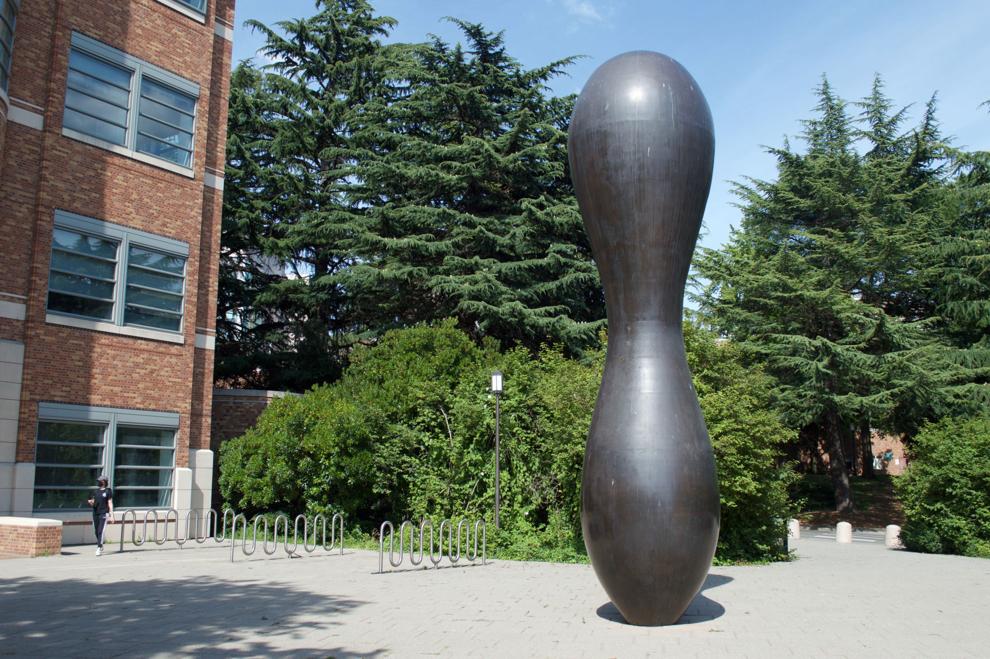 "Statues across the country of colonizers, slave owners, and confederate soldiers are a constant reminder of the trauma that Black and Indigenous people in this country have dealt with," the BSU said in an Instagram caption. "To walk past this statue while on this predominantly white campus as a Black student is a constant reminder that this institution was never made for you. It must come down."
The university has yet to publicly respond to this petition and did not reply to emails for comment.
The writer of the petition, who has asked to remain anonymous out of fear of further harassment, said this petition is about more than one statue.
"Most buildings, statues, street names, etc., stem from the idolization of white historical figures," they wrote in an email. "I want to create a conversation."
Jed Murr, a senior lecturer in American and ethnic studies at UW Bothell, cited public art as one of the ways in which universities can communicate the values and commitments they hold. 
"Public art, in tandem with other modes of activity, often pushes people to understand the world in new ways, to imagine themselves differently, and to think differently about the kind of world that they want to live in," Murr said. 
In an inventory of public art on campus, the Office of the University Architect in Planning & Management recognizes 28 pieces and collections as part of the greater campus art collection. While this inventory may not be intended to provide a comprehensive list of art on UW campus, these are the pieces recognized by the institution.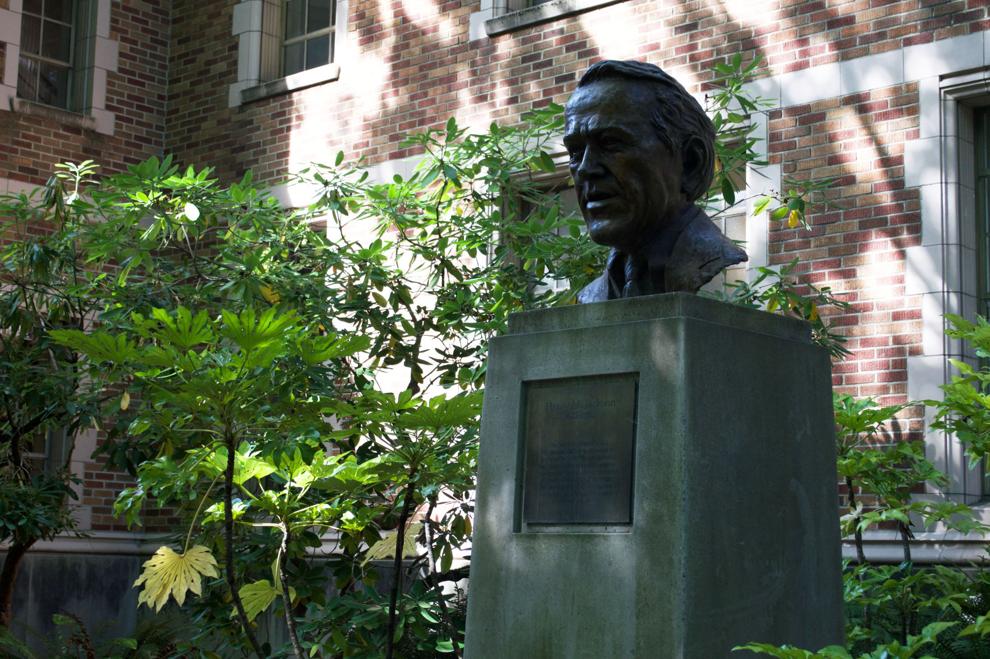 Of these 28 recognized sites, 16 were produced by individual white men, and three were produced by individual white women. Two were made by white men and women working collaboratively. In sum, three-quarters of this inventory is credited solely to white artists.
Three of these white artists produced statues of white men. (Another bust of Henry M. Jackson, an advocate for the internment of Japanese Americans, was not included in this inventory.) 
Only six pieces in this inventory were made entirely by artists of color. This includes two collections of work centered around the artists' culture and identity and three pieces produced by individual men of color. The final piece, "Blocked Out," was created by two students of color in place of a proposed statue honoring a racist UW football coach, which is cited as the "only monument to diversity" on 634 acres of stolen land. 
Some of this disparity can be credited to capital.
"It costs a lot of money to produce work, and it costs a lot of money to install work, and it costs a lot of money to insure work," the director of The Black Embodiments Studio, Kemi Adeyemi, said. "So it makes complete sense that primarily white people, and white men in particular, are the ones who have secured the resources to be able to be on view on campus — the value of them and their work is perceived as generating more return on those investments." 
Public art is a way to directly fund the work and careers of the communities that institutions claim to care for. 
Another reason we might see this overrepresentation of white artists is because of who is in charge of selecting artists to produce work on campus. 
Doctoral student Christopher Chan served as the only student representative on a committee tasked with selecting an artist for an installation as part of Denny Hall's 2016 renovation.
"If we [had this committee] in 2020, we would definitely be having conversations about it," Chan said. "It was mostly faculty and administrators … but it was kind of all white people and then me."
Not only are white people overly represented in the most readily visible art on campus; buildings on the UW campus are most often named for white alumni. 
According to the UW's list of buildings with classroom abbreviations, 59 are named after someone. Forty-eight of these names could be connected to a particular person, gender, and race. Only six of these buildings were not named in memory of white men. At least four of the six buildings were named after white women. 
Just one of these buildings was named after a Black man — the Samuel E. Kelly Ethnic Cultural Center.
The petition for the removal of the George Washington statue also demands that the By George Cafe, another space on campus named for the white slaveholder, is renamed Juneteenth Cafe. 
Along with buildings named in honor of white alumni, street names on campus have also been dedicated to white historical figures. Stevens Way, for example, was named for the Washington Terrority's first governor, Isaac Stevens, who caused the Yakima War. 
The petition also calls for George Washington Lane to be renamed George Floyd Lane. 
In contrast to the white-centric art and naming of campus features, Adeyemi says there are entities at the UW who are doing the work for better representation, adding, "that public art data — while reflecting a kind of historical precedent for who gets funded — it's only one part of the entire ecosystem on campus."
In the 2018-19 school year, five out of six non-student exhibitions at the Jacob Lawrence Gallery were by Black, Indigenous, people of color (BIPOC) artists, according to data from director Emily Zimmerman. 
"There's also a lot of really good art behind the doors of the buildings on campus," Zimmerman said, going on to cite "The Legend of John Brown" in the Allen Library and "Theater" in Meany Hall, both by Jacob Lawrence: a Black artist, former UW professor, and the gallery's namesake.
"When museums only have work by white male artists, that says that the world that matters is the world of white male artists," Zimmerman said. "Equal numbers are not enough; it has to be a majority or higher than equal in order to address the injustices of the past."
Representation in art can help uplift artists of color and the students who consume their work, as well as giving financial validity to the university's claims of compassion for BIPOC students. However, Adeyemi reminds us there is more work to be done than removing statues and representing more artists of color. 
"Yes, let's have that larger conversation, but can we also just do some dirty work to make sure life is livable in the meantime?" Adeyemi said. 
Reach writer Hannah Krieg at arts@dailyuw.com. Twitter: @Hannah_krieg
Like what you're reading? Support high-quality student journalism by donating here.