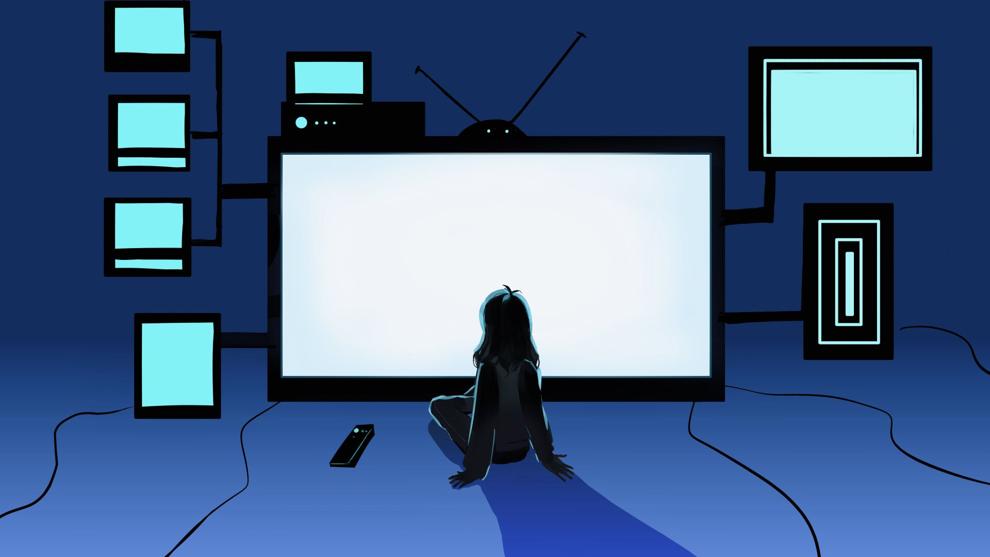 Editor's note: "I Should Watch TV" is a weekly column, inspired by David Byrne and St. Vincent's song of the same name, that focuses on mental health awareness, representation, and understanding the world through the media we consume.
From a young age, I have been obsessed with music. One of my oldest memories dates back to more than 10 years ago, when I was a young child adjusting to my new life in Chicago. Laying on a raggedy carpet with my second-generation green iPod shuffle in hand, I would listen to hours upon hours of music, ranging from the likes of Michael Jackson to "Weird Al" Yankovic to My Chemical Romance and Eminem.
In a way, it was a somewhat liberating experience. While I am certain I had prior engagements with music, this was the first time I can remember recognizing and encoding what I was hearing.
UW ethnomusicology professor Shannon Dudley and I discussed how sound and music immersion could potentially begin prior to birth and immediately after. 
"One of the theories about how music originated that intrigues me especially is … that it probably has a lot to do with mother-infant relationships," Dudley said. "If we think of humans as the only species that really has music — which may or may not be true, depending on how you define music — one of the things that really distinguishes humans from a lot of other animals is the long period of time in which the baby is dependent on the mother, and so bonding between mother and baby is of critical importance in the human species."
Dudley also pointed to the work of affiliate music professor Ellen Dissanayake, who researches the biological aspects and origins of art.
"[Dissanayake] makes the argument that a lot of the sort of stylized sounds and responses that are generated between mother and child, and sort of patterns of repetition and so forth, are about bonding through sound, and that could very well be one of the most important roots of the faculty of music that we have," Dudley added.
Although we may not remember them, the sounds we hear within the womb and the first moments postpartum could actually have been some of our first experiences with music. If not, these crucial segments might have set us up with a framework to better understand the wider realm of composition and melodies. 
Just to note, I'm not talking about forcing your fetus or newborn to listen to Beethoven on repeat. This is actually detrimental to both you and your child's ears, and the practice is not entirely supported by science, as the supposed "Mozart effect" is more of a myth than an actual scientific fact. In reality, any form or genre of music can be beneficial, and while classical is most documented, we might chalk it up as just another scam by companies to sell new parents products they will never use after a few years. 
While I am uncertain as to whether my parents bought into the trend, I do know that whatever they forced me to listen to at a young age has had a profound impact on my life. The sonic tools they provided me have not only shaped how I perceive music, but also improved my ability to cope with situations in life.
Without these musical foundations, I would not be able to process heartache through artists like Frank Ocean and Radiohead; cope with anxiety and depression through Nine Inch Nails and Joy Division; and have a sense of purpose aided by the work of Nick Cave, Daft Punk, and Talking Heads.
The freedom I experienced in my childhood basement was liberating, but without the carefully selected tools provided by my parents, I do not believe I would have enjoyed it quite as much.
This extends to more than just music. College is a wonderful, freeing time and, for most of us, the first time away from our families. As we develop and age, we should recognize our roots and take moments to appreciate who and what we came from. Doing so will make our personal liberation that much more meaningful.
So do me a favor. Call your parents, an old friend, a guardian, or any figure who made a difference in your life at a young age and check in with them. Maybe ask about the music you listened to (or the music they forced you to listen to). As we approach the anniversary of the pandemic, I'm sure they'd appreciate a good nostalgic moment to reminiscence on.
Reach columnist Jacob Renn at arts@dailyuw.com. Twitter: @jakemrenn
Like what you're reading? Support high-quality student journalism by donating here.