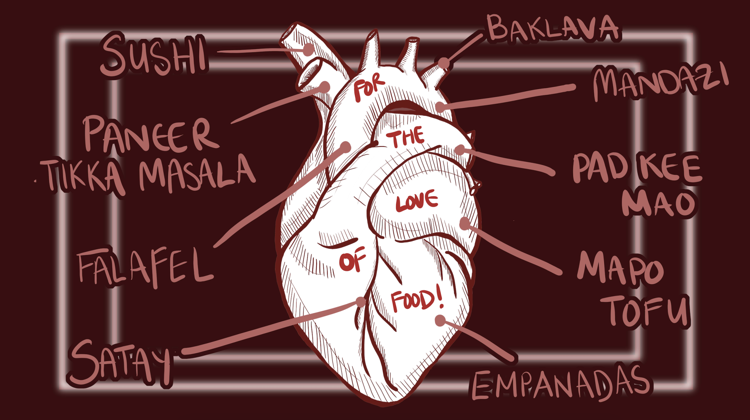 As the election creeps closer (please vote), it is becoming easier to lose myself for hours doom-scrolling through Twitter. We are surrounded by increasing evidence of the inequality, hate, divisiveness, and fear that plague our country. In the midst of a world that seeks to emphasize our differences, I think it is incredibly important to focus on the things that unite us.
Food and eating are powerful ways to sympathize with those who have different backgrounds and perspectives than our own. No matter how dissimilar I am from someone, I can connect with them on one common ground: food.
This week, I had the opportunity to do just this. Trinity Chhay is a sophomore at the UW studying political science and communication. She was raised in Los Angeles by two Cambodian immigrants who came to the United States to escape the Khmer Rouge.
Chhay's Chinese and Cambodian heritage shaped the food that she ate as a child and continues to inform the role that food plays in her life.
"I think food for me mostly just symbolizes family," Chhay said. 
Despite the fact that Chhay grew up in a predominantly Asian community, she recalls the restaurants around her being mostly Vietnamese, Thai, and Chinese. The only way she could experience the food of her culture was through homemade meals.
"We always had, like, a home-cooked meal every single night," Chhay said. "It was always a family recipe."
Chhay also emphasized how food allowed her to connect with her grandparents, with whom she has very little in common. 
"My grandparents only really talked to me about school, boys, and food," Chhay said.  
She recalls how every time her grandmother visited, she brought Chhay's favorite soup or homemade orange chicken. To Chhay, this was the way that her grandmother demonstrated affection. 
Chhay also told me how food plays a major role in her cultural practice. For Chinese New Year, her family lays out pictures of their ancestors, lights candles, and places plates of their ancestors' favorite food in front of the photos. After praying, her family eats the food in honor of their ancestors. 
"For me, that was always very comforting," Chhay said. "I got to connect to my grandparents and my great-grandparents through that." 
Chhay gave me two recipes reminiscent of her childhood. The first is her mother's recipe for pork dumplings, and the second is a recipe for homemade spring rolls.
Chhay told me that spring rolls are her mother's favorite dish, mostly because they are really easy to make and there are always leftovers for the next day. Chhay also recalls how, when eating spring rolls, her family would sit in a circle and pass each other food while talking about their days.
Following Chhay's mother's recipe, I made homemade spring rolls with a group of close friends. True to Chhay's word, they were incredibly simple to make, and it was fun to set all the prepared ingredients on the table and help each other make our spring rolls. 
There were many burned fingers, several spring rolls that were too big to roll up, and lots of laughter. Next time you open UberEats to have spring rolls delivered from the Ave, do yourself a favor and make your own — it's well worth it.
As always, happy cooking and even happier eating. Please do not hesitate to share your food stories; I would love to hear from you. If you send a new recipe, believe me, I will be overjoyed.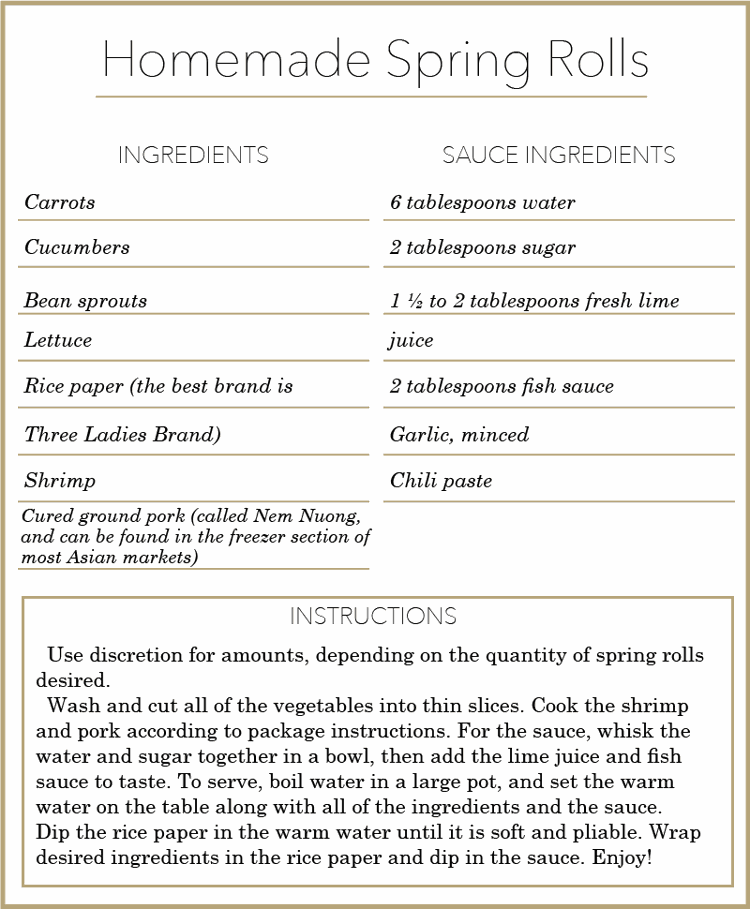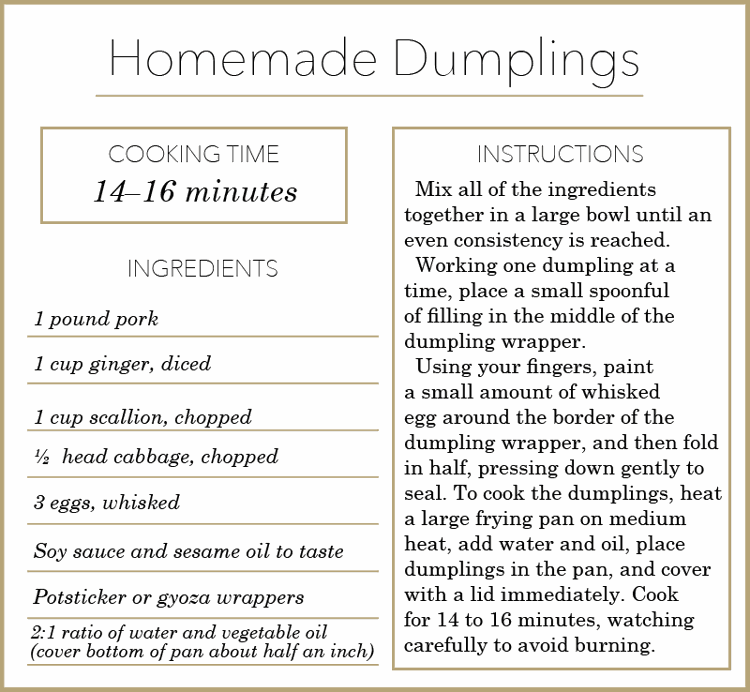 Reach columnist Zoe Luderman Miller at arts@dailyuw.com. Twitter: @zozozaira
Like what you're reading? Support high-quality student journalism by donating here.