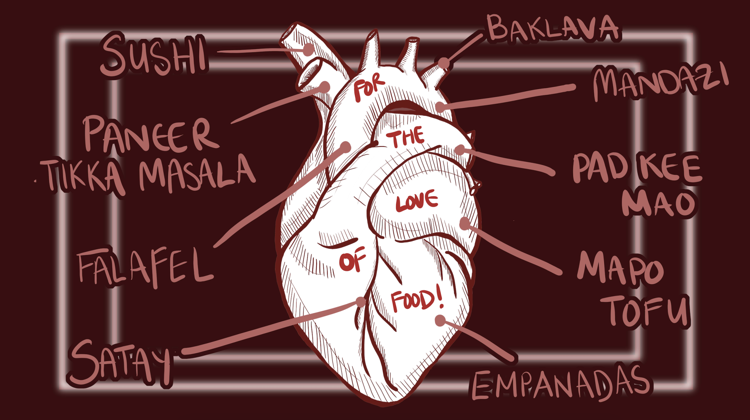 Seeing the spark in someone's eyes when they share something that they're passionate about is an extraordinarily rewarding experience. This week, I witnessed that spark in the eyes of Abbie Ganas, a dual-title doctoral candidate in chemistry and molecular engineering, when speaking to them about their love of cooking.
Ganas is Pennsylvania Dutch and grew up near Philadelphia, in a region with high concentrations of Amish and Mennonite communities. In fact, Ganas recalls that during driver's ed, they learned to avoid horse-drawn buggies driven by their Amish neighbors. As a result of their upbringing, Ganas grew up eating food influenced by Amish and Mennonite traditions and remembers benefiting from plentiful farmers' markets carrying fresh produce.
Food remains important to Ganas, even though they've moved across the country to Seattle. They emphasized how cooking has gained new importance for them during quarantine. Ganas shared how they've found joy in learning new techniques and recipes as a means of passing the time and alleviating stress. 
Ganas added that food is comforting because cooking allows room for mistakes and imperfection. 
"If you make a mistake, as long as it looks edible and is edible, it's great," Ganas said.
Ganas lit up as they described recipes they remember from their childhood. Pennsylvania Dutch recipes, in keeping with Amish and Mennonite values, emphasize being thrifty and are centered in the use of staple ingredients and seasonal produce.
One of the classic food traditions that Ganas remembers is the preparation of pork and sauerkraut on New Year's Eve. Pork is chosen as a symbolic food with which participants may enter the new year. According to the tradition, when pigs forage for food, they snuffle their noses in the dirt while moving forward, whereas chickens scratch backwards.
"You eat pork because you want to go forward into the new year in a good way," Ganas said. 
Ganas glowed with nostalgia as they talked about red beet eggs, a fixture at family picnics during the summer. Red beet eggs are hard boiled eggs soaked in beet juice, vinegar, and sugar that Ganas described as having a "delicious, tangy" flavor. 
The recipe that Ganas recommended most enthusiastically is their family recipe for hot bacon dressing, a salad dressing traditionally served over dandelion greens. Ganas told me that this dressing is a staple during the holidays at their family's house, and leftovers are fought over fiercely. 
"It has bacon in it, so it's got [to] be good," Ganas said.
Inspired by Ganas' infectious enthusiasm, I set out to recreate their much-lauded hot bacon dressing. My family has Mennonite roots, and many of the dishes Ganas described were familiar to me, but the dressing was something I'd never encountered. 
I substituted veggie bacon for the bacon in the recipe, as I am vegetarian, but kept the remaining ingredients the same. The dressing was super simple to make and came together quickly. 
As Ganas mentioned, many Pennsylvania Dutch recipes use the same ingredients or utilize leftover materials from other dishes, so I'm excited to add these recipes to my repertoire. Having a collection of dishes that complement each other is a great way to save money and ensure that you get the most use out of your ingredients.
I decided to use the dressing on a spinach salad, since dandelion greens aren't something you can find at the nearby QFC.
The dressing proved to be delicious. Initially, I wasn't sure what to make of a warm salad dressing, but it wilted the spinach and added an interesting twist to the salad. The dressing itself was tangy and pleasantly smoky from the bacon. I can understand why Ganas and their family fight over the leftovers of this dressing, as I would definitely make quite the effort to get a second helping. 
As always, happy cooking, and even happier eating!
Please do not hesitate to share your food stories; I would love to hear from you. If you send a new recipe, believe me, I will be overjoyed.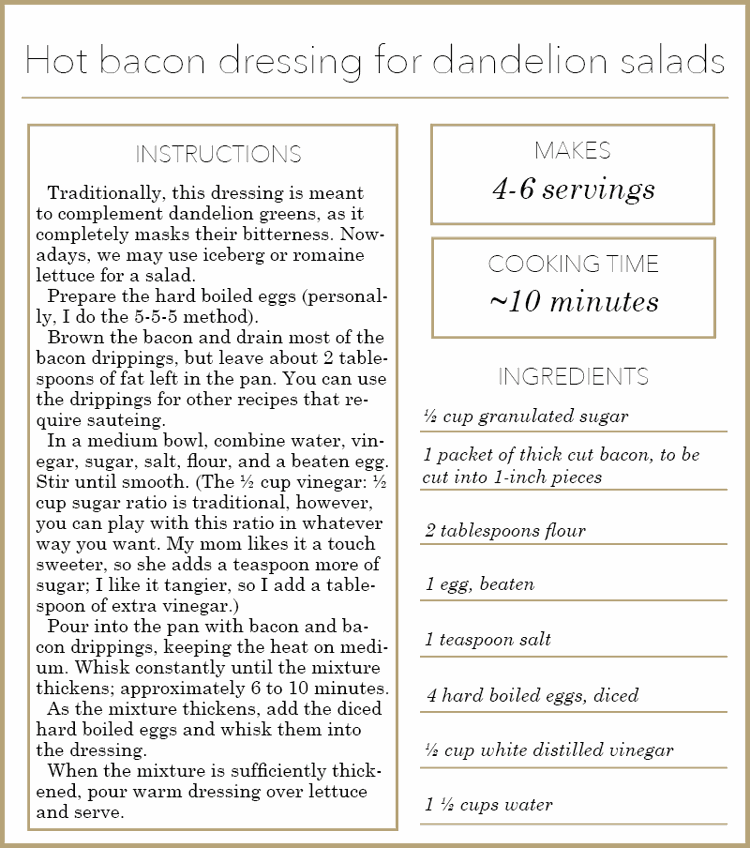 Reach columnist Zoe Luderman Miller at arts@dailyuw.com. Twitter: @zozozaira
Like what you're reading? Support high-quality student journalism by donating here.