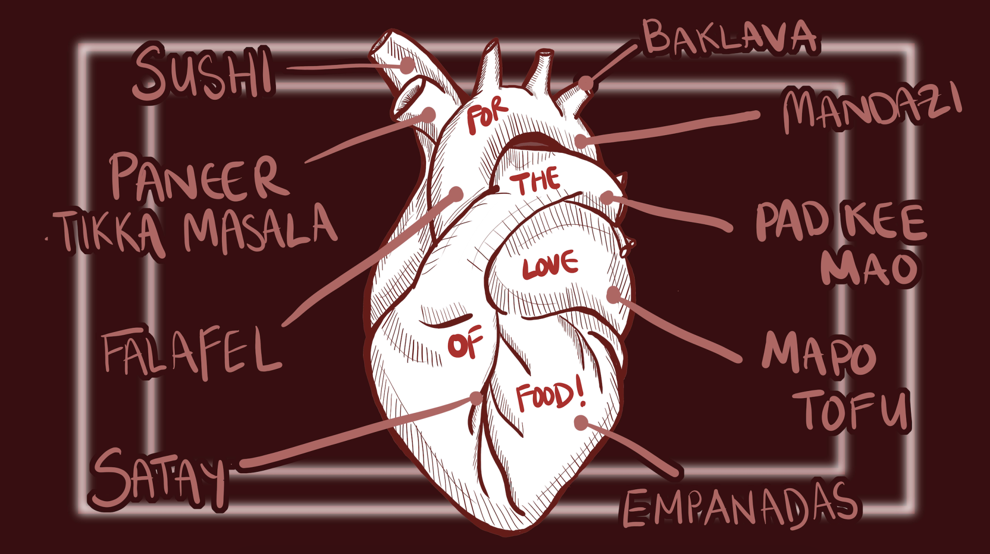 The love of food is a community. Finding others who share your passion for cooking and, more importantly, eating, is a surefire way to build strong friendships. There is, after all, a reason that the act of breaking bread is so symbolic in literature: sharing a meal is an act of vulnerability and generosity. 
This week, I had the honor of sharing a meal with Aman Agarwal, a junior studying neuroscience. Some may remember Agarwal from an installment of my column Farm to City that ran last year. At the time, we discussed the Indian food found at Tandoozy, which has a stall at the weekly U-District farmers market. I recalled our conversation about the joys of naan and various characteristics of good daal, and was curious to learn more from Agarwal about homemade Indian cuisine.
Agarwal, the son of two immigrants from India, grew up in California and remembers that cooking and eating played a large role in his formative years, as well as in his relationship with his mother. 
"Food was one of the biggest ways that my mom and I spent time together," Agarwal said. 
When asked about his relationship with food, Agarwal expressed that food is his way of expressing and connecting with his culture. Agarwal told me that religion plays a central role in Indian culture but that he is not a very religious person himself. For him, food is the way that he can immerse himself in his heritage.
Additionally, Agarwal emphasized the creative value of cooking. He doesn't consider himself artistic, so food has become a way for him to release his creative energy.
Especially in Indian food, Agarwal believes there is "insane room for creativity." Agarwal glowed as he described how altering the cook time of spices, the proportions of different spices, or the order in which they are added can alter a dish in complex, nuanced ways.
The dish that Agarwal associates most strongly with his childhood is matar paneer. Matar paneer is a North Indian dish that consists of peas and paneer, a type of cheese popular in Indian cooking, in a tomato-based sauce. As a vegetarian, paneer is one of my favorite foods, and I typically describe it as tasting similar to the delicious food-baby of tofu and cheese.
Following Agarwal's mother's recipe, I began by tracking down the necessary ingredients. Paneer is arguably the most important ingredient in matar paneer, though it is the most difficult to find in American grocery stores. Following Agarwal's advice, I went to R&M Grocery, an Indian grocery store on the Ave.
At R&M Grocery, I was able to find paneer and some of the more specialized spices used in matar paneer. Luckily, I was able to find the surprisingly few other ingredients at Safeway.
I have always operated under the assumption that Indian food is impossibly difficult to make at home, so I was pleasantly surprised to find this recipe easy to follow and quick to make.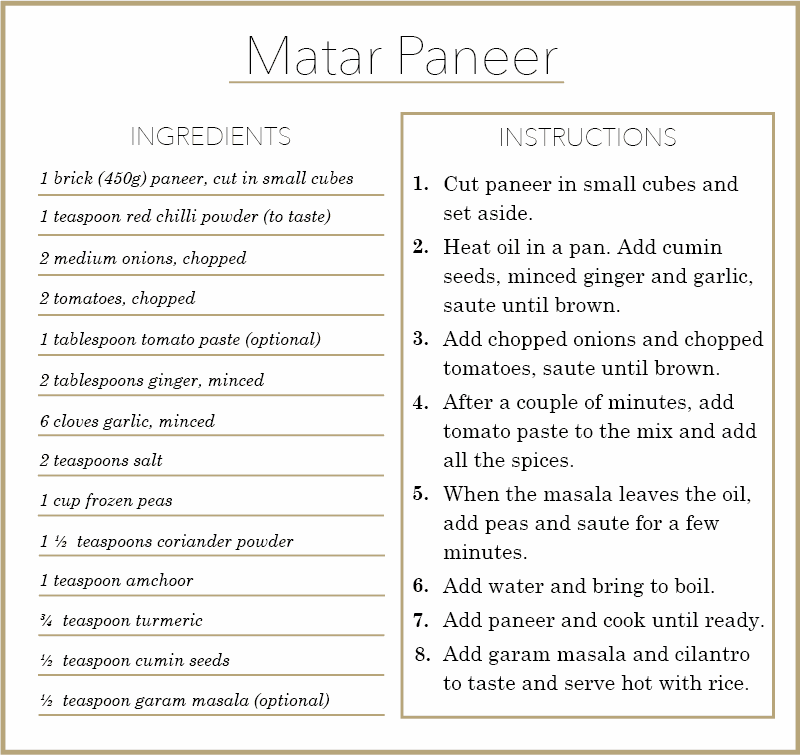 I served the matar paneer with rice and fell in love almost immediately. The curry was rich and warm, with a slight kick of heat. The paneer soaked up the sauce and tasted wonderfully creamy. This dish is perfect for a cold and rainy Seattle fall, and I will no doubt be making it again — just as soon as I buy some more paneer.
As always, happy cooking and even happier eating. Please do not hesitate to share your food stories; I would love to hear from you. If you send a new recipe, believe me, I will be overjoyed.
Reach columnist Zoe Luderman Miller at arts@dailyuw.com. Twitter: @zozozaira
Like what you're reading? Support high-quality student journalism by donating here.