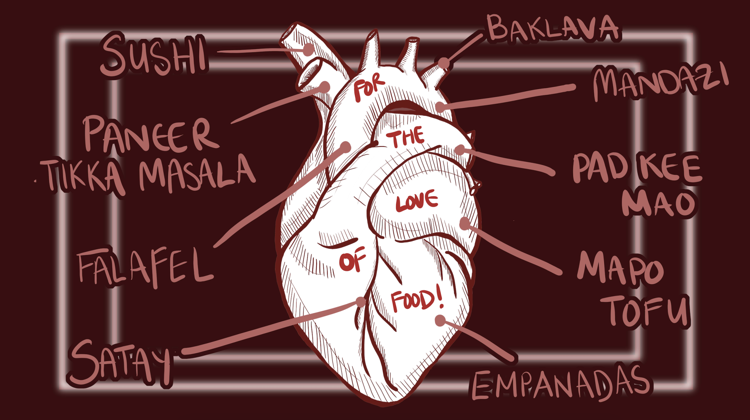 I'm sure I'm not alone in feeling that this has been the longest week ever. Between watching so much MSNBC that I hear Rachel Maddow's voice in my dreams and constantly refreshing the polling results, this week has been a roller coaster of epic proportions.
Thankfully, my week was graced by one bright spot in the form of Sam Sparkman, a sophomore studying engineering. In addition to commiserating about the weather and election, Sparkman and I spoke about the unlikely combination of donuts and tacos. 
Even food seems unable to escape the effects of a global pandemic. Sparkman reflected on how his relationship with food has changed as a result of the ramifications of COVID-19. Since the beginning of the pandemic, Sparkman has been living at home with his parents. 
"We've always been a sit-down dinner kind of family," Sparkman said. 
This contrasts with the role food played for Sparkman when he was still living in the dorms. He related how, at college, food took a backseat — his eating became a means of energy upkeep, not a source of joy. Now that he lives at home again, food has regained its significance as a way of connecting with his family each night. 
Sparkman shared with me that tacos hold special significance for him and his family. When he was younger, his family would host a group of friends every other week for dinner. Their go-to meal choice was driven by the fact that his family struggled financially, and tacos were a cheap, simple crowd-pleaser.
As his family has evolved, so have their tacos. Now that they can afford it, their taco gatherings are elevated with the addition of avocados and smoked meats. 
However, as with Sparkman's own relationship with food, COVID-19 has drastically altered his family's traditions. 
"The communal aspect of a big ol' taco night is a little bit weirder when you can't actually host any people because there's a quarantine," Sparkman said. 
Even so, quarantine has allowed Sparkman to experiment with cooking new foods. Missing the joy of going to a cafe for coffee and pastries, he decided to teach himself how to make one of his favorites: apple fritters.
"It's tasty and not nearly as hard as I expected," Sparkman said. "I was predicting like a complicated, finicky process." 
Sparkman lit up as he described the process of making apple fritters, which he often does as a way to bond with his partner. 
"It's really fulfilling to fry donuts and stuff, because how much they puff up is really, really engaging to watch — like it's just a fun thing to cook in a time when there's not as many fun things," Sparkman said enthusiastically. 
Sparkman is allergic to gluten, so he adapted a fritter recipe he found to use gluten-free flour. He says this is better anyway, as it makes a fluffier fritter as opposed to a cakey one. 
I prefer my donuts fluffy, so I was curious to give Sparkman's recipe a try.
On my latest trip to the U-District Farmers Market, I purchased apples from an extraordinarily friendly farmer, who gave me a lengthy dissertation on the virtues of different apple varieties.
Once I gathered all of the ingredients, the fritters themselves came together fairly easily; the only tricky part was frying them. Frying fritters requires both a candy thermometer and coordination, which was tough for me.
Ultimately, these fritters are every bit as fun as Sparkman describes and even more delicious than I expected. There is something extra satisfying about eating a fritter straight from the frier when it's still warm, but be careful not to burn yourself (not that I'm speaking from experience).
As always, happy cooking and even happier eating. Please do not hesitate to share your food stories; I would love to hear from you. If you send a new recipe, believe me, I will be overjoyed.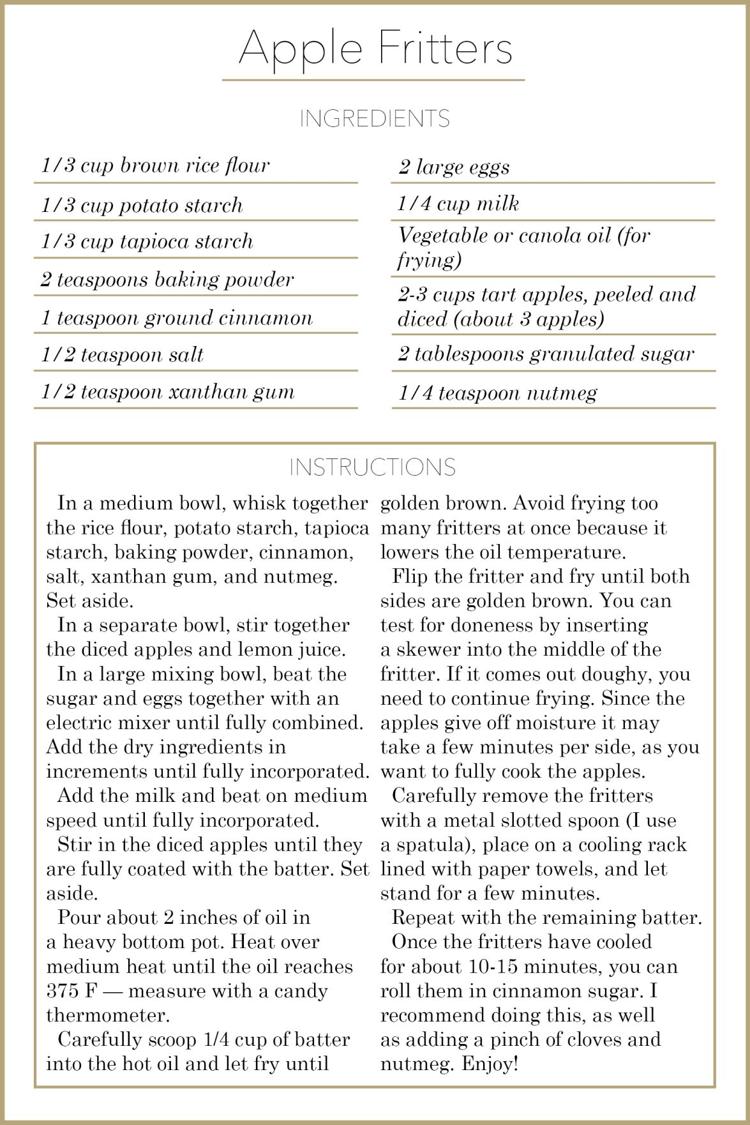 Reach columnist Zoe Luderman Miller at arts@dailyuw.com. Twitter: @zozozaira
Like what you're reading? Support high-quality student journalism by donating here.