Sketching from observation isn't so much about capturing what is actually in front of you as much as it is about translating what you're perceiving in your mind onto the page. 
This article is meant to serve as a sort of walkthrough of how I do my sketches for this column, in the hopes that it will inspire you to try it for yourselves. All you need is some paper and a pen — on occasion I will even use a regular old BIC ballpoint pen — as well as something to draw.
Each of these steps corresponds to the photos in the gallery:
In this first step, I'm using my pen to measure the window of Guggenheim Hall. I then take this measurement and count how many windows wide the building is. I make mental note of this, and divide the page into sections based on this number. This will help keep things in proportion and make sure everything I want to capture fits onto the page. This can be applied to whatever you decide to draw. Pick some aspect of the building or environment, close one eye, and count out to the edges of whatever it is you want to draw.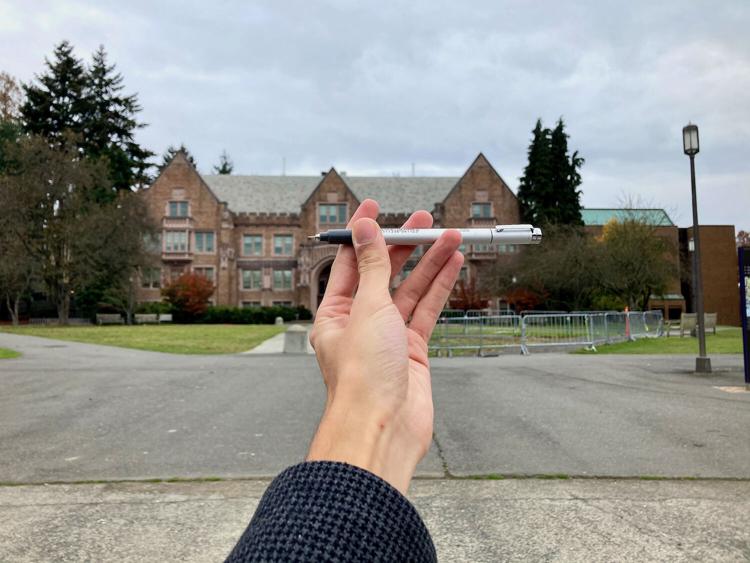 Once I have a grid of sorts, I start very lightly drawing in the outline of the building. The gables of the roof are large and distinct shapes, so I add them in early on. I also divide up the building into sections with some lines. I'd recommend choosing a building that isn't too tall or too wide so you don't run into complicated perspective issues (I might cover this at a later date).
Next, I block in the windows. I'm still working very roughly at this stage and not worrying too much about being exact with my placement. I want to make sure everything gets onto the page before I move onto details. Remember, you are capturing what your mind is seeing, not trying to translate the building directly onto your paper.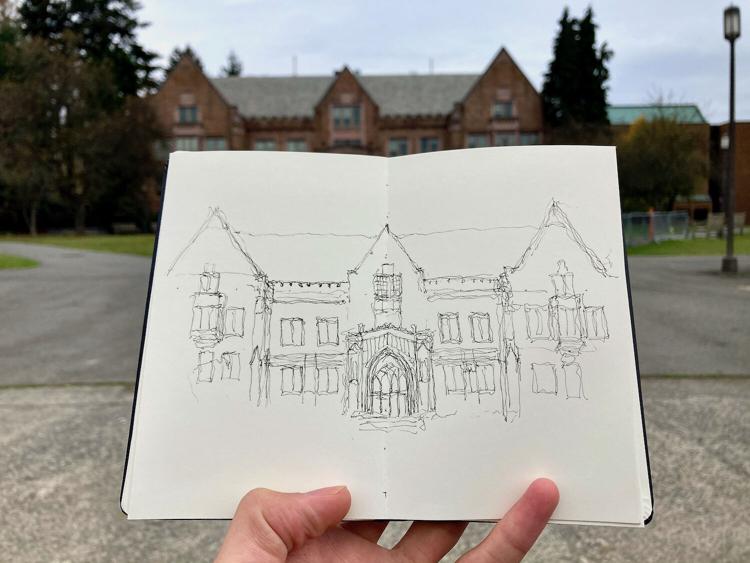 Now I am going over the lines repeatedly to create depth, adding more pressure with my pen for a darker effect. At this point, I am thinking about where light is falling so I can add hatching to create shadows. A good way to think about this is if you were seeing in grayscale — what are the darkest areas, and what are the lightest?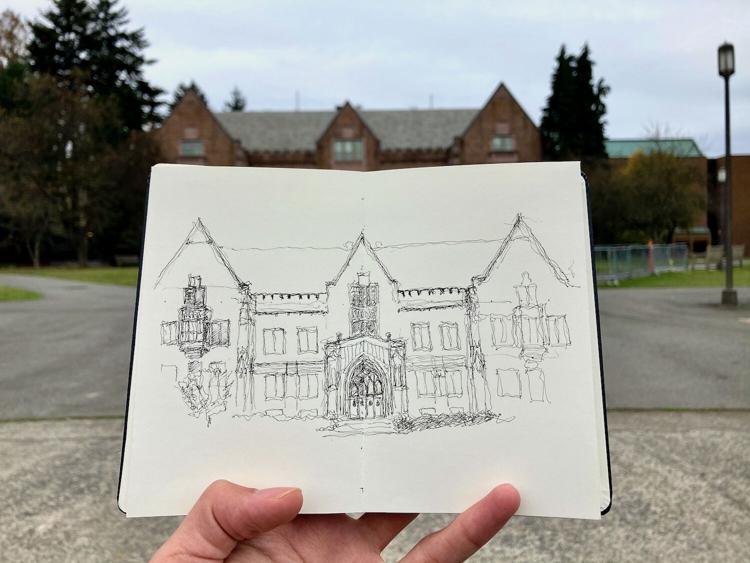 This is how I hold my pen. I want my grip to stay as loose as possible, so I am holding it toward the end. This keeps me from obsessing over the details and also saves my hand from cramping up.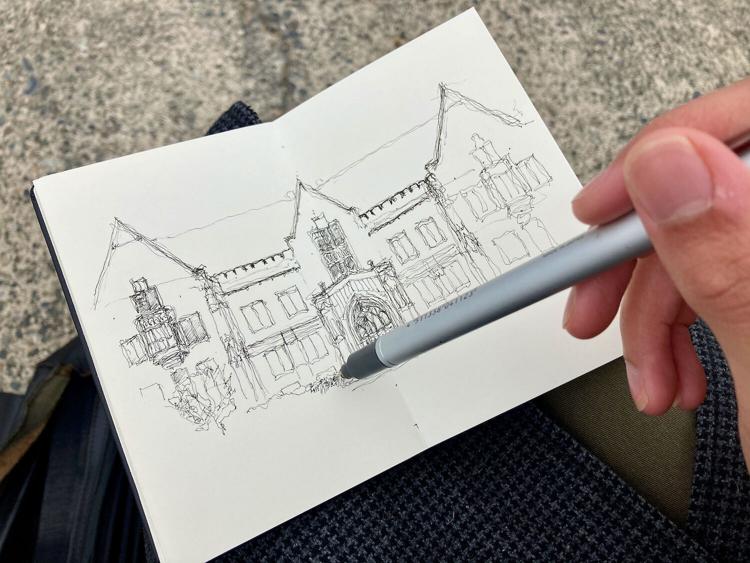 At this point, I'm paying extra attention to which windows are darkened and which have reflections on them, as well as the various trees and bushes surrounding the building. Now that I have all of the structural elements laid out, I can move on to adding these details in. Focusing on the details too early in the process can result in things falling out of proportion or making one area overworked and the rest falling flat.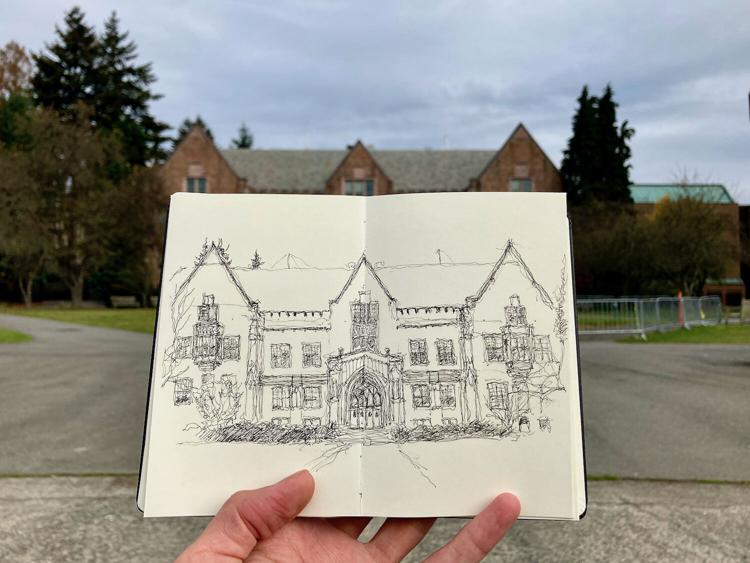 Lastly, I add some shading to the roof and then stop myself from working on it anymore. There is such a thing as overdoing a sketch, and I have been guilty of working on a sketch to the point where adding things doesn't do any good. I don't really know how to describe this point in the process, but if you find yourself getting frustrated with something over and over, it's probably time to stop.
Hopefully, laying out my process with some explanations can encourage you to try it for yourself and find the joy in capturing what you see in the world.
Until the next sketch,
Reach The Campus Sketcher Elijah Pasco at arts@dailyuw.com. Instagram: @the_campus_sketcher
Like what you're reading? Support high-quality student journalism by donating here.