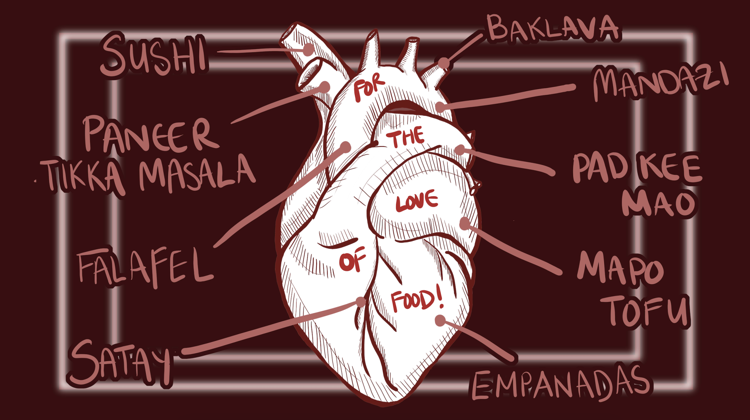 "Food is love."
These words —  spoken to me in an interview with Craig Ackermann, the owner and operator of Tandoozy, an Indian food cart at the U-District Farmers Market — have stuck with me ever since I first heard them. Now, a year later, I know that the simplicity of this phrase is only matched by its truth: Food is love. This fact has been reinforced by each person I've interviewed for this column. Every time I share a meal with someone, I have a newfound appreciation for the intimacy and power of food.
Growing up, even on days packed with staff meetings, soccer practice, carpools, and music lessons, my dad always put a homemade meal on the table. When I was little, I often complained about this. One of my parents' favorite stories is how I used to push my dad's cooking away from me whilst yelling "Yuck!" at the top of my lungs.
With time, I now realize that even when my dad made something I didn't care for — which happened more often than not — it was still his way of showing his love for me. I now understand that feeding someone is the purest form of love. 
This week, I met with Elizabeth Lujano, a sophomore majoring in public health with a focus on global health. Like me, food is a love language she shares with her family. Lujano told me that while she's at school, food is "nothing special," but that things are different when she's home; food is more meaningful to her because it's often accompanied with a gathering or special event. 
"It's what my family does when we have big things, you know, like, it's someone's birthday, let's make carne asada," Lujano said. 
This year, now that she's moved out of the dorms, Lujano said that her relationship with food has changed. Her apartment has a kitchen, and Lujano takes advantage of this space to cook at least once a day. 
"I'm trying new things out and I think it's kind of fun," Lujano said.
Lujano and her parents are Mexican, and she told me that her culture doesn't just inform the types of food her family eats, but their relationship with eating and cooking as well.
"Our culture revolves so much around food that we never think of buying people food, or like cooking people food, as a burden," Lujano said. "It's just a given; whenever you come home, you're eating with us." 
Just one example of the power of food for Lujano's family is their annual celebration of Dia de los Muertos, a two-day festival honoring the dead that is celebrated Nov. 1 and Nov. 2. Every year, Lujano's family makes pan de muerto, a type of sweet bread in celebration of the holiday. Lujano told me that making this bread is a "big thing" where friends and family gather to cook and eat together.
However, Lujano's favorite dish is one that is not cooked very often in her family. When asked, she said without hesitation that chiles rellenos are her favorite dish of all time. They are time-consuming to make, and whenever her mom cooked them, Lujano would help. She also recalled that her mom would always make the dish for Lujano's birthday.
Chiles rellenos are chile peppers, usually poblano chiles, stuffed with cheese, fried, and covered in sauce. Growing up, my picky tendencies apparently did not extend to chiles rellenos, because they were my go-to order when we went to a Mexican restaurant. Naturally, I was excited to see if homemade chiles rellenos were as good as the ones I remembered.
Following Lujano's mother's recipe, I first did my grocery shopping. All of the ingredients for this recipe are fairly standard and can be found at a grocery store. Good chiles might be harder to locate, but I got mine at the U-District Farmers Market. 
This recipe is a bit fiddly, but ultimately not too difficult. The most time-consuming part is stuffing the chiles, but if you're not making many, this will go by fast. Frying the chiles is also a little tricky, but not impossible. 
When I was done cooking, I had my own chiles rellenos. Let me say, they taste every bit as good as you expect cheese-stuffed food would. Crunchy, spicy, and cheesy, chiles rellenos is definitely a new addition to my list of go-to recipes.
As always, happy cooking and even happier eating. Please do not hesitate to share your food stories; I would love to hear from you. If you send a new recipe, believe me, I will be overjoyed.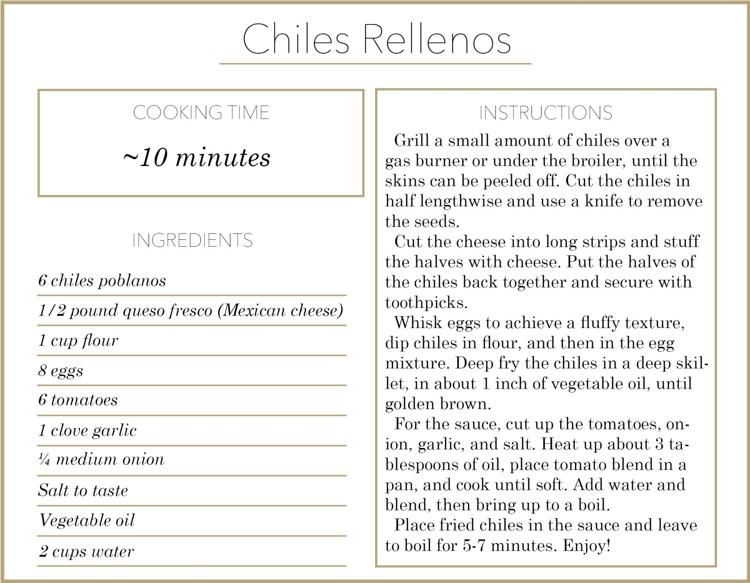 Reach columnist Zoe Luderman Miller at arts@dailyuw.com. Twitter: @zozozaira
Like what you're reading? Support high-quality student journalism by donating here.