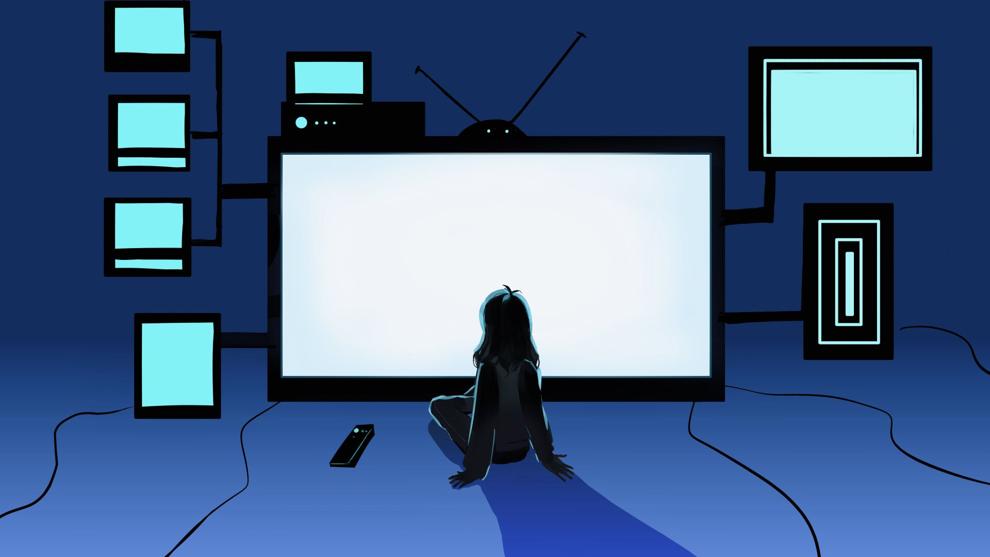 Editor's note: "I Should Watch TV" is a weekly column, inspired by David Byrne and St. Vincent's song of the same name, that focuses on mental health awareness, representation, and understanding the world through the media we consume.
Over the weekend, I found myself incredibly restless and constantly distracted by mindless thoughts. After all, midterm grades were returning, repercussions of broken relationships were still lingering, and the safety measures of the pandemic continued to weigh me down.
In an attempt to quiet these thoughts, my friend suggested an intriguing idea to play every "Resident Evil"  game. If you're not familiar with "Resident Evil," it's a multimedia survival horror franchise that consists of 10 core games, a multitude of spin-offs and remakes, and six atrocious films. Not to mention, various novels, comics, and animated films — and that's just the tip of the iceberg.  
While the quality of the game fluctuates, there is a sort of cheesiness which I immediately grasped onto. "Resident Evil" is at its best when it combines the horror with the cheesy, less serious aspects — which is why "Resident Evil 2," "Resident Evil 4," and "Resident Evil 7: Biohazard" work so well.
But my friend and I did not play these games. Instead, due to the online cooperative elements, we devoted our time to playing the worst of the core entries: "Resident Evil 5" and "Resident Evil 6". On the surface, these games have little in common with their predecessors. They are less polished and favor an action-oriented approach rather than the traditional survival horror. While that hinders the overall quality, the games are so incredibly broken that they provided us with some of the funniest and most entertaining moments of our year so far.
Video games are weird in this way. By yourself, a broken game can be excruciating to play through. Last year's massively over-hyped "Cyberpunk 2077" is a perfect example. Upon arrival, the game was borderline unplayable: Reaching a certain save file size would corrupt your game, character models and building assets refused to load, and cars would randomly fly into the air upon entering. But with friends, you embrace the mess, celebrate the trashiness, and find a way to enjoy the experience.
UW drama student and fellow "Resident Evil" enthusiast Sam Quiambao can recall a time of utilizing games to help with mental health issues.
"I get depressed from time to time, and you know, playing games really just makes me forget about my life … and just go to another kind of life," Quiambao said.   
Quiambao, who is also studying informatics with a focus on human computer interaction, pointed to the various beneficial aspects of using video games as a coping mechanism. For example, Quiambao devotes most of his gaming time to two titles: "Harvest Moon"-inspired farming game "Stardew Valley" and "League of Legends." 
"'Stardew Valley' is a good game, and it's just relaxing, you know? Like you just get lost in time," Quiambao said. "I also play 'League of Legends' a lot, [and] I do get frustrated … and I can basically let my anger out to this game."
While there is a push to ban games like "Grand Theft Auto 5" due to concerns that it promotes violence, I think there should be an equal push to promote games as a healthy option. Schools have already embraced the learning potential of games such as "Minecraft" and "Portal 2." They should also encourage students to use them as ways of processing their emotions. 
Yes, emotions like aggression should be monitored. But in the long run, bottling anger up could be worse for the physical and mental health of an individual. Not to mention, punching someone in a video game is extremely different than punching someone in real life.
That being said, there are some links between video games as a coping mechanism and playing addictions. But with proper care, supervision, and supplemental assistance, these games could be incredibly beneficial to those of us with mental health issues. I, for one, can attest to that.
These games, however broken they may be, allow me to press pause on my anxiety and have provided me with a few memorable hours of laughing with my best friend. If these feelings can be replicated and used to assist others, then I would argue for their existence until the day I die. In the meantime, I'll be here, shooting zombies with my friends and stumbling my way through life, one day at a time.
Reach columnist Jacob Renn at arts@dailyuw.com. Twitter: @jakemrenn
Like what you're reading? Support high-quality student journalism by donating here.