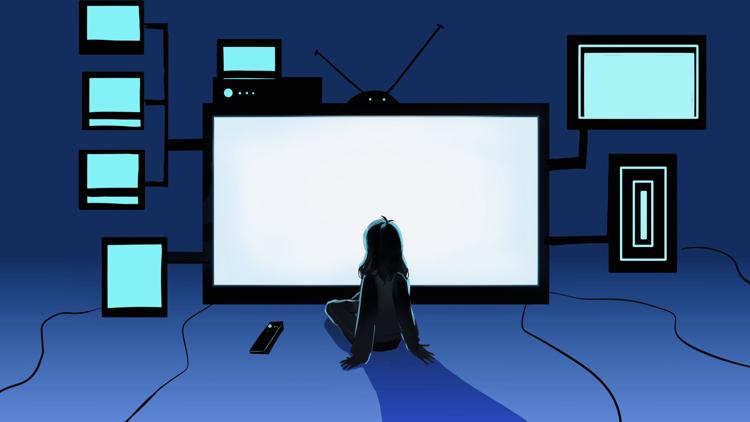 Editor's note: "I Should Watch TV" is a weekly column, inspired by David Byrne and St. Vincent's song of the same name, that focuses on mental health awareness, representation, and understanding the world through the media we consume.
The other day, I had the opportunity to partake in one of my favorite monthly traditions: laying on the floor and staring at the ceiling as Mitski's "Bury Me at Makeout Creek" plays in the background. I wouldn't classify this as self-care or wallowing, as it neither brings me joy nor sends me further down the rabbit hole. Instead, I believe this is my form of meditation: It's a time for re-evaluating my position in life, while also allowing me to procrastinate in every single one of my classes.
As the final seconds of "Last Words of a Shooting Star" played through my television speakers, a resounding silence filled the room. I realized I had forgotten to turn on replay, yet I had no energy to sit up and grab the remote.
A few days later, on New Year's Eve, my brother and I watched Darius Marder's "Sound of Metal." The 2019 film focuses on the story of a metal drummer (played by the spectacular Riz Ahmed) who, after going partially deaf during a show, realizes that his sense of hearing is rapidly declining. After receiving his diagnosis, the movie follows the drummer's journey as he adapts to his new life. He joins a Deaf community, learns American Sign Language, and works toward self-acceptance, all in spite of his struggles with heroin addiction and feelings of disconnect from the larger world. 
At the movie's end (apologies for any spoilers), Ahmed's character, after getting cochlear implants, recognizes that silence is not a hindrance, but something that can be embraced. 
Embracing silence is not something that comes naturally to hearing people. We surround ourselves with noise as a distraction from the harsh realities of life, and media companies enable this habit. We buy AirPods to close out others, hoping that Justin Bieber's "Yummy" will provide us with more satisfaction than genuine human interaction. We subscribe to Netflix and Hulu, because we would rather watch "The Office" for a fifth time than get creative or attempt to reconnect with lost friends.
I know this sounds like a call-out, but I admit I'm just as guilty of these offenses.
I love walking to work with my headphones on, blocking out the world and feeling like the protagonist, and I also adore watching my favorite shows on repeat. I've probably seen "The Leftovers" three or four times now. But as I get older, I'm beginning to recognize the importance of accepting situations for what they are and the value of embracing my own personal silence. 
In "Sound of Metal," Ahmed's character sells everything he has  — drums, recording equipment, RV, etc. — to gain even the slightest bit of his hearing back. When the implants don't work exactly as he'd hoped, he is left disappointed.
There is no direct route to change, and acceptance can take a long time. We can utilize media to muffle our personal demons and voids, but until we understand that the silence in each of our lives is crucial to our development, personal growth will never fully be possible.
As Mitski's beautiful voice faded and the instruments disappeared, I was still there on the floor. The ceiling remained its ugly beige color, and the glowing television screen continued to invade the room I spent my high school years gaming in.
When the noise and distractions end, one variable remains constant: you. It's difficult, but I urge you to be comfortable with yourself, attempt an acceptance of the unacceptable, and embrace the silence as it comes.
Trust me, I'm right here with you.
Reach columnist Jacob Renn at arts@dailyuw.com. Twitter: @jakemrenn
Like what you're reading? Support high-quality student journalism by donating here.