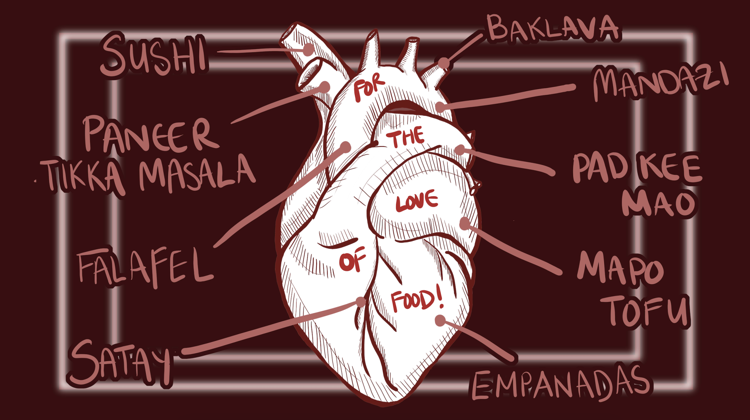 The end of the quarter is drawing near, and I, for one, am ready for it to be over. Between finals, essays, and the exhaustion that accompanies the last week of classes, I was in dire need of a comforting meal. 
Luckily, this week I had the pleasure of talking to Jordyn Doyle, a sophomore majoring in psychology and sociology, and she delivered.
For Doyle, food is a special occasion. Although she is from Washington state, much of her extended family lives in Louisiana and Mississippi, and Doyle only sees them for holidays and other celebrations. She has fond memories of cooking gumbo with her relatives for Christmas; food was her family's way of catching up after the year spent apart.
"We would cook big meals and kind of go all out ... it's time to just all spend together," Doyle said. 
Reflecting on how college has altered her perception of food, Doyle says she has a greater appreciation than ever for cooking. In high school, Doyle danced and took classes at her local community college, which meant she was often responsible for cooking her own meals when she finally made it home. 
Cooking became a way for Doyle to unwind after a busy day. Since beginning college, Doyle has continued to juggle commitments to school and dance. Due to her busy schedule, she rarely has time to cook. However, this has only added to the joy she gets from cooking. 
"When I do cook it's always more special, I think, than it was before," Doyle said. 
Our conversation turned to the power of food to soothe us and remind us of our childhood. Everyone I talk to seems to have a guilty pleasure food that is a holdover from their childhood. Mine, despite my complicated relationship with dairy, is cottage cheese. When I was growing up, I always asked my mom to buy cottage cheese at the grocery store; when I encounter this food now, it reminds me of those store trips together.
Doyle, for her part, hesitated after I asked her to name her favorite comfort food.
"Oh boy, um, I'm going to get so much crap," Doyle said. 
After some hesitation, Doyle admitted that canned peas are, to this day, one of her favorite foods. When Doyle's father was growing up in Mississippi, his mother would make canned peas more than any other vegetable. Although Doyle's father eventually moved west, he never lost his love of canned peas — an appreciation he passed on to his daughter. 
Aside from canned peas, Doyle told me that cooking homemade crêpes for her family is an integral part of how she relates to them. Doyle only makes crêpes twice a year — on her mother's birthday and Mother's Day. 
"Me and my mom have a very interesting relationship," Doyle said. "So it just kind of symbolizes two days where no craziness happens, and it's just kind of my gift."
Doyle also shared that, beyond being a way of making peace with her mother, cooking is something that allows her to open up to others. She told me that cooking can be a very personal thing, because it incorporates your culture, past, and upbringing.
"I think that, like, weirdly enough, it could be something very vulnerable to show people, like to cook certain things for them," Doyle added. 
Doyle loves crêpes specifically because they are so simple. She told me she likes to experiment with adding flavors, like cinnamon and vanilla, to the batter, and typically serves the crêpes with plenty of fresh fruit. 
I have made crêpes before, so Doyle's recipe wasn't all that daunting. If you've never made crêpes before, the key is to make the smoothest batter possible. You should also get lots of practice cooking and flipping them. Just like with pancakes, the first one won't be the prettiest. 
Crêpes are delicious, even as a simple weeknight meal. I love making savory crêpes by serving them with tomatoes, spinach, and feta cheese instead of fruit. Either way, crêpes are a fun and delicious food to add to your cooking repertoire. 
As always, happy cooking and even happier eating. Please do not hesitate to share your food stories; I would love to hear from you. If you send a new recipe, believe me, I will be overjoyed.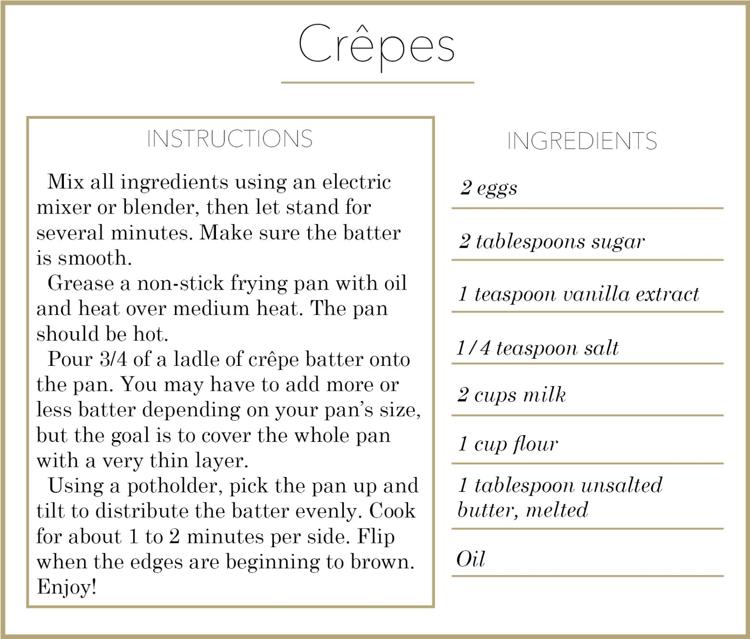 Reach columnist Zoe Luderman Miller at arts@dailyuw.com. Twitter: @zozozaira
Like what you're reading? Support high-quality student journalism by donating here.