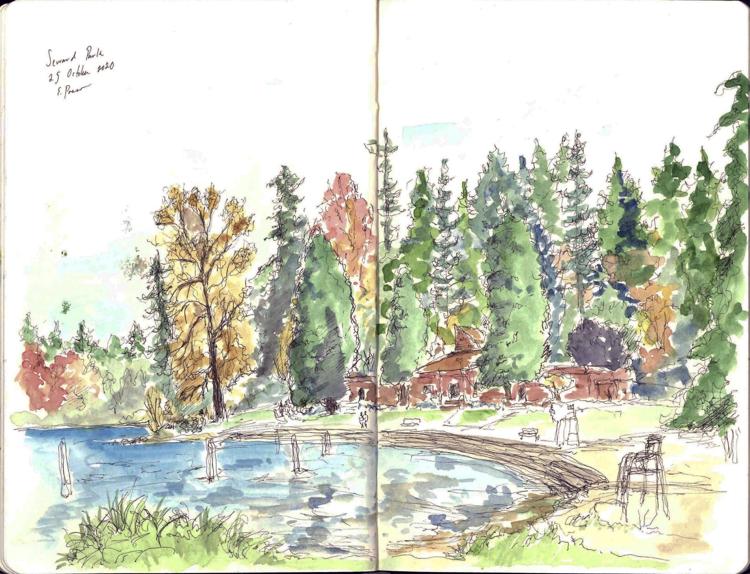 I'd argue that the conventional joys of autumn and winter — multitudes of cozy blankets, hot tea and apple cider, candles, and fuzzy sweaters — are passé and overrated. I am here to tell you that the Danish have it wrong, and the absolute worst way to combat the cold, dreary weather outside is to cower in fear and huddle inside your string light–adorned room.
I propose an entirely different strategy. Layer up with all the warm clothing you have (preferably wool, especially the scratchy kind), take a thermos of hot tea or coffee, grab a small notebook or sketchbook if you're feeling artistic (or perhaps a nature guidebook if you're feeling adventurous), and go outside.
It may be 30-something degrees, with a windchill that makes it feel even colder, but this is for your own good. Where's the joy of staying indoors if you never even experience the cold outside? If anything, spending a good two to three hours in the cold all bundled up will make you even happier to be inside with your autumn-themed hot beverage of choice.
Long walks in cold weather are infinitely more enjoyable than those in hot temperatures. In the cold, you're more motivated to continue walking to maintain your body heat and keep warm, as opposed to wanting to pass out from heat exhaustion. Granted, standing still to sketch in the cold can result in numb fingers, but I would much rather lose some feeling in my extremities than sweat all over my sketchbook.
This time of year is also perfect for bringing out my watercolors and using colors other than green, blue, and gray, which are probably the most used in my palette. Oranges, reds, and yellows make an appearance in my sketches made between the months of September and November thanks to the changing leaves on trees.
After going for a walk around Seward Park on a perfectly crisp autumn day, I look forward to using the rest of autumn and the coming winter to embrace my love of the outdoors.
This year has given us enough cabin fever to last a lifetime. So while I won't berate you for wanting to stay inside with your cinnamon-scented candles and hot apple cider, please just go outside first.
Until the next sketch,
Reach The Campus Sketcher Elijah Pasco at arts@dailyuw.com. Instagram: @the_campus_sketcher
Like what you're reading? Support high-quality student journalism by donating here.