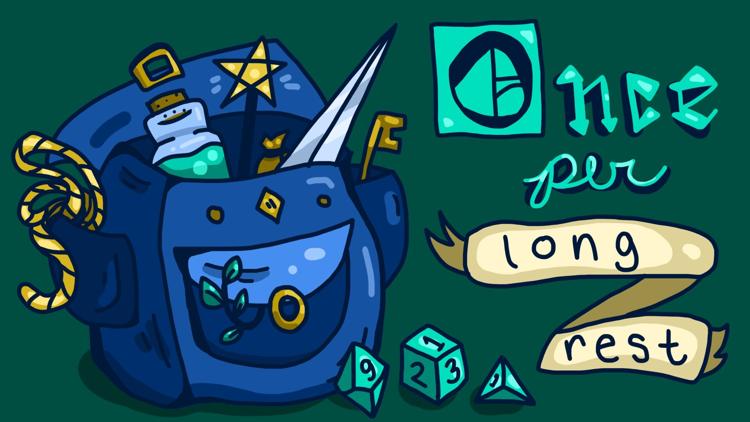 Editor's note: Once per Long Rest is a biweekly column chronicling the art of Tabletop Role Playing Games (TTRPGs) with reviews, recommendations, and coverage of anything nerd-related.
I love Dungeons & Dragons (DnD). Being able to get together with my friends (pre-quarantine), create characters, and mess around in a world of our own creation was always relaxing. Even though we were playing a game, role-playing as our characters felt real and emotional. When our characters experienced pain or happiness, so did we. Every success and failure stung like it was happening in real life.
There was never a time when role-playing wasn't a part of my life. Whether it was pretending to be a Bionicle when I was a kid playing in my grandparents' yard, picking up my first game of 4th Edition DnD in middle school, or now, as I create my own world and write a campaign for 5th Edition DnD, creating a character and going on adventures in my head has always felt fun and comfortable.
That's why it really stung when I began to realize that DnD wasn't made for people like me. Specifically, people of color.
DnD's origins are the wargaming community from the early '70s. DnD's predecessor was a game named "Chainmail," written by Gary Gygax, one of the original authors of DnD, and Jeff Perren, a game designer and Gygax's associate. "Chainmail" was written to simulate medieval combat, but the game also featured an optional rules set that included fantasy elements.
Wargaming fan and future DnD co-author Dave Arneson picked up a copy of "Chainmail" and wrote his own fantasy setting called "Blackmoor." After showing Gygax "Blackmoor," the two collaborated to eventually create the original rule set for what would become DnD.
Gygax published Original DnD under his company TSR, Inc., which he ran out of his basement in Lake Geneva, Wisconsin. He then co-authored Advanced DnD, otherwise known as 1st Edition, with Dave Arneson in 1977. 
It wasn't until 1985, when TSR, Inc. published a book called "Oriental Adventures," (OA) that DnD's relationship with race got really weird. While the book appeared well intentioned, "Oriental Adventures" heavily blended, as Gygax puts it in the book's preface, "what is known as the Far East: China, Korea, Japan, and Mongolia." 
The book also set a dangerous precedent when Wizards of the Coast, the company that bought TSR, Inc. in 1997 and current publisher of DnD, released the 3rd Edition version of "Oriental Adventures" in 2001, which, sadly, was somehow more racist than the original version. Not only did the 3rd Edition use a Wonton font, it also leaned heavily into the fetishization of "the Orient."
Though DnD has historically been a Eurocentric game, its interactions with race have gotten progressively better over the years. The 4th and 5th Editions of DnD, thankfully, didn't receive their own versions of OA. Wizards of the Coast also released an article in June of this year, following the death of George Floyd, that discussed DnD's previous relationship with race and its plans for the future. Wizards of the Coast will also be releasing a supplemental rule book, "Tasha's Cauldron of Everything," in November that will include optional rules to change how race works in 5th Edition DnD. 
So what can players do in the meantime? I'd recommend checking out TTRPG streams from people of color, like The Asians Represent Podcast. The podcast recently hosted a panel at the DnD Celebration event where they discussed DnD's history with OA. I also suggest checking out setting-agnostic TTRPG systems like Quest or Powered by the Apocalypse.
More importantly, I'd recommend creating your own world that properly represents the stories you wish to tell. Explore what it would look like if people of color were portrayed as human beings, not adversaries or barbarians from a mystical, unknown realm like they have been in the past. So roll up your sleeves, grab a set of dice and an oversized cup of coffee, and get to writing. I'm excited to see what stories you tell.
Reach Development Editor Kyle Bender at arts@dailyuw.com. Twitter: @avatar_kyle 
Like what you're reading? Support high-quality student journalism by donating here.