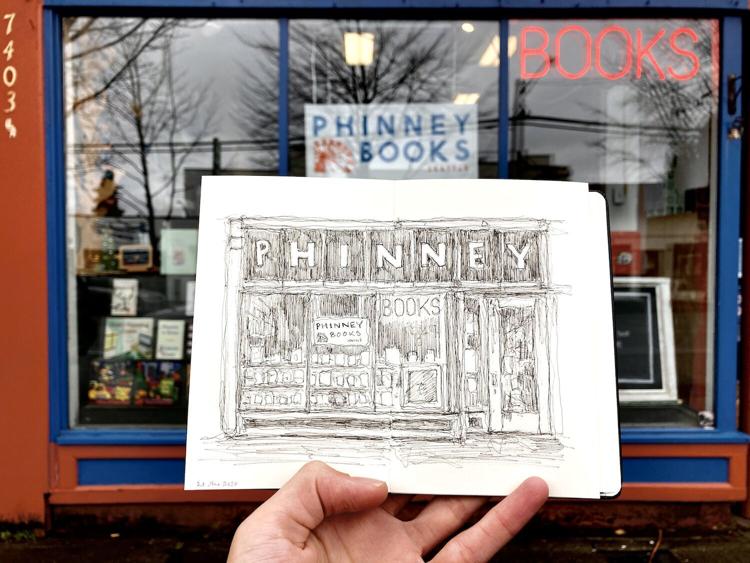 A cozy and well-loved neighborhood bookstore, Phinney Books, has been serving the Phinney Ridge community since 2014. 
"We're settled in the community," Tom Nissley, owner of Phinney Books, said. "We are a neighborhood bookstore: we know the people who come in, what they read, and we even know their kids."
Nissley said that, as a small store, Phinney Books has its own personality. The books they sell are expressions of the owner as well as the customers. Even the staff members live within walking distance of the store. 
In addition to owning Phinney Books, Nissley also owns Madison Books in Madison Park. In line with his belief that bookstores should reflect the community they serve, Nissley doesn't have a hand in this store's inventory. The manager at Madison Books is in control of what books they sell, and sometimes Nissley will come across new books whenever he visits the sister location. 
According to Nissley, most of the current national bestsellers aren't even in stock.
"Whatever books Sean Hannity or Bill O'Reilly are pushing, you won't find here," Nissley said. "Our bestsellers are very different."
Nissley told me that readers in Phinney Ridge are willing to try interesting fiction. He could put out a translated fiction book or something from 40 years ago, and customers will attempt a read.
I've found some of my favorite reads at Phinney Books. Browsing their online store, calling over the phone, and occasionally visiting in person are, to me, infinitely preferable to shopping on Amazon or through other large booksellers. 
Knowing that the books on each shelf have been selected by another person, and are representations of my interests and those of my neighbors, gives me more comfort than an algorithm trying to guess what I want or a corporation selling me something I don't want. 
Nissley has an ongoing spreadsheet of books he wants to read and share with his customers; in particular, his "radar is on for lost classics." Whenever someone mentions a book that he hasn't read, his pen and paper are ready to add it to the list. 
When asked about what he thinks of Amazon, Nissley simply told me, "I don't even think about Amazon."
The bookstore has a very homey feel. Tables from Nissley's house are now stacked with books. His sister is the graphic designer for the store, and his father-in-law hand-makes wood stands for the books.
Neighborhood bookstores like Phinney Books offer something special — a means of connecting to one's community through shared interests in the books we read. 
I'd recommend taking some advice out of Nissley's book: "You fill a room with books and it feels like home a bit."
Until the next sketch,
Reach The Campus Sketcher Elijah Pasco at arts@dailyuw.com. Instagram: @the_campus_sketcher
Like what you're reading? Support high-quality student journalism by donating here.