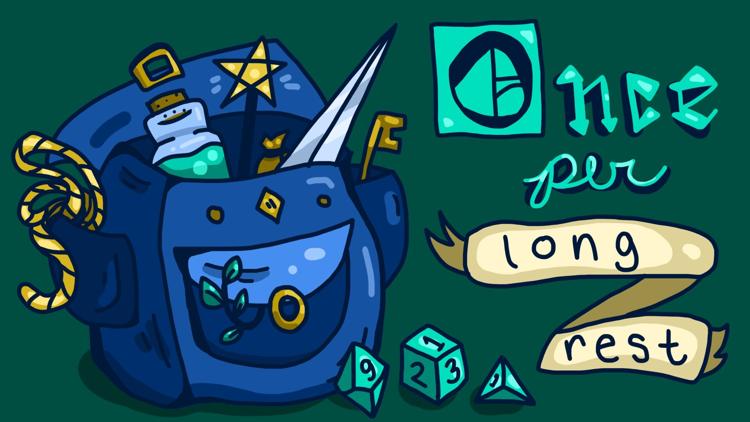 Editor's note: Once per Long Rest is a biweekly column chronicling the art of Tabletop Role Playing Games (TTRPGs) with reviews, recommendations, and coverage of anything nerd-related.
I just want to say, thank f***ing God this quarter is almost over. You, my dear readers, have no clue how excited I am to get up from my desk and gamer chair, step away from class, and sit right back down at my desk in my gamer chair and start playing some TTRPGs with my friends.
While I wouldn't recommend playing for three days straight during the break (something I once did, and would never do again), I suggest taking the time to learn a new game. However, if you already have a campaign set up or a weekly group you play with, here are my tips for making your games even better.
First off, learn how to improvise during your games. While a lot of game masters (GM) are skilled at preparing for any situation that their players could explore, utilizing the "Yes, and…" rule of improv is the best skill to have for when your players eventually pull some dumb sh*t.
While the "Yes, and…" rule mainly encourages improv actors to follow each other's ideas onstage, as a GM, you can use the rule to ensure your players aren't feeling shut down when they follow a path you didn't plan for.
I'd also recommend expanding the rule to include the phrase "No, but…." This is particularly helpful when your players have an idea that doesn't fit with the direction of the game, as it still gives them an open-ended route to explore.
You may also have incentives for your players during games. Specifically, try representing enemies and challenges with snacks. If your group plays your TTRPGs with a physical map, save some money and use fun-sized candy bars as monsters instead of miniatures.
This practice is especially good for groups with new players. It tends to help lead timid or nervous players outside their comfort zone in a way that isn't too disruptive. Make sure you reward your players when they succeed, not just when they kill an enemy. It'll give them a good reason to resolve situations in more creative ways.
Finally, try your hand at prop-making. While it's cool to give a piece of paper bearing a description of a new magic item, it's even better when you hand over the item itself to your player. This is best used with items that are relatively small — rings, wands, books, and other small and simple magic items. 
Trent Holbrook, a model and map-maker, recently published a video about making model wands for his in-the-works TTRPG. Adam Savage, former co-host of "MythBusters" and current host of "Adam Savage's Tested," is another great resource for making easy props for your group. While Holbrook delves into the feelings and emotions within prop-making, Savage explores various in-depth prop-making techniques that really solidify a build. While I'd wait to hand over any props you make until after it's safe to meet in person, try setting aside some time over the break to experiment on your own.
Whether you are just now getting into TTRPGs or have been playing for years, I hope you use downtime during the upcoming break to explore new ways of solidifying your games at home.
Reach Development Editor Kyle Bender at arts@dailyuw.com. Twitter: @avatar_kyle 
Like what you're reading? Support high-quality student journalism by donating here.