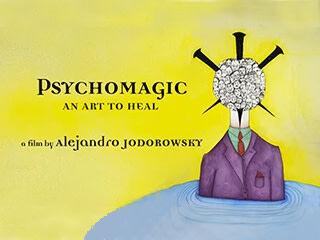 Roger Ebert, a famous film critic, once claimed that Alejandro Jodorowsky described himself as a man without any real roots, as ephemeral as the plots and characters he directed. Despite successful ventures in a string of countries, Jodoworosky could never shake the impression that "in Bolivia I was a Russian, in Chile I was [Jewish], in Paris I was a Chilean, in Mexico I was French, and now, in America, I am a Mexican." In Jodorowsky's latest screening at the Grand Illusion Cinema, the director explores the underlying philosophies, background, and work that constitute his own mystique. Jodorowsky examines each of these underlying elements of his legacy through a spiritual practice of "psychomagic," which he uses to treat others who have experienced the same traumas that he has.
Jodorowsky frames each scene in the movie "Psychomagic: A Healing Art" around a social ill that someone is suffering from. Though we never occupy the post-apocalyptic scapes of his earlier works, the subjects we do encounter are framed as the real-life counterparts to his social critiques. Surrealist scenes from his acid films and Western esotericism punctuate the otherwise real life he has lived.
But without the artifice of a script, his subjects' journeys are intimate looks at the real consequences of the thematic annals in Jodorowsky's mind. His earlier attempts to capture neglect, infidelity, and heartbreak are all profoundly recontextualized in the modern age. Jodorowsky, who is now well into his twilight years, has taken to referencing his own life off-screen, which provides healing to his patients, and also to himself.
The director never shies from interjections between each narrative. He reveals that at the beginning of his life, he was abused to the point of sheer terror. Jodorowsky recounts how he would be afraid of the night swallowing his child-self into the unknown, but that he found reprieve in this better fate.
This film is a glimpse into the "real" Jodorowsky: the inspiration of techne that is no longer obscured by the glint of pyrotechnics. Other directors might have chosen to release a commentary, but Jodorowsky goes beyond this simple gesture, instead developing a healing practice that embodies the avant-garde spirit of his filmography.
There is something both chilling and remarkable about this revelation. Art is the framework of Jodorowsky's legacy, but, in an unexpected twist, it takes a backseat here to the more surreal practices of his "psychomagic."
Each subject he interviews is representative of something from Jodorowsky's own life. Love from family and acceptance from society stand as the deciding factors in his directorial decisions, and also reflect the healing that has transpired through his art.
Even after he presents people who have healed, there is a pervading sense of hopelessness. Life is the progenitor of suffering, and time is the steward that drives the infernal machine.
The most compelling case that Jodorowsky presents is that of an elderly woman facing her demise. Death looming over her conscience, she complains about not having lived a more "interesting" life. With all the checkmarks of a "life well-lived," Jodorowsky comforts her in facing oblivion, or the nonexistence that has driven his life's work.
As Jodorowsky faces his own mortality, it becomes clear that this entire film is a swan song and a testament to a man's valiant stand against the impossibility of conquering death. Unlike other causes of misfortune, there is no reason to scream and lash out at death. Muerte, as Jodorowsky posits, is simply the ending that people get — not one that is deserved or can be forsaken. Instead, death is something that people must face with the same celebratory attitude that governs so much of the human spirit.
Jodorowsky's answer to death? Acceptance.
Reach writer Andy Chia at arts@dailyuw.com. Twitter: @GreatBaconBaron.  
Like what you're reading? Support high-quality student journalism by donating here.