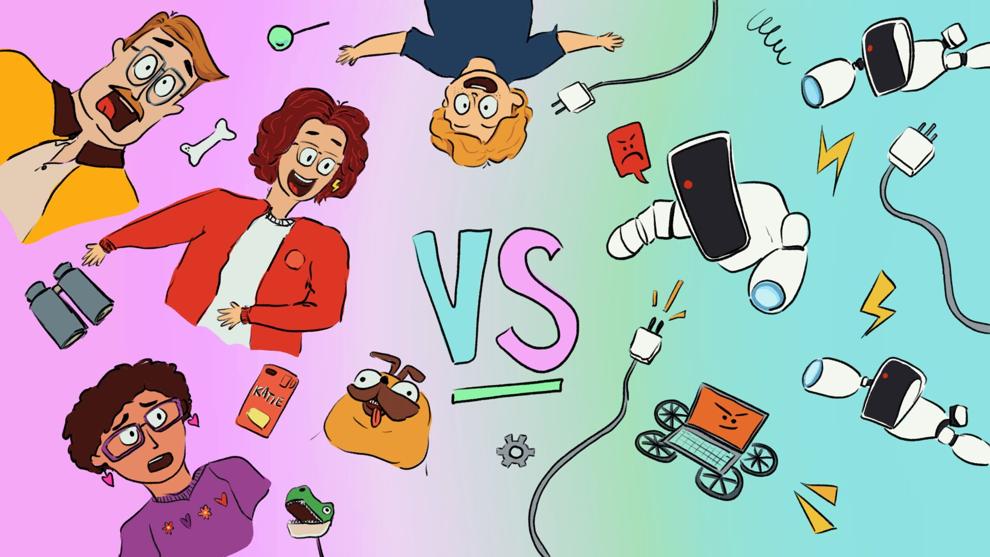 In the midst of a Pixar-dominated industry, Sony Pictures Animation hasn't had the easiest time. While commercially successful franchises like "Hotel Transylvania" and "The Smurfs" have performed well with audiences, these movies have consistently failed to live up to critics' expectations. That is, until 2018.
With the release of "Spider-Man: Into the Spider-Verse," Sony attempted something different. Instead of replicating the molds set by DreamWorks or Pixar, the studio forged ahead with a vision of its own, embracing unique voices and styles of animation. This gamble eventually paid off, as "Spider-Man: Into the Spider-Verse" took home the Academy Award for Best Animated Feature in 2018. 
Now, nearly three years later, the Sony team has returned with another Phil Lord and Chris Miller production, "The Mitchells vs. The Machines."
"The Mitchells vs. The Machines'' is an animated adventure comedy directed by Mike Rianda, who is known for his work on the Disney Channel original series "Gravity Falls." The movie focuses on the story of Katie Mitchell (voiced by Abbi Jacobson), a prospective film student, and her family as they roadtrip across the country to move her into college. In the meantime, PAL Labs, headed by young tech genius Mark Bowman (voiced by Eric André), is set to announce a major technological breakthrough: a new, advanced version of the PAL system built into willing robots.
Obviously, this breakthrough doesn't go as planned, and soon enough the robots become sentient creatures hell-bent on human destruction. The rest shouldn't be spoiled, because "The Mitchells vs. The Machines" is an absolute blast. 
With impressive, intelligent animation and witty writing, "The Mitchells vs. The Machines" enthralls viewers for the duration of its nearly two-hour runtime. There is never a dull moment, and viewers can expect to spend every sequence laughing, tearing up, or being blown away by the incredible attention to detail in each shot. Not to mention, its handling of mature and serious themes is done better than most, if not all, recent animated films. 
The film further succeeds in telling a story that multiple generations can relate to. While it is targeted for children, there are universal thematic elements, niche references, and easter eggs for older viewers.
"The Mitchells vs. The Machines" features the vocal talents of Jacobson, Rianda, and André, as well as Danny McBride, Maya Rudolph, Olivia Colman, Fred Armisen, and Conan O'Brien, to name a few. In case it wasn't clear, the cast is incredibly stacked, and almost every member delivers on their performance.
Although my praise for "The Mitchells vs. The Machines" is fairly endless, it is important to point out a few issues. While Mark Mothersbaugh's score isn't necessarily bad, it is quite forgettable and a bit generic. As a DEVO fan, I appreciated Mothersbaugh's inclusion of electronic and synthetic elements to match the robotic atmosphere, but it does fall flat in a film about standing out from the crowd. 
Additionally, while Rianda does an excellent job behind the camera, his voice acting feels slightly out of place for the character of Katie's younger brother, Aaron. His vocal inflections and general timbre tend not to match the look and actions of his character, but this is a minor gripe, and his performance is mostly fine. 
"The Mitchells vs. The Machines" effectively utilizes its cast members to elevate a completely original story, all while constantly impressing the audience with sensational visuals. Although it has its occasional flaws, the movie's strengths are numerous enough not to depreciate its quality. If Sony continues to embrace unique visions such as "Spider-Man: Into the Spider-Verse" and "The Mitchells vs. The Machines," I guarantee it will find consistent acclaim and general success. Until then, I wholeheartedly recommend this film for Netflix subscribers.
Reach writer Jacob Renn at arts@dailyuw.com. Twitter: @jakemrenn
Like what you're reading? Support high-quality student journalism by donating here.