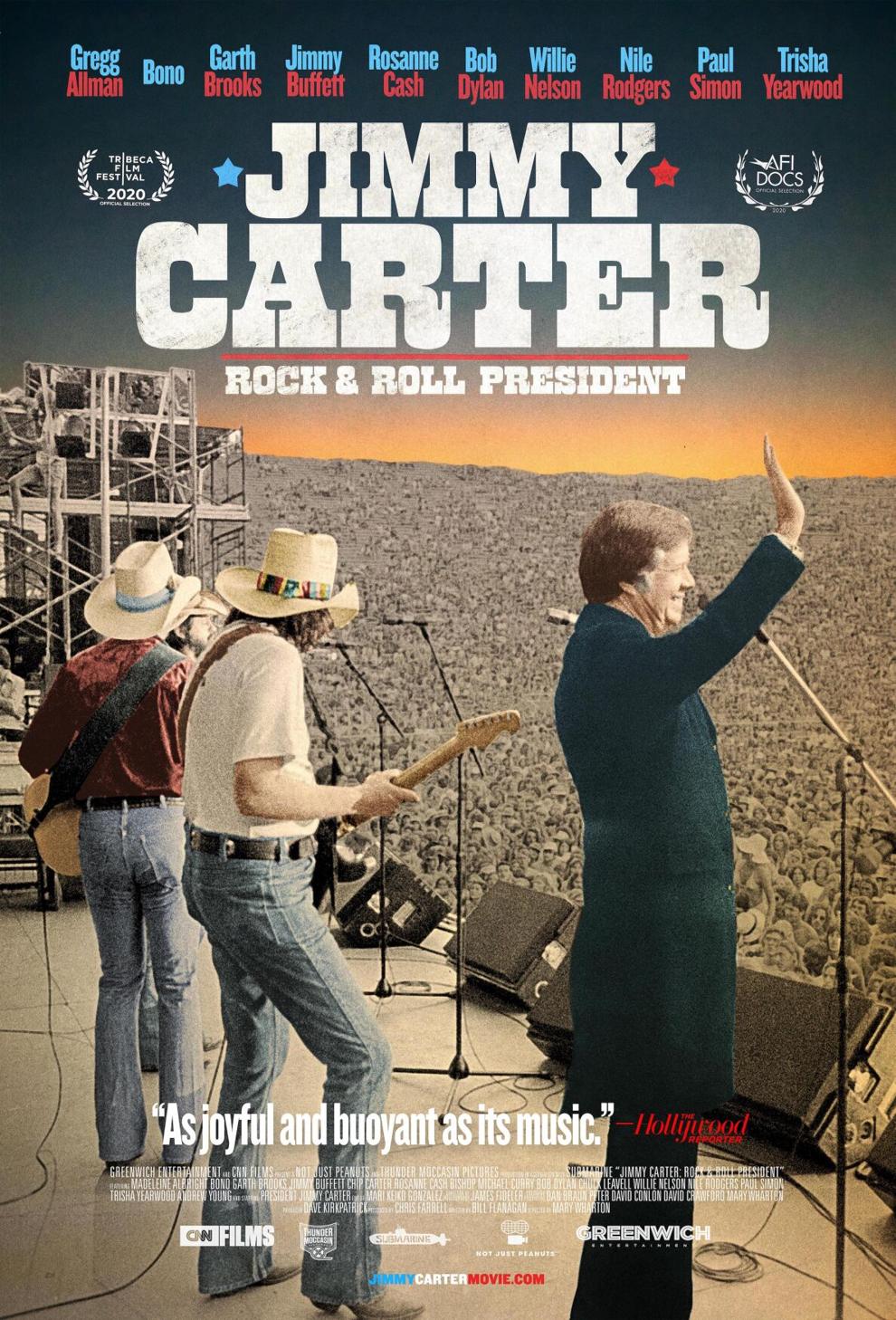 I didn't know this until recently, but former President Jimmy Carter is the candidate we long to vote for, yet may never again see in office. His humble beginnings, genuine advocacy, and deep-rooted love for American culture made him an ideal choice for the American people in 1977.
Frankly, this self-proclaimed "rockumentary" convinced me Carter may have even done well in 2020.
In an attempt to brighten the few remaining nights before fall quarter, I found myself, once again, on the website of Seattle's historic Grand Illusion Cinema. A beloved part of U-District arts and culture, the independently-run theater now offers a multitude of online screenings by way of partnered film distributors. The Grand Illusion's wide selection of intriguing films makes it easy to support the business in its fight to stay open during the pandemic.
With the upcoming election in mind, I was instantly drawn to "Jimmy Carter: Rock & Roll President." I didn't know much about the former president, but with promises of classic American tunes and a glimpse into the inner workings of presidential campaigns, director Mary Wharton had my attention.
Wharton's film expertly guides viewers through the life of Carter, utilizing a series of past and present interviews and video clips. The director paints a striking picture of American culture in the mid-to-late 20th century and effectively immerses the audience in the attitudes of a bygone era.
As the film opens, viewers are introduced to modern-day Carter, who reclines happily in his hometown of Plains, Georgia, as "Mr. Tambourine Man" by Bob Dylan plays softly in the background.
The audience instinctively recognizes that music holds a special place in Carter's soul. Clips of artists like Willie Nelson, Gregg Allman, and Johnny Cash are played as Carter patiently weaves together stories and anecdotes about the musicians he befriended over the course of his life and political career.
Interviewees in the film explain that the America of 1977 was desperate for a trustworthy, approachable, and down-to-earth leader. The people needed someone who could please the majority, yet restore dignity to the minority; they were looking for a president who could lead them into the proverbial better days without destroying the nation's industry.
Enter Jimmy Carter.
Carter's campaign was unique in that he enlisted his many musician friends to perform at political fundraisers and benefit dinners. The Allman Brothers Band, in particular, jumped at the chance to play at these high-profile events, seeing the gig as less of a political statement and more as an opportunity to play for thousands of eager listeners.
Stories of Carter's presidential term are often woven together as the film continues, with interviewees emphasizing his genuine friendship with the musicians who so famously secured him the presidency.
Many interviewees told stories of entertaining the president's guests on the White House lawn, while others hint at smoking marijuana with his son on the roof of the White House. Overall, it becomes increasingly apparent that Carter was, and continues to be, a respected leader of the American people.
This kaleidoscope of a film immerses viewers in what feels like simpler times, where music is a force for unity and the good guys always win. I highly recommend "Jimmy Carter: Rock & Roll President" to anyone interested in an arts-centric look at American presidencies. Before watching, I'd been unfamiliar with Carter, but thanks to Wharton and her team, I now feel like I am a part of his story. From peanut farming to nuclear engineering and Nobel Peace Prizes, Carter's improbable story held my attention from the start.
Carter once said, "One of the things that has held America together when we've been together has been the music we share and love."
I couldn't agree more with the sentiment.
Reach writer Elise Peyton at arts@dailyuw.com. Twitter: @e_peyton113
Like what you're reading? Support high-quality student journalism by donating here.