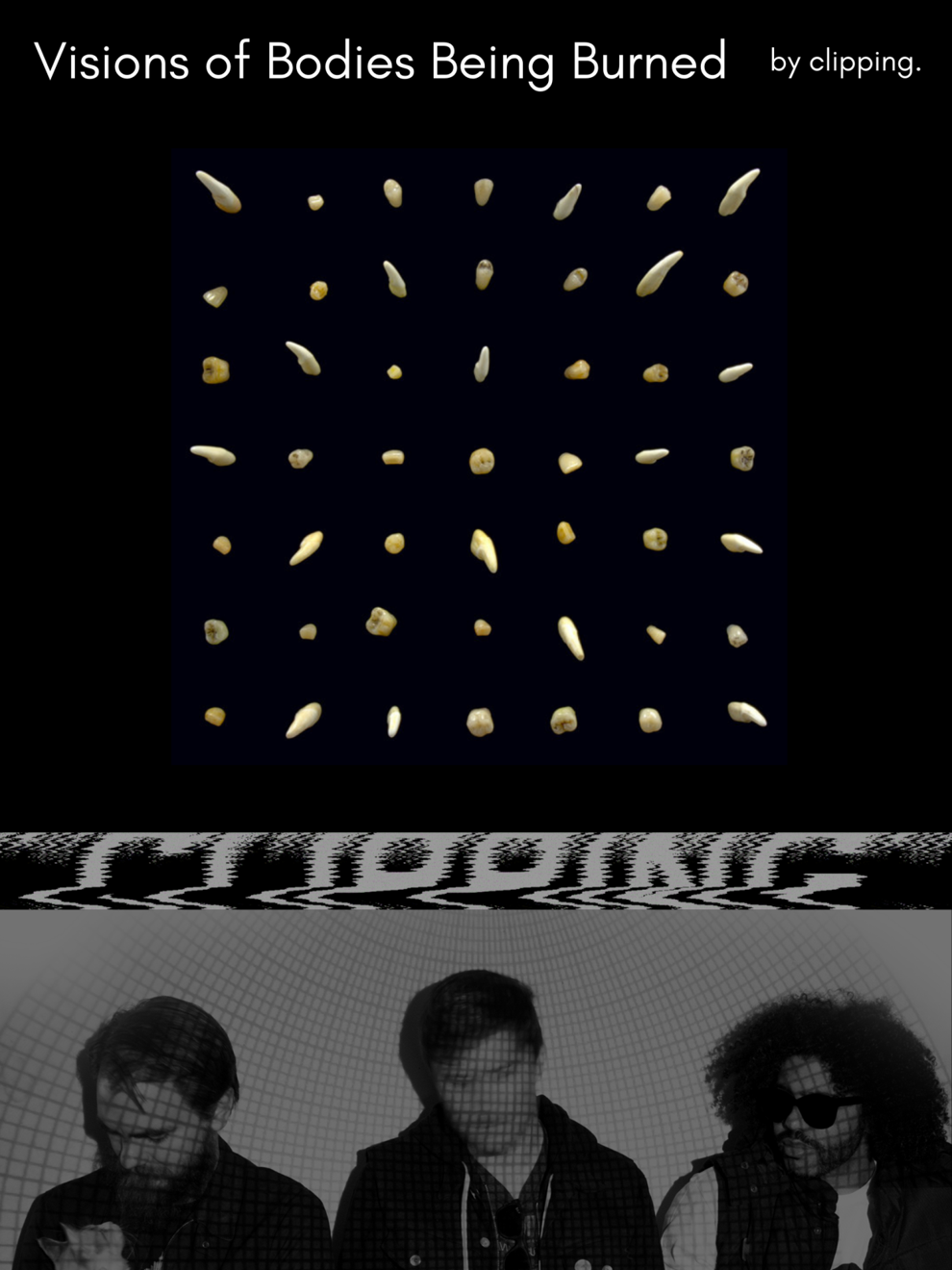 Imagine yourself on the Quad on a cold, damp winter night, heading home after a solid study session at Ode. You pull out your phone to check the time and the glowing screen reveals that it's past midnight. Out of the corner of your eye, you spot a menacing, human-like figure slowly creeping toward you.
Not taking any risks, you add an extra step to each stride, hoping it'll give you even one more second to escape. Like an inspired member of the track team, you hurdle each step at the end of Pierce Lane, but alas, it's too late — the killer is standing right behind you.
As you stand at the top of the stairs, you freeze. An icy cold breath brushes against your spine. Feeling brave, you turn, shaking, ready to face your untimely and most unfortunate demise.
But, as you spin around, the being vanishes, and only the hazy, orange lights protruding from the archaic buildings remain. 
"Intro," a track from Los Angeles-based, Sub Pop-published rap group clipping.'s October 2020 release "Visions of Bodies Being Burned," (VOBBB) elicits the same feelings. 
 "VOBBB" is a fascinating combination of social commentary, impressive technical ability, and perfectly balanced modern horrorcore.
clipping. is an experimental, hip-hop trio composed of rapper Daveed Diggs and producers Jonathan Snipes and William Hutson. Their latest release is the sequel to 2019's "There Existed an Addiction to Blood" and is the fourth studio album from the group.
Through 16 songs spanning 53 minutes, the trio manages to not only push the boundaries of sound, but do so in a way that is arguably more accessible than most noise-rap artists.
Diggs' lyricism is constantly enticing, and his mastery over breath control makes each track that much better. While "Story 2" from the group's second album, "CLPPNG," already highlighted this — as Diggs matches time signature changes almost 10 different times — "Something Underneath" in "VOBBB" certifies his ability and pushes Diggs into serious contention as one of music's greats.
Likewise, Snipes and Hutson's input should not fall under the radar. Both musicians are so wildly talented that each track feels effortless. The producers consistently prove that they can create West Coast-inspired instrumentals, infuse them with unorthodox samples, and somehow make some of the best music of 2020.
Their ability to craft consistently compelling soundscapes gives value to every listen. Since its release, I've listened to "VOBBB" countless times, and yet I continue to find new integrations of obscure sounds and instruments with each relisten.
Each track sounds wildly different from the next, yet each maintains a believable horror theme, even when they begin to sound more "mainstream." 
Tracks like "Check the Lock," "Looking Like Meat," and the lead single, "Say the Name," exemplify this idea, as Diggs' timbre and lyrical content match the menacing, intense beats from Hutson and Snipes.
In doing so, "VOBBB," as a final product, comes off less like a random collection of recorded tracks and more like a carefully crafted collection of horror short stories, existing somewhere between classic American writer Edgar Allan Poe and New York horrorcore pioneers Gravediggaz.
On the topic of social themes, clipping. never shies away from them. After all, this is the same group that, over the summer, released the protest anthem "Chapter 319," in which they state, "Donald Trump is a white supremacist, full stop/ If you vote for him again, you're a white supremacist, full stop." 
"VOBBB" is no change of form. Systemic racism, police brutality, climate change, and gentrification are all referenced and expertly woven into mini-horror stories. 
For example, the song "Pain Everyday," which utilizes real recordings of electronic voice phenomena, depicts the ghost of a lynching victim returning to haunt their white murderers. The result is a unique, necessary track which I cannot recommend enough. 
While I seemingly have nothing but praise, it's important to note that this album will not be for everyone. Fans of Diggs' role in "Hamilton" should be cautioned that this release is nothing similar. Harsh noise can be startling and uncomfortable, and although it's only occasionally used, I can understand why it may turn some listeners away.
That being said, if you have an hour or so to spare and are willing to expand your musical horizons, I urge you to give this album a listen.
Reach writer Jacob Renn at arts@dailyuw.com. Twitter: @jakemrenn
Like what you're reading? Support high-quality student journalism by donating here.