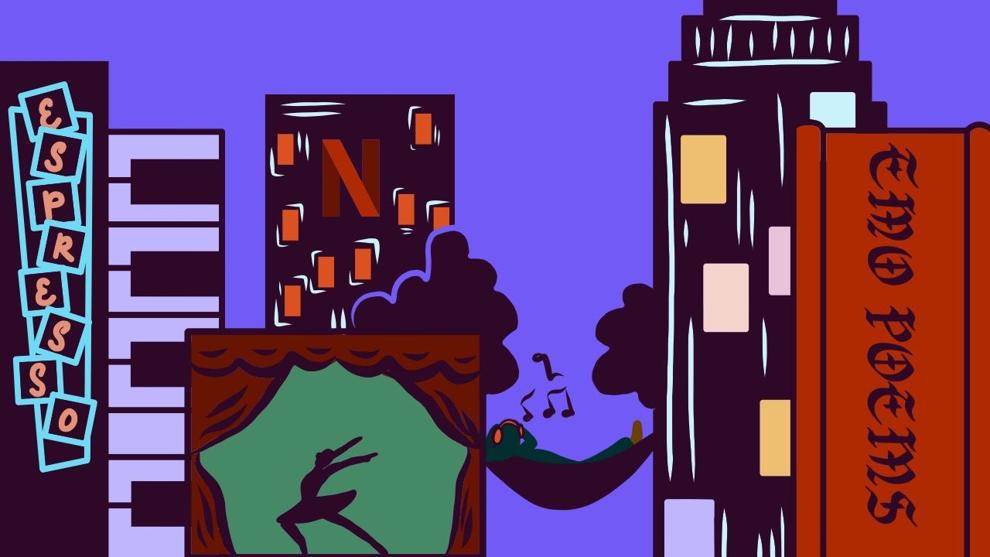 What we're watching
Natalie Roy, writer (@nataliedroy)
About a year ago, I finally took my roommate's advice and hit play on a YouTube playlist with over 100 three-hour-long videos. One pandemic later, I'm both proud and ashamed to say I've seen every single one of those videos.
"Critical Role" is a Dungeons & Dragons (D&D) show that airs every Thursday on Twitch. The show is filled with talented voice actors who craft compelling storylines, fight horrific monsters, and grow as characters over the course of real (and fictional) years. While the mountain of content can be overwhelming at first, the show has quickly become the highlight of my week. Without it, I don't think I'd even know what day it is.
In between D&D binges, my watchlist hasn't gotten any less chaotic.
To scratch the true-crime itch, I haven't found anything more satisfying than "The Jinx: The Life and Deaths of Robert Durst." The six-part HBO miniseries covers Durst and the three seemingly unrelated murders he became tied to. The show is largely an interview with Durst himself, and the final episode unfolds into something I've been unable to shake since watching.
Finally, "Bo Burnham: Inside" has been a comfort to me over the past weeks. While a Netflix comedy special filmed over the course of the pandemic in a single apartment may not sound like anything extraordinary, I can assure you that "Inside" is just that. Burnham accurately reflects the quarantine experience in a way that will make you laugh and cry at once. At the very least, the show will leave a few songs stuck in your head.
What we're listening to
Deborah Kwon, writer (@scoobydeeby)
It's 8 p.m. and the sun is still in the sky. "What Time Is It" rings in the back of my head as I comfortably lay down and stare up at the ceiling without feeling guilty about missed lectures.
Though I haven't been able to launch into a big song and dance number or party at the pool Sharpay-style, the start of summer has me longing for the nostalgic, uninhibited, stress-free fun characteristic of childhood.
I've been rediscovering and obsessing over Betty Who, a queer pop artist giving Carly Rae Jepsen, Icona Pop, and P!nk vibes. Who makes music reminiscent of what 12-year-old me imagined partying and stereotypical college fun would be like. Her music is the perfect score to chick flicks like "Pitch Perfect" and "Mean Girls." Who's 2014 album "Take Me When You Go" is also chock-full of high-energy dance-pop hits.
I added "Heartbreak Dream" to my movie character playlist and it reminds me of sitting in the backseat as a kid and dreaming about a better future. "Glory Days" is similar to Bruce Springsteen's "Glory Days" in that it makes you feel like it's the end of an era. When I hear Who's "Glory Days," I think about Otter Pops at the end-of-year field day in elementary school and the elation of my high school graduation. And to top it all off, her iconic "Somebody Loves You" brings me back to my terrible scream-singing karaoke sessions in elementary school. 
Betty Who's music is a necessity for long drives, solo dance parties in your bedroom, mini Pride month celebrations, or to just feel 10 years old again.
What we're reading
Joshua Lee, General Sections Editor (@creativeperhaps)
Does anybody remember "Game of Thrones," that one fantasy show that dominated discussion and pop culture for a decade, but was made utterly irrelevant by its final four episodes (or six, or 13, or 33, depending on who you ask)? It's crazy to recall that, back in 2011, the show was just a small-scale HBO adaptation of some niche fantasy novels from the '90s. 
In the haze of my post-school boredom, I found myself with a copy of book one of George R.R. Martin's aforementioned fantasy series, "A Song of Ice and Fire." The first novel in the series, "A Game of Thrones," covers the first season of the hit show. 
Honestly, I'm not sure what I can say about this book or the show it inspired that hasn't already been said. It's captivating, detailed, elaborate, deep, and gruesome. I'd heartily recommend it, but the problem is, the series isn't finished. Yes, the show "Game of Thrones" ended with its eighth season in 2019, but "A Song of Ice and Fire" still has two gigantic books to go.
After an entire decade following the last major release in the series, the latest novel, "The Winds of Winter," is just as far from release as it feels like it's always been. That's not even considering the fact that there's supposed to be another book coming out as well.
I cannot, in good conscience, recommend you start "A Song of Ice and Fire" right now. However, if Martin is able to finish his books, it'll probably be a fantastic series of reads.
Reach writers Natalie Roy and Deborah Kwon and General Sections Editor Joshua Lee at arts@dailyuw.com. 
Like what you're reading? Support high-quality student journalism by donating here.