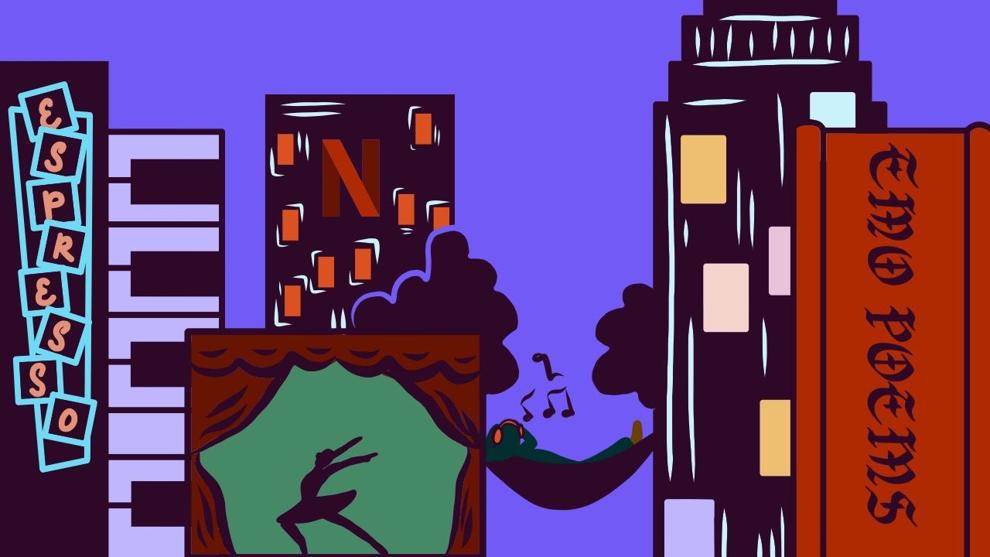 What we're watching
Julie Emory (@JulieEmory2), writer
Although I'm not an avid TV watcher, and would be hard pressed to subscribe to any streaming service, I usually make it a point to keep up with one or two anime at a time.
This summer, I've started the new season of the psychological horror "Higurashi: When They Cry — Sotsu." The current season continues last year's reboot of the popular show from the early 2000s, but with a twist that raises the stakes above that of the original anime. Imagine reliving the same month for hundreds of years, repeatedly watching all of your friends die at the end, only to find your best friend is responsible for these unspeakable tragedies. The premise, especially in the context of the fictional village Hinamizawa, which is actually based on the town of Shirakawago — generates extremely fearful moments that keep me on my toes and bond me to the characters. 
Besides the anime, I began watching a few episodes of the sitcom "Kim's Convenience" after stumbling upon several clips on YouTube. While the show's depiction of underrepresented communities is often hit-or-miss, I appreciate how the sitcom brings visibility to Asian American actors and characters. The show follows the owner of a convenience store in Toronto, Mr. Kim — affectionately called appa, or father in Korean — and his family. The show has brought many smiles to my face after a long day at work, and I am hopeful that the success of "Kim's Convenience" will inspire other similarly diverse shows.
What we're listening to
Natalie Rand (@airbudfan), writer
I don't know about you, but transitioning out of this pandemic is making me feel old. Last March, I went into isolation as a naive 19-year-old halfway through sophomore year of college. Now I'm suddenly in my 20s and going into senior year with a lifetime of wisdom and self-realization that was jam-packed into one chaotic year. Fortunately, I've found some albums to help me through this aging crisis.
Lucy Dacus's album "Home Video," released in June, explores childhood nostalgia through catchy pop-rock and folk tunes. Dacus manages to make lyrics about their first love at Vacation Bible School ("VBS"), skipping school for a bad movie theater date ("Brando"), and wanting to kill a friend's father ("Thumbs") — not only poignant, but relatable.
Sharon Van Etten's 2019 album "Remind Me Tomorrow" also looks back on the past, but with a focus on growth. In the '80s-influenced synth pop banger "Comeback Kid," Van Etten reflects on her troubled past, while in the emotionally charged "Seventeen," Van Etten practically screams to her younger self about how little she knows and how much growth she's going to experience.
Finally, Weyes Blood's 2019 chamber pop album, "Titanic Rising," acknowledges the various anxieties that accompany aging, but in a calming way that might make you feel a little reassured. The track that best sums up the theme of uncertainty and change over time is the album's lushly orchestrated opening number, in which Weyes Blood tells listeners that "A Lot's Gonna Change" as you grow up and learn harsh realities in life, but that you should "try to leave it all behind."
What we're reading
Andy Chia (@GreatBaconBaron), writer
I am not a scholar of David Foster Wallace in any way, but I have been a longtime fan of his work. Whether that be failing to comprehend his magnum opus "Infinite Jest," or reading something slightly more manageable like "The Broom of the System," Wallace's prose is something I have tried to emulate over the years. More than anything, I have enjoyed revisiting his essays this summer as I brace for my adult responsibilities to hit me square in the jaw. 
Pithy, irreverent, and often dense, the essays in Wallace's "Consider the Lobster" have been a joy to revisit. Whether that be the eponymous essay about the Maine Lobster Festival and the ethics of killing lobsters as sustenance, or something raunchier like Wallace's take on the adult entertainment industry, Wallace approaches each of his topics with a philosophical care that I find myself gravitating toward. My favorite essay from the collection is his personal take on Tracy Austin, at one point a world champion in tennis, whose career had been cut short due to a series of unfortunate accidents.
Wallace too, despite being a literary titan, was also a rising tennis star in his youth. Stemming from this experience, "How Tracy Austin Broke My Heart" reads as both a functional review of the sports memoir genre, as well as a reflection of someone who had a clairvoyant understanding of what differentiated athletic techne from the academic "genius" we naively seek in sports memoirs. I won't spoil his thoughts, but this was an essay that fundamentally changed my understanding of prose, so give it a swing.
What we're up to
Niv Joshi (@niveditajoshii), writer 
I am not going to ramble about Seattle's weather as of late. Rather, let me tell you how I have been taking advantage of it. I have finally found a solid routine in this mix of cool breeze in the mornings and scorching heat in the afternoons. 
My love for spreadsheets has come in handy this season, as my nights are filled with exploring new trails on Google and adding them to my growing list of desired adventures. Then, it is just me, my bike, and my water bottle up against the whole world, traversing through those trails and taking in the morning air. The trail to Golden Gardens Park has been my favorite so far.
The rec class pass offered by the IMA has been another wonderful addition to my toolkit this summer. A lot of my evenings are spent at the IMA dancing, jazzing, and sometimes yoga-ing my way through the stress of summer quarter. There are so many other activities offered at the IMA, most of which I have utilized in the last few weeks to move my body. 
I am hoping to go back home to India after summer quarter concludes, and all these summer activities are my way of gaining the energy to eat as many delicacies as I can before returning for in-person classes this fall. Who wants to get out of breath while eating their mother's Indian food? Not me.
Reach writers Julie Emory, Natalie Rand, Andy Chia, and Niv Joshi at arts@dailyuw.com. 
Like what you're reading? Support high-quality student journalism by donating here.