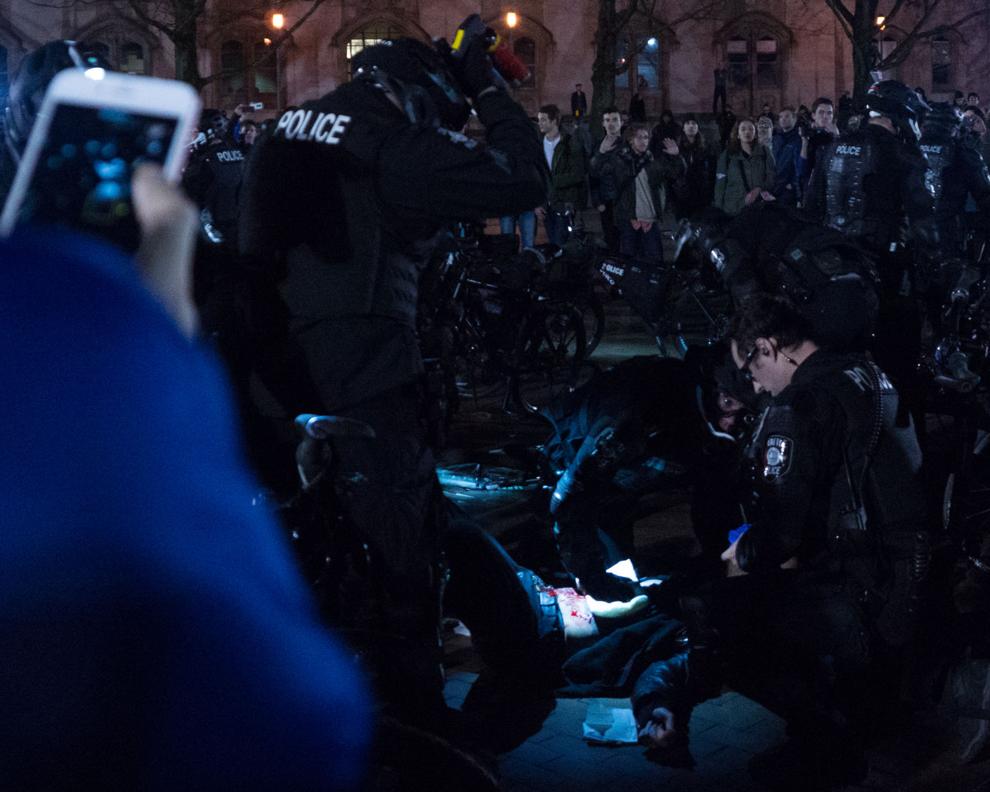 [Editor's Note: This article contains an interview with a member of The Daily's editorial staff. While this is not standard practice, we felt this brought a valuable perspective to the story.]
When I ask people if they believe there's been an increase in political division at the UW, or anywhere, in the last two years, they look at me the way they might if I had a stick of dynamite going in one of my ears and sticking out the other: with incredulous bemusement as to where my brain has gone. It's right where it's supposed to be, actually.
Of course, division has grown in every facet of American discourse. The idea for this story originated when Daily photo editor Conor Courtney shared the moment he captured when medics rushed to save Joshua Dukes, the man who was shot on Red Square, during Milo Yiannopoulos's speech in Kane Hall following President Trump's Inauguration on Jan. 20, 2017.
For whatever reason, The Daily never ran the photo.
But as the UW's student-run newspaper, we have borne witness to and documented the political tumult and resultant violence on our campus; it's our job. Courtney's photo, along with the selected works in the gallery below, illustrate the bodily harm and hyper-aggression displayed on this campus. They also demonstrate the great sorrow, growth, resilience, strength, and love that this campus harbors even in the darkest and most divided years of our adult lives so far. We decided to use these photos to reflect on the past two years.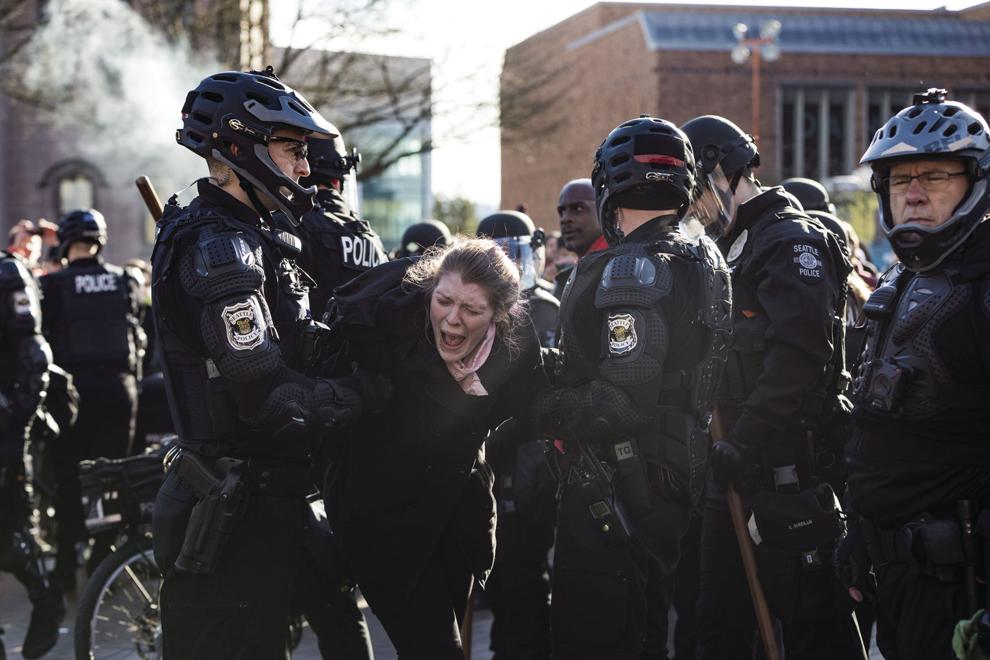 I turned 18 two months before election night. Many of us share a similar timeline –– most traditional undergraduates at the UW were 16- to 20-years-old when Trump was elected. A significant part of our growth into adulthood has been in a time of absolute chaos in America.
One Washington Post article from October suggested college students may have post-traumatic stress disorder from the election and some took this to mean college students are hyper-sensitive to the world around them. But, when family relationships have been ruined, seemingly infallible institutions have crumbled, and our democracy just may be at stake as a result of the election, traumatic stress is a reality for many.
That night, Courtney was walking back from a friend's place when he and his friends saw all the people accumulating on Red Square to protest and counter-protest Yiannopoulos's speech. He and his friends decided to run back to the dorms, grab his camera, and come back to the protest. I spoke with him about what he remembered from that night.
He described returning to a surreal scene. He wandered around Red Square snapping photos and saw a young man, perhaps a high schooler, with a busted lip standing next to his father. Both of them were covered in paint that looked like it had been thrown at them and standing under a spotlight amid the darkness shrouding much of what was going on, according to Courtney. The father was droning on about how the event stood for free speech as his son continued to bleed from his mouth.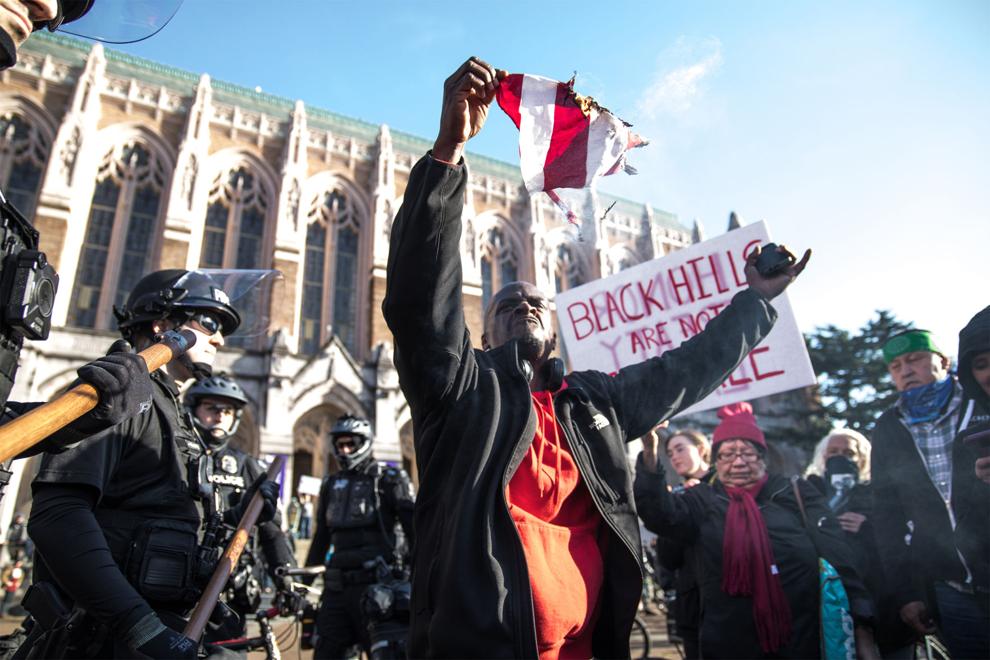 Courtney continued walking. Police surrounded the mass of protesters and counter-protestors. Still trying to make sense of the crowd, Courtney began to drift toward the steps of Suzzallo. People were yelling and being pushed.
Amid the madness, he heard a bang. "I didn't really register it was a gunshot," Courtney recalled. "It just didn't sound as loud as I thought it would." He kept walking.
He turned when he heard someone shout for a medic. Those who recognized someone was shot immediately scrambled to get away from the near vicinity of the gunshot. Amid this, Courtney saw a man lying on the ground 10 to 15 feet away. It still hadn't occurred to him that the man had been shot.
Everything felt disconnected, Courtney said. Then, as the police started to close in, Courtney realized what happened. He pulled out his camera and focused it on the man whose clothes were being removed and a spotlight cast on him by medics. He pressed the shutter. People continued to rush in all directions and police began to push people back with their bikes.
"In retrospect, I wish we had found a different date for Milo's talk," UW President Ana Mari Cauce said to The Daily. "At the time when it was set, no one expected that the election would be as contentious and that emotions would be running as high as they were on Inauguration Day."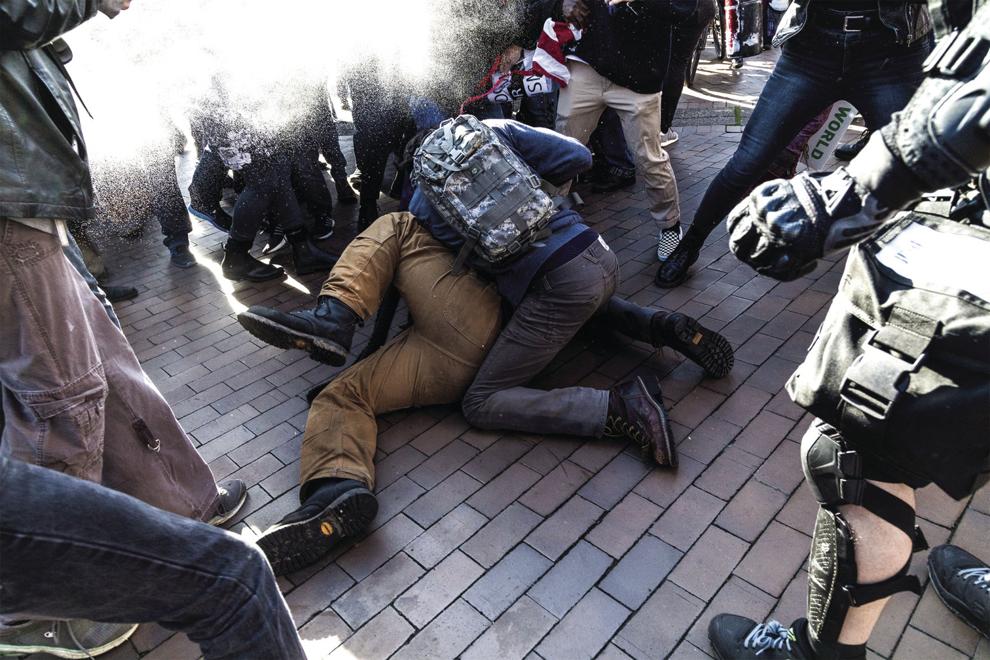 In two years, enough time has passed for real fear to bud and grow. Courtney said he wasn't afraid when the shooting happened because he didn't have enough time to react, to process the situation enough to know he should be afraid. But in the years since, "That level of violence being perpetrated in such a public area shattered the idea [he had] that UW was generally a safe place and that a mass shooting couldn't happen at UW," Courtney said.
It's not normal for someone to be shot on a college campus, and we can never become cynical enough to believe that it is normal. But Seattle, and indeed the UW, always placed themselves at the center for social and labor movements. "UW has a proud legacy of protests," Margaret O'Mara, professor of history at the UW, explained. "We may have had a lot of protests the last couple of years, but we haven't shut down I-5 a couple times like the anti-Vietnam War protests [at the UW] did."
O'Mara –– who teaches courses on elections, presidents, Watergate, and American cities –– has noticed increased interest and passion for finding answers to political questions in the last two years.
"In my classes, I've definitely seen an uptick in interest among students just to understand what's going on," she said.
As turbulent as today's political climate is, it is not the first hyper-politicized college experience of its kind.
"When I looked at the campus immediately after the election, and really continuing, I think about the students of 1968," O'Mara said. "So what I say to students now is, 'You are them again,' this is another moment like that, this is another opportunity for change."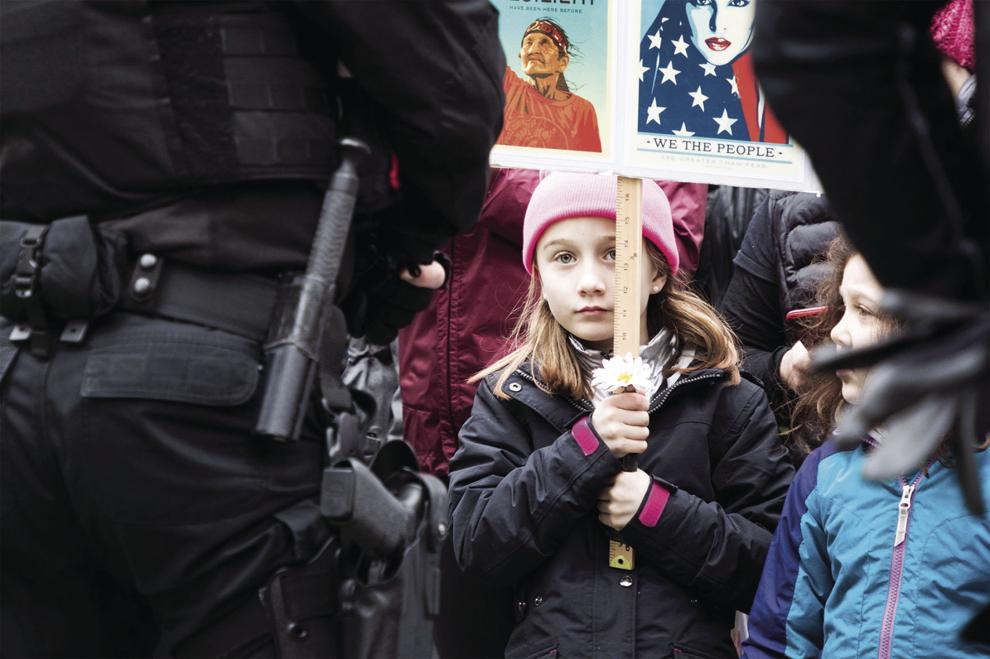 O'Mara explained how the generation coming of age during the Vietnam War and the 1968 presidential election lived a college experience not unlike that of students today. They would go on to mobilize their activism in ways which reshaped the major political parties and rippled throughout society.
"There is a lot to be hopeful for — yes, we're in this time of political polarization and chaos and so much acrimony, but it's shaking things up and that's what the late '60s did, too," O'Mara said. "Your generation is, I think, coming through college and out of college with a much sharper and more activist and more energized perspective … You guys are the ones who are gonna make the change we want to see."
Cauce echoed O'Mara's sentiments in an email, noting the many young people, including alumni, who are running for political office as well as the increased voter turnout in the midterm election. She hopes campus political engagement remains lively.
Cauce, who has been university president since 2015, wrote candidly to students and faculty in 2017 following the Unite the Right rally in Charlottesville — a high watermark of division under the Trump administration that shook the country — on how painfully familiar the event felt.
"The images of the Klan, Nazis and neo-Nazis brought me back to the horror of almost 40 years ago to another Saturday morning when people from these same groups murdered my own brother, Cesar, then 25," she wrote, and recalled a conversation she had with her brother before his death.
He told her that "the struggle" toward justice for all is an unending march toward a better future, "a constant work-in-progress," she wrote.
From start to finish and for better or for worse, my entire college experience has been and will be under the Trump administration — except for that peaceful and fleeting freshman fall October.
The UW has been fundamentally shaken, as has the rest of the world, by the 2016 election. Protests on Red Square are like a thermometer for the moment; the first and last president of many of our college careers has kept temperatures running high. But, in the face of the longest government shutdown in U.S. history, the upcoming State of the Union, and the anniversary of the death of Dr. Martin Luther King Jr., forward we march.
The Daily legislative reporter Devon McBride contributed to this article.
Reach Health & Wellness Editor Manisha Jha at wellness@dailyuw.com. Twitter: @manishajha_
Like what you're reading? Support high-quality student journalism by donating here.