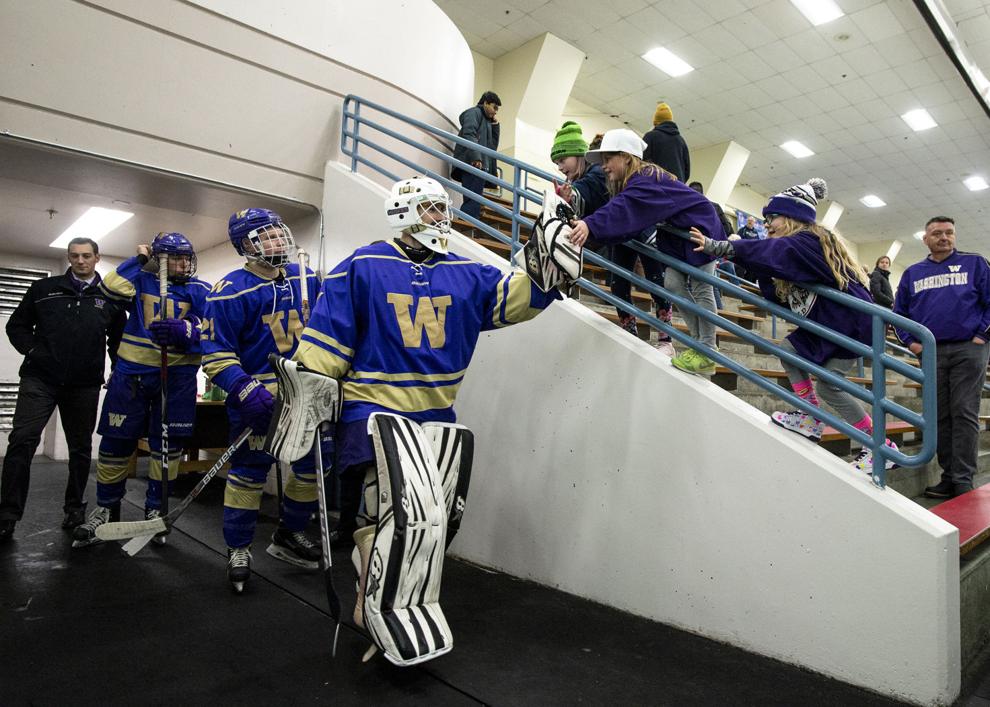 It's 10:05 p.m. and Ryan Jaromin is doing homework. It's not exactly out of the ordinary for a UW student at this time of night on a Wednesday, but Jaromin is usually done by now. He has practice in 10 minutes.
The Washington hockey team finishes practice at 11:30 p.m. on Wednesdays, and an even later start time on Mondays means the Huskies aren't leaving Olympicview Arena in Mountlake Terrace, over 10 miles away from campus, until after midnight.
"It definitely makes getting up for class tomorrow a little more difficult than it probably should be, but it's just one of those things where you grow up getting up super early for practices and as you get older the times progressively get later," Jaromin, Washington's captain, said. "After the first few months of it, it gets a lot easier."
The late practices start after the several other teams and figure skaters the Huskies share the rink with get off the ice. On Mondays, the UW team gets the ice 15 minutes after the Seattle Women's Hockey Club finishes up, and on Wednesdays they're preceded by several hours of junior hockey practice.
And while it seems late to some, the Huskies find convenience in starting practice at the end of the day.
"I like it because I get all my homework done, I have a meal, I sometimes fit in a nap," senior assistant captain Christian Cinderella said. "There's no traffic, which people in Seattle know traffic is just atrocious at all times. I get to bed right after I get home."
According to head coach Matt Cleeton, his players use hockey as an escape.
"Obviously class and homework takes a lot of time, and that hour or two they can come to the rink and hop on the ice gives them a break and a refresher to keep going," Cleeton said.  
Officially, the UW hockey team is a club run through UW Recreation. This means the team is student-run, and responsible for booking its own ice time and travel. The coaches and staff are all volunteers. While the UW does provide some financial support, the members of the team are ultimately responsible for funding the club.
This results in dues that, this year, are around $3,000. It pays for the cost of renting the ice, renting buses or vans to make road trips to places like Eugene, Ore. and Bellingham, and plane tickets and hotel rooms for the bigger trips. This past long weekend was spent playing four games in four days in Colorado, and in early February the Huskies will make a trip to Lake Tahoe, Calif. for the Pac-8 championship.
"It forms a tighter community and everyone wants to work hard because you're paying to be here and sacrificing your time," Cinderella said.
UW ice hockey vs. Western Washington
The team also fund-raises to help lower some of the costs of club dues. They've worked during UW rowing regattas, golf tournaments, and other fundraisers like chuck-a-pucks. For the players, both the money and extra work is worth it.
"It's one of those things where you can't put a price on it," Jaromin said.
Jaromin grew up playing in Western Washington, in the Everett youth hockey system, one of the larger youth hockey development systems in the area. Cinderella played in a couple of Western Washington's youth systems a little further south, including Sno-King in Kirkland and with the Seattle Junior Hockey Association at Olympicview.
The rest of the team has similar stories, whether in Washington or elsewhere. They all grew up playing, and they won't be a part of the small minority of hockey players who turn it into a career.
That's where the UW team comes in for all of them. Continuing to play hockey isn't even a decision, really, just an obvious next step.
"You grow up and you still have that love for the game that you did when you were a kid," Jaromin said.
In games like this weekend's upcoming matchups with Oregon, fan turnout can be so high that not everyone can sit in the stands. Washington's four-game season series with the Ducks, known as the I-5 Cup, is a rivalry as big as any UW varsity team has with Oregon.
"We circle it every year as soon as the schedule comes out," Cinderella said. "In the past we've had bench brawls, we've had words exchanged, we've had kids go through the glass. We've had a lot of eventful times with them."
The Ducks, who had the benefit of hosting the first two games in October, currently lead the series 2-0. In Division II of the American College Hockey Association, the benefits of playing at home go beyond having your home crowd. Club teams can't travel every player, and a smaller roster puts teams at a disadvantage. This weekend, it'll be the Huskies' turn on home ice, and they'll have a full roster and a home crowd.
But when their games conflict with football, or don't start until 10 p.m., the only people in the stands to watch the Huskies play will be families of the players who grew up in the Seattle area.
"We're really getting out there and playing for ourselves," Jaromin said. "No matter how many people we have in the stands fanwise or familywise, the guys get out there put the same effort out."
This isn't a varsity team. While the Huskies try to run their team in a professional manner, not just as a club, they don't get any of the same benefits an NCAA hockey team would. They're scheduled for late nights, they provide their own gear, and fund their access to a home arena and travel.
"At the end of the day we're all staying up late or getting up early for the love of the game," Jaromin said. "We're not getting out of it. We're all going to end up at the same place at the end of it, playing rec league pick up games. You know what you're getting into and it's worth it at the end."
Reach Social Media Editor Hailey Robinson at sports@dailyuw.com. Twitter: @haileyarobin
Like what you're reading? Support high-quality student journalism by donating here.