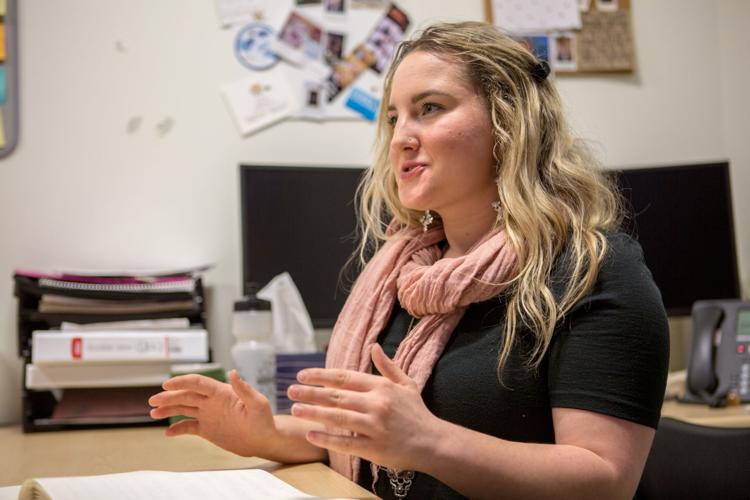 A virtual graduation ceremony isn't what anyone had pictured for the class of 2020. But with bans on large gatherings remaining in effect due to the ongoing COVID-19 pandemic, it's the reality.
Perhaps no one is more acutely aware of the sting students are feeling as a result of this change in plans than Kelty Pierce, graduating senior and student body president.
Perched on the edge of her bed in her makeshift office, Pierce said her message to fellow graduates would be delivered via a pre-recorded video message to be played during the commencement webcast. 
Looking down at her hair with a wistful smile, she shrugged. Like a lot of things, the color — which started at the beginning of the spring quarter as a deep purple and has since faded to a silvery-lavender — wasn't supposed to be part of the big day.
"I guess it's just a sign of the times," she said.
Since becoming involved with ASUW her freshman year, Pierce has seen the organization support students through a highly charged political era that has brought racist and violent events to campus, as well as controversial regulations implemented by the Trump administration.
She said that witnessing these events taught her the importance of having a student government like ASUW to listen when students are being made to feel unsafe and to provide a supportive voice.
Still, Pierce said those issues felt tangible and the appropriate responses clear. The COVID-19 crisis has presented the biggest challenge of her presidency, with its unprecedented nature, rapidly changing circumstances, and wide-spread impacts.
"I remember feeling paralyzed," she said, reflecting on the moment that UW President Ana Mari Cauce told her the university would be adopting the strictest set of restrictions. "I knew that this was going to be really hard for our students … but what do you do when the need is so great and the challenges are changing?"
If Pierce has honed any skill during her time as president, it's the ability to adapt. As the leader of ASUW, her task has been to work with her team to figure out how to get students what they need in the midst of drastic changes to student life at every level.
"A year ago, I had these big goals that I had campaigned on," she said. "And while I got to act on those, the biggest difference is my job as president isn't to have my own agenda. My priorities are whatever is currently on the mind of students." And during spring quarter, that was COVID-19.
In response, ASUW donated $100,000 to the Husky Pride Fund to be made available for students facing immediate financial hardships directly related to the pandemic, a success Pierce said she feels proud of.
But the most meaningful work she's done as president has been finding ways to spend time with students, offering support and helping to connect them with resources and opportunities that put them on their own paths to success.
Her program, "Coffee with Kelty," was created to provide students with a direct line to someone in her position, whether for mentorship or to be able to get connected through her network.
"People are in these leadership roles because of people before them who helped them get here," she said.
The program is a nod to a pivotal moment early on in Pierce's own path when, during her freshman year, then-ASUW President Daniele Meñez took her out for coffee to talk about Pierce's interest in student government.
"That was really powerful for me," Pierce said. "To have Daniele sit down, take the time with me, and say, 'I think you should do this.' And because of that, here I am. It's one of those full-circle moments. There were so many moments … where I kept thinking back to my interactions with Daniele my first year and how much that mentorship meant to me …  I wanted to remember that and model that."
Pierce especially hopes that female students and students from underrepresented groups will feel more confident about stepping into leadership roles if they have a direct line to a mentor. Having run against three men during her candidacy, Pierce admits that standing on the debate stage felt intimidating.
"But we need women leaders," she said. "We need female role models, we need non-binary role models, and we need folks who are willing to step up and advocate."
Pierce's successor, president-elect Camille Hattwig, is the third woman in a row to be elected to the office, preceded by Pierce and Ratika Jain. As for what students can expect from Hattwig, Pierce says they will find a strong advocate in her, which will be important as the impacts of the pandemic continue to affect budgets and impact students in a variety of ways.
"She embodies fierce," Pierce said. "She's got a fire within her that is really inspiring."
For now, Pierce remains focused on her role as ASUW president and on continuing to serve the 46,000 students she represents as they adapt to constantly-changing norms and growing urgencies. 
In a letter posted to ASUW's Facebook page June 1, Pierce addressed the UW community in response to the killings of George Floyd, Breonna Taylor, and Ahmaud Arbery.
"I am angry, and you should be too," she wrote, urging every individual to take direct action in supporting Black communities and demanding that Black Lives Matter at the UW and beyond. 
Now, as graduates prepare for a virtual commencement celebration during a pandemic, thousands of protesters pack the streets of Seattle and across the country calling for swift action and justice for the Black community and an end to police violence. It's a conundrum unique to this moment, with a complex blend of heartache and hopefulness — as Pierce said: "a sign of the times."
On June 4 at 10 p.m., Pierce had just finished an ASUW meeting and sounded excited about the actions she is seeing through the UW community, including new advocacy groups and petitions.
"I am proud of the activism and refusal to step down I'm seeing from students," she said.
Reach contributing writer Rachael Sage Payne at news@dailyuw.com. Twitter: @RogueRachael
Like what you're reading? Support high-quality student journalism by donating here.