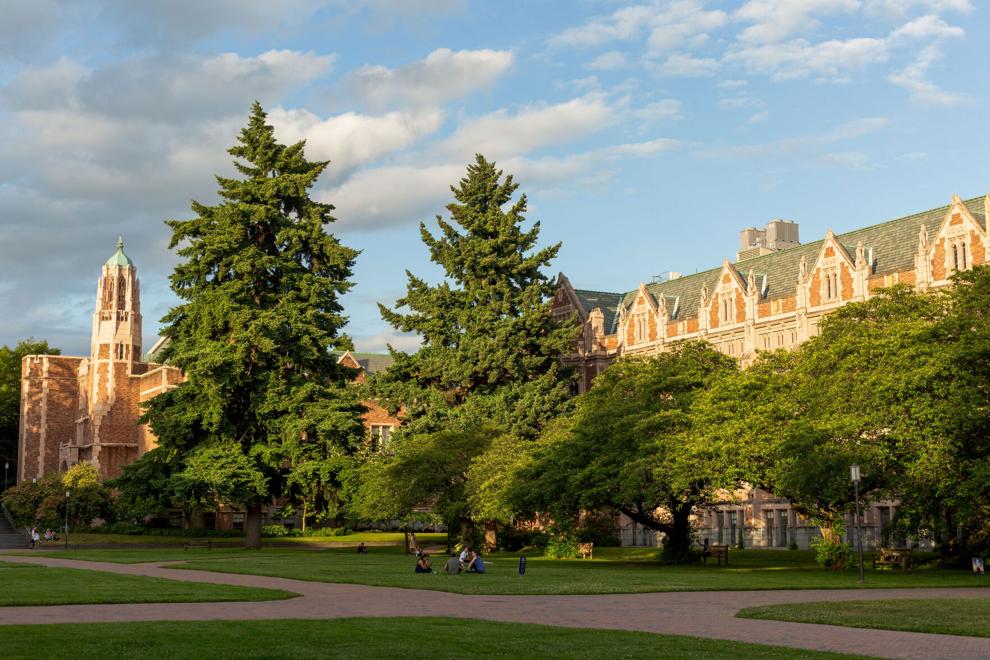 The University of Washington campus, located in the heart of Seattle's U-District, is one of the most beautiful college campuses in the world. With so many things for incoming students to see and do, it can be a little bit overwhelming. Here is our list of the must-see campus highlights.
The HUB
The Husky Union Building (HUB) is the center of student activities on campus. Everything from Student Legal Services to the Office of Fraternity and Sorority Life can be found inside. The HUB is also home to a food court with nine restaurants, a convenience store, hair salon, meditation room, gaming room, and a full-sized bowling alley.
In addition to its regular activities, the HUB hosts a variety of special events including career fairs and guest speakers. Currently some of the offices located in the HUB are closed due to COVID-19, however, university officials anticipate it being fully operational in the fall.
Learn more at: https://hub.washington.edu/
The IMA
The UW Intramural Activities Building (IMA) is the UW's student athletic center. Here you can find multiple weight rooms, a climbing center, track, and pool. Students also have access to personal trainers for $15 per hour and a variety of classes ranging from archery to boxing.
Throughout the year, the IMA hosts a range of intramural programs including soccer, cornhole, and beach volleyball tournaments. Aside from activities at the IMA building itself, students have access to an affordable golf range, waterfront activities center, and gear garage stocked with everything you need for your Pacific Northwest expeditions. Currently, most IMA resources require appointments due to COVID-19, however, this is likely to change by fall quarter.
Learn more at: https://www.washington.edu/ima/
The Quad
The Liberal Arts Quadrangle (the Quad) is arguably the most beautiful place on campus. Its collection of 30 Yoshino cherry trees attracts visitors from all over the world when their pink blossoms arrive in late March. The Quad is a great place for students to go on picnics, read a book, or play outdoor games like Spikeball.
Suzzallo Library
Famous for its Gothic architecture, the Suzzallo Library is among the most beautiful buildings on campus. The silent reading room on the second floor looks straight out of "Harry Potter," complete with stained glass windows and a 65-foot-high vaulted ceiling. Suzzallo is filled with bookshelves, unlike some other libraries on campus which are occupied by collaborative spaces. This makes it an ideal study place for students who like to tuck themselves away in a quiet place and grind out their schoolwork.
Red Square
Red Square is the central plaza on campus, named for its reddish-brown bricks. It is located between the Quad, Suzzallo Library, and a host of other halls, making it a standard part of every student's daily walk to class. A variety of food trucks, information booths, and cultural events can also be found in Red Square.
But be careful, though, Red Square is notoriously slippery when it rains.
Drumheller Fountain
Drumheller Fountain, located just south of Red Square, is the centerpiece of the best view on campus. Framed by rose gardens with Mount Rainier perfectly lined up in the distance, Drumheller Fountain is definitely postcard-worthy. Aside from the incredible view, Drumheller Fountain is famous for students jumping in every two years, after it gets cleaned (normally it is full of goose droppings).
The Burke Museum
The Burke Museum of Natural History and Culture is the official state museum of Washington, and is the state's oldest museum. The Burke boasts a collection of over 16 million artifacts, including the largest collection of bird wings in the world. The Burke currently has five exhibit galleries focused on biology, contemporary culture, paleontology, Northwest Native art, and archeology.
The Burke Museum is free to students and $22 for adults.
Learn more at and purchase tickets at: https://www.burkemuseum.org/
Husky Stadium
Located just north of the Montlake Cut, Husky Stadium truly is the greatest setting in college football. From the stadium, Lake Washington and the Cascade Mountains can be seen in the distance. And with over 70,000 seats, Husky Stadium is not only one of the most beautiful stadiums in the country, but also the loudest.
To find a map of campus, visit: https://www.washington.edu/maps/