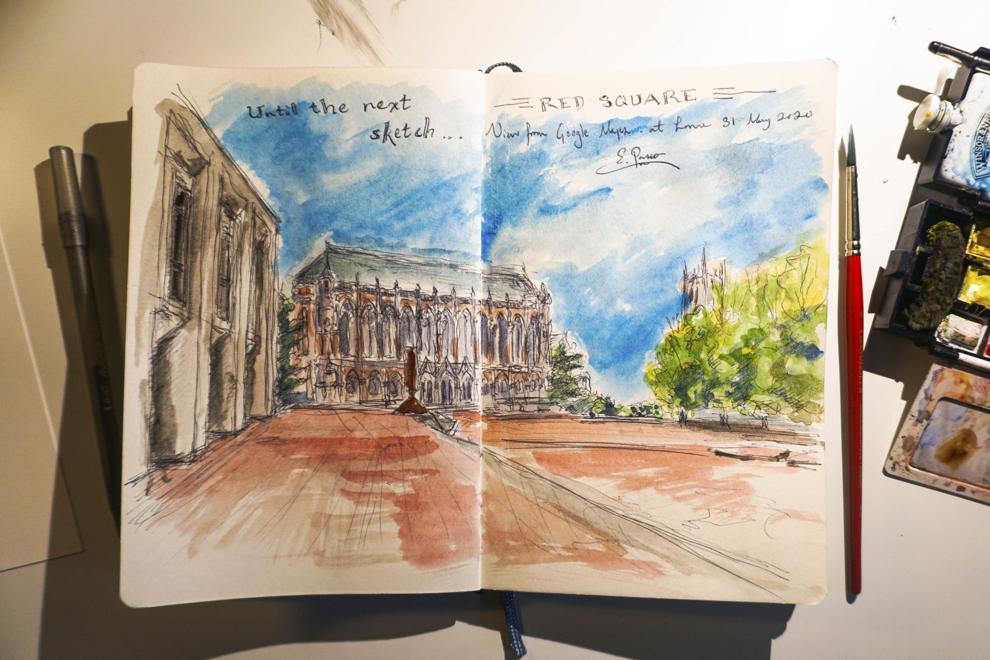 This column has had to adapt significantly to the current circumstances. With sketching events, people, and places on location put on hold, I've had to find other ways of interpreting and exploring what I do this quarter.
I miss the rushed chaos of people passing on Red Square and the happiness I feel when sitting in the Quad as people picnic and study under the trees. I miss the variety of architecture I see in one day walking between classes, and I miss sketching on the bus on my morning commute. 
I decided to cheat a bit and do some sketching on campus for my final article of the year. Using Google Maps, I went to campus via "street view" to sketch. While not exactly the same as sketching on location, a few fellow urban sketchers I know have been using this method to get their fix of drawing outdoors. 
The experience was strange at first, and navigating was slightly frustrating. Google Maps has a limited path one can take through campus so I wasn't able to get the view I wanted. But once I got used to the interface and the idea of sketching from a photo, it wasn't so bad. 
This quarter taught me a lot about myself and what I do as an artist and a storyteller. While I would rather have learned under better conditions, what I can take away is the fact I was able to adapt. I didn't let the quarantine stop me from doing what I love. It forced me to be creative with what I had, and I've come away with a greater appreciation for a craft and experience I took for granted. 
Here's hoping for the day I can return to campus.
Until the next sketch,
Reach The Campus Sketcher Elijah Pasco at arts@dailyuw.com. Instagram: @the_campus_sketcher
Like what you're reading? Support high-quality student journalism by donating here.