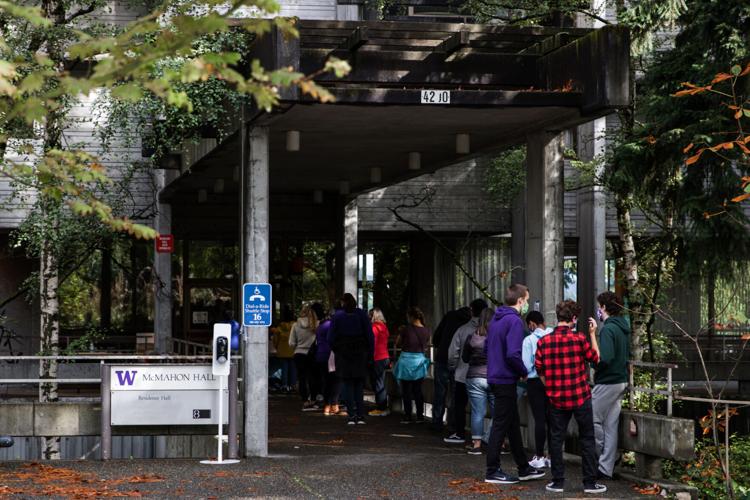 Just days before students were set to travel around the country for Thanksgiving, the UW had to cancel coronavirus tests for many students as the demand from community members with symptoms skyrocketed.
Students flocked to social media Thursday night frustrated over an email they received from the university telling them their appointments had to be canceled unexpectedly. 
UW spokesperson Victor Balta told The Daily in an email Friday evening that this was due to a "rapid increase in demand for testing from individuals who are symptomatic or have been exposed to someone confirmed to have COVID-19."
Pre-travel COVID-19 testing began Tuesday with many students trying to get screened before heading home to celebrate the holiday with families. But it was suspended entirely for community members without symptoms Thursday. 
"We regret that we are unable to honor this appointment and apologize for any frustration this may cause," the university wrote in its notice to individuals with testing appointments scheduled for Friday. 
The UW's cancellation notice urged students in need of a test to contact Hall Health, schedule a test with UW Medicine, enroll in the Seattle Coronavirus Assessment Network study, or get a test from the City of Seattle at one of its locations. Other testing sites are experiencing similar capacity issues as the UW, Balta said.
Balta also noted that the university is "strongly discouraging non-essential traveling at this time," consistent with guidance from government and public health officials.
The UW's testing program is still accepting testing appointments for students with symptoms or who were close contacts with someone who has since tested positive for COVID-19. Some students have had to lie about having symptoms in order to get a test. 
"The University of Washington is also working closely with the program on options to expand testing capacity as COVID cases continue to rise and we plan for testing needs over winter quarter," Balta said in his email.
Since launching Sept. 24, the Husky Coronavirus Testing Program has administered over 19,000 tests, with 1.1% testing positive, according to the university's environmental health and safety department. In the last seven days, it has administered more than 3,000 tests that resulted in 0.7% positive results.
Some 889 cases have been reported at the UW since the beginning of the pandemic, with the vast majority among students. Cases have risen quickly since the beginning of fall quarter in late September when hundreds of students living on Greek Row came down with the virus.
Reach News Editor Jake Goldstein-Street at news@dailyuw.com. Twitter: @GoldsteinStreet
Like what you're reading? Support high-quality student journalism by donating here.