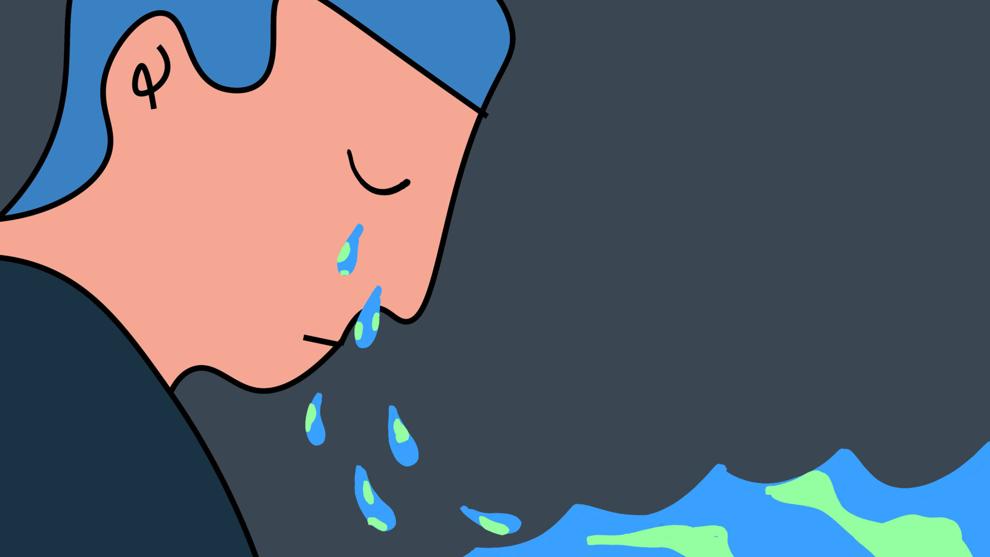 Learning about climate change issues is as important now as ever before, and knowing the facts is absolutely necessary. But the facts can often be overwhelming, and when young people look at how climate change is already affecting their lives and the lives of others, it can be hard not to experience feelings of sadness, anxiety, anger, and grief.  
"You know how sometimes you can talk about death with people? And you're not really thinking about it but you're talking about it," sophomore Anya Gavrylko said. "But then you have moments where you're lying alone in bed at night and you're like 'Wow, I'm really going to be dead one day.' And that's a completely different feeling." 
This "completely different feeling" that Gavrylko, an environmental studies major at the UW, is talking about is one shared among an increasing number of people when it comes to climate change issues. So much so, in fact, that it has been given the name "ecological grief." 
Like Gavrylko, people learn and talk about climate change issues every day, but oftentimes only at the surface level. When students really start to think about the magnitude of these issues, it's hard not to repress these responsive emotions to keep moving forward. 
According to UW Bothell senior lecturer Jennifer Atkinson, however, this strategy isn't a productive or healthy way to deal with the grief, anger, and anxieties that can come with the realization of traumatic climate change issues. 
"Our emotional life can't be compartmentalized like that," Atkinson said in an email. "When we deaden one sense, we diminish all the others as well. And the result is an impoverished experience of the world we want to save." 
Instead, Atkinson recommends that we honestly confront these feelings.
"Dwelling on our feelings can seem like an extravagance as the fires close in," Atkinson said. "But the problem is when we try to jump straight to the final step without first processing the emotional toll of all this lost beauty and life, we're bypassing the very insights that motivate us to save what we love." 
Climate change is a traumatic issue and the grief that comes with it is often the same type of grief that comes with any other traumatic event in life. It's an issue of loss, not only of what's already lost but the loss of a future counted on. 
"We're like the person who knows a loved one is dead, but hasn't let that reality penetrate to their core, where it will reorganize all the ways they relate to the past and future, and determine all they'll have to let go of," Atkinson said. 
But acknowledging feelings doesn't mean surrendering to them. And in order to process these emotions, one of the best things to do is to talk about them.
"[Climate change] really is, I think, a traumatic issue in ways that people aren't aware of," program on the environment director Gary Handwerk said. "I think the first thing we need to do is to make it speakable." 
Feeling alone can amplify feelings of anxiety and grief. Talking to others who share the same emotions can help students not feel overwhelmed and isolated. And like other traumatic experiences, having the support of others to talk to is necessary. 
"With climate change, we need to build networks of communication and mutual support," Handwerk said. "Because this is as fully shared a human problem as any problem can be." 
But finding hope is also important. The science around climate change can paint a terrifying picture, but hope can be found on a communal level when people see the individuals taking action in their everyday lives. 
"People are really beginning to attend to this issue, much more than a year ago, much more than three years ago, much more than five years ago," Handwerk said. "That short-term momentum seems to be positive."  
Personally engaging in community activities can also be an antidote for grief. Collective action that creates change on any level can help students feel empowered. For Gavrylko, forest restoration is a way for her to find a sense of rejuvenation. 
"It's just the feeling of 'I did something, something got done, I helped, I worked with my community,'" Gavrylko said. "It's possible. We can all do things." 
Reach reporter Andrew Ronstadt at news@dailyuw.com Twitter: @AndrewRonstadt
Like what you're reading? Support high-quality journalism by donating here.