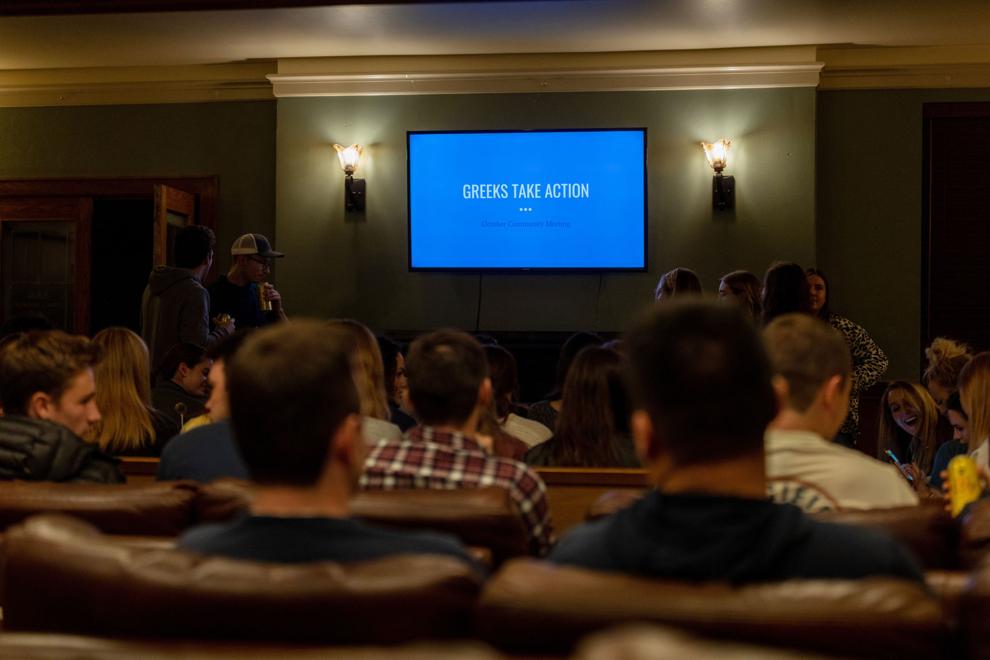 Laughs were exchanged as students walked into the living room of the Delta Gamma sorority where they meet every Thursday evening and sat facing a screen projecting the words "Greek Pride."
This school year marks the creation of the first official Greek-affiliated LGBTQIA+ activism club. Co-founders and presidents Emma Hurring and Megan Lee created it to build an inclusive environment for queer members of the Greek community and to educate allies. 
It began when Hurring and Lee, who are dating, decided they wanted to bring visibility to the experience of queer individuals in the Greek system. They realized that if they were having a hard time in the Greek system, other LGBTQIA+ members might be as well.
"We thought about dropping [our sorority] for a long time, and then we were like, 'No, we're going to try to make it better,'" Hurring said. "I do think Greek life, for all its wrongdoings, does have a lot of merits, and so we took that as an opportunity to make our community better."
Over 45 people showed up to the first meeting, which served as both a space for social interaction and a space for activism.
"We wanted to foster an environment for people to meet other queer people and also just to raise awareness," Lee said.
At the social meetings, the members take time to hang out and get to know each other. Sometimes they do recreational activities together, like bowling at the HUB.
At the activism meetings, the club starts by discussing current events that are relevant to the queer community to keep members informed about the political decisions being made for their community.
At the most recent meeting, member Julia Hopkins invited all the fraternity rush chairs to listen to a presentation on how to make the recruitment process more inclusive for new and prospective members. Hopkins emphasized the use of language as a tool to make the rush process friendlier to LGBTQIA+ individuals.
Although the UW is known as an LGBTQIA+-friendly campus, Greek systems nationally are notorious for being conservative in the ways they define gender and sexuality.
"Within the Greek community as a whole, I've had some pretty unpleasant experiences," Hurring said. "It was definitely really demoralizing at times and really tough, but also, at the same time, it was a 100% worth it to stay in the Greek community." 
Despite the Greek system's reputation, social media chair Danny Lennon saw the club as a starting point to rebuffing stereotypes. As a freshman, Lennon believes his position grants him a set of fresh eyes and renewed determination to change the heteronormative culture instilled in the community. 
"What I'm really excited for is how this club will become a staple in the Greek community and how we can keep it going even after we graduate," Lennon said. "We always want it to be important in the community to understand that the LGBTQ community is here, it's active, and it doesn't want to be suppressed."
Greek Pride wants to make long-term impacts, with outreach coordinator Sean Haney making plans to lead the club in volunteering and fundraising for local LGBTQIA+ organizations.
Additionally, the club is aiming to plan a Pride march that will take place on 17th Avenue Northeast, where a large number of Greek houses are located.
Although the Greek system has a clear history of lagging in progress for LGBTQIA+-related issues, Greek Pride is intent on making lasting change in the community.
"The sun always rises," Haney said. "We just need to keep fighting."
Reach contributing writer Martina Povolo at news@dailyuw.com. Twitter: @martinapovolo
Like what you're reading? Support high-quality student journalism by donating here.