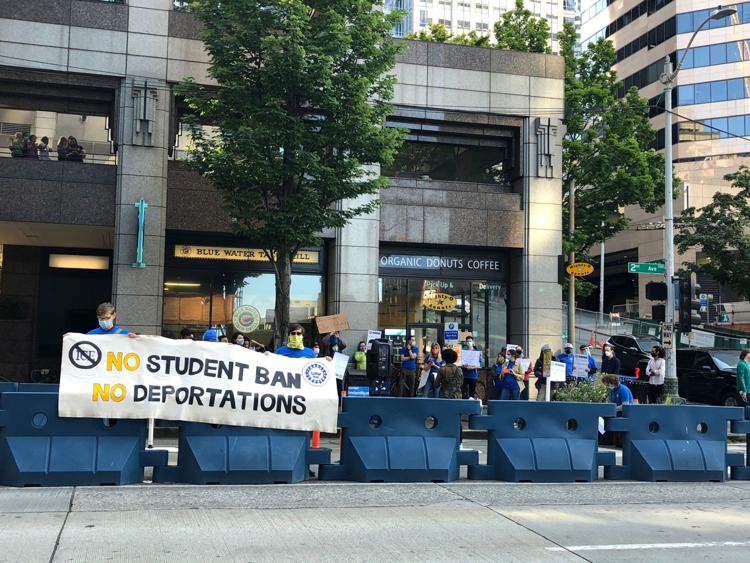 The Department of Homeland Security (DHS) proposed a new immigration rule in September that gives a fixed expiration date to the visas of international students and scholars. This dismissed the previous duration of status policy that allowed them to stay until the completion of their academic program. 
With the visas of millions of international students and scholars around the country called into question, the UW's branch of the Union of Academic Student Employees and Postdocs (UAW 4121) is mobilizing against this proposal to stand up for the nearly 8,000 international students and scholars at the UW. 
The policy places an I-94, or fixed expiration date, on nonimmigrant visas F, J, or I, which allow academic students, exchange visitors, and representatives of international media, respectively, to stay in the country.  
After the previous policy, which did not have a predetermined expiration date, the new ruling limits the validation of these visas for up to two to four years, depending on country of origin. UAW 4121 says that while many academic programs are completed in this time period, it does not match up with how long it realistically takes to complete the average undergraduate or Ph.D. program.
"The proposed rule sends a message to current and potential international students and scholars that their research, diversity of experience and perspectives, economic contributions, and work are not welcome in the U.S.," a letter written by UAW 4121 to the DHS in opposition of the visa limitation said.
This is not the first time the Trump administration has implemented a policy targeting international students and scholars. Earlier this year, amid the start of the COVID-19 pandemic, the administration proposed restrictions that put the status of international students at risk for taking entirely online courses, which were subsequently taken back due to national outrage. 
UAW 4121 member and postdoc researcher Rachel Moran said the process of renewing your visa amid constant policy changes only adds more stress to being a full-time student.
"Waiting for any visa change is a very long process and has been made worse by the pandemic," she said. "There's always — especially with this current administration — so many rule changes that you can be denied on a technicality." 
Moran said it cost her nearly $500 to reapply for a visa after graduating from the University of Southern California to continue her studies at the UW, and she was not allowed to work while she waited for her status approval.
"We have such a disruption in your normal life. It's an incredible toll on your mental health, it is a financial toll, it impacts your work and your ability to contribute to your community," she said. "It is just a constant reminder that you live in this country as a second-class citizen." 
In its new proposal, the DHS emphasized concerns about duration of status posing potential threats to national security, stating that it does not give officials enough predetermined points to "effectively monitor and oversee these categories of nonimmigrants."
"This doesn't just impact international students," Levin Kim, a member of UAW 4121's International Solidarity Group, said. "Even though specific policy targets would like to have us think that way, it's part of these broader xenophobic logics that are carried under this idea of national security that allows these policies to take place."
UAW 4121 organized an information session last month for international students, bringing in experts to talk about what exactly this policy means, how it would impact particular visas, and how they can organize against it. 
"We are not immigration lawyers ourselves — we do not have the knowledge process to understand this very technical process," Moran said. "Education allows us to see how this fits into this wider pattern of the weaponization of rhetoric around immigration."
Through organizing in coordination with other union chapters across the country, UAW 4121 has looked to play a critical part in rolling back past policy change. It plans to do the same with this current visa limitation, even as a new administration could doom this rule already. Moran said that while these are efforts made by the people, it is imperative that universities like the UW also stand in solidarity with their students and faculty. 
"This wholly unnecessary proposed change would have dramatic impacts on the UW international student community," UW President Ana Mari Cauce wrote in a October blog post.
"I formally requested that the department not enact the proposed rule given the negative impact these changes will have on the overwhelming majority of international students at the UW."
Comment for the ruling has closed, with 28,000 comments submitted to the DHS.
Reach reporter Maya Tizon at news@dailyuw.com. Twitter: @mayacruz_
Like what you're reading? Support high-quality student journalism by donating here.