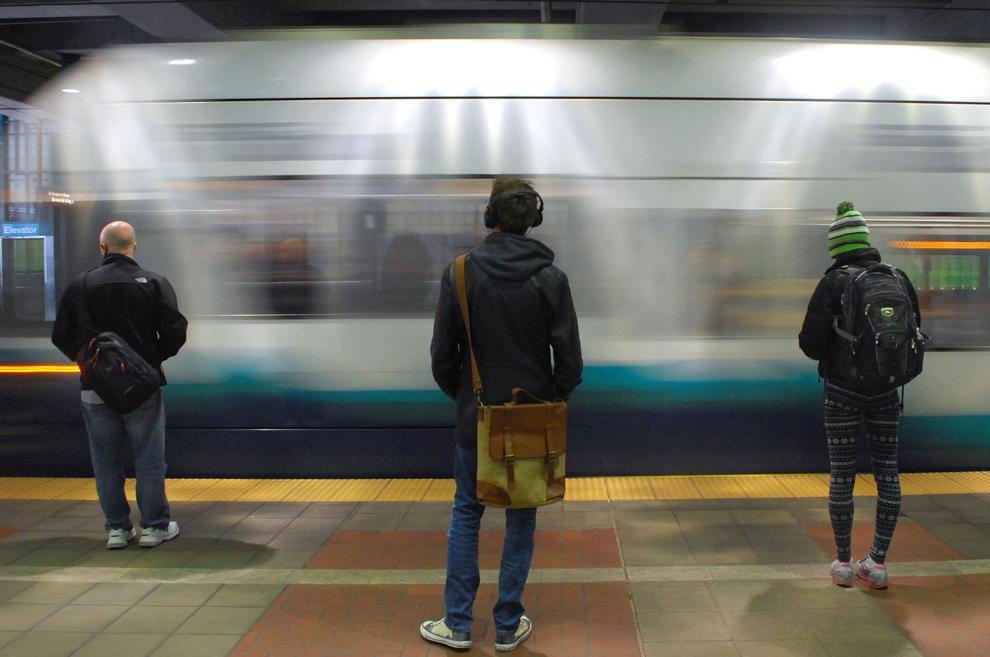 The UW Transportation Data Equity Initiative, made up of entities including UW Taskar Center for Accessible Technology, UW's Washington State Transportation Center, companies like Microsoft and Google, and the Washington State Department of Transportation, was recently awarded an $11.45 million grant.
The initiative's goal is to make information on things like sidewalk conditions and transit paths more accessible to underserved populations.
"In addition to people who experience difficulty in travel because of mobility limitations — as well as vision and hearing limitations, we are very much focused on all these underserved populations in rural settings or those that don't have access to scheduled bus systems or scheduled rail systems," Anat Caspi, principal investigator and director of the Taskar Center, said.
Mark Hallenbeck, director of the Washington State Transportation Center, also believes that this project will help provide information that existing transit technologies do not. 
"Google Maps and other applications do not have information about the built environment," Caspi said. "For example, if you ask to be routed from point A to point B in Greenwood, you're not going to be told where there are actual sidewalks for you versus places where you're expected to walk on the shoulder." 
Hallenbeck argued that the reason these existing applications often do not include this specific information is because the data they use is often lacking in the first place, and that this lack of information can hurt populations who use wheelchairs or are in need of extra accommodations. 
Zeynab Idris is a junior who, prior to the COVID-19 pandemic, regularly commuted to the UW via the Link Light Rail and bus. While she believed that there were accommodations in place for people with disabilities, they could often be lacking. 
"Some stations have frequent elevator and/or escalator problems, which is a major inconvenience to people with certain disabilities," Idris said. 
Having knowledge of these problems prior to reaching the bus stop or train station could alleviate the difficulties for underserved populations, and this initiative is working toward reaching that goal. 
The initiative is analyzing three main pieces of data: sidewalk conditions, navigating through multi-level transit stations, and flexible transportation systems. 
To access sidewalk data, they rely on the imagery data that companies like Microsoft and Google already have. 
The directions people with disabilities need, like where elevators are, often differ from those needed by able-bodied individuals. However, there is currently no application that sufficiently provides this information. 
The group also aims to collect information on the timing and directions for paratransit, which is less regular than public transportation. 
The current GTFS (General Transit Feed Specification) standard excludes paratransit, which only comes when the rider specifically needs to access it. Many people who often need this are thus disadvantaged. To solve this lack of information, the initiative has designed what it calls GTFS-flex. 
"GTFS-flex is how you describe all kinds of on demand flexible transit services, whether it is an access van or whether it's a medical shuttle," Hallenbeck said. 
To create accessibility to this data, the initiative is developing two applications: a multimodal access map tailored to the user and a 3D simulation that will provide a pre-trip experience. In addition, the initiative will expand an existing Microsoft application, Soundscape, which allows people who are visually impaired to explore their surroundings. 
The initiative is also looking for students to engage in service learning and potential employment opportunities to assist with the projects. Interested students are advised to email uwtcat@uw.edu.
While the project is focused on collecting data in six counties — two in Washington, two in Oregon, and two in Maryland — the long-term goal is to expand on a national and international platform. 
"If it works, we can change the world because we can scale it to the entire nation," Hallenbeck said. "Actually, we can scale it to the entire first world."  
Reach reporter Sheharbano Jafry at news@dailyuw.com. Twitter: @SheharbanoJafry.
Like what you're reading? Support high-quality student journalism by donating here.