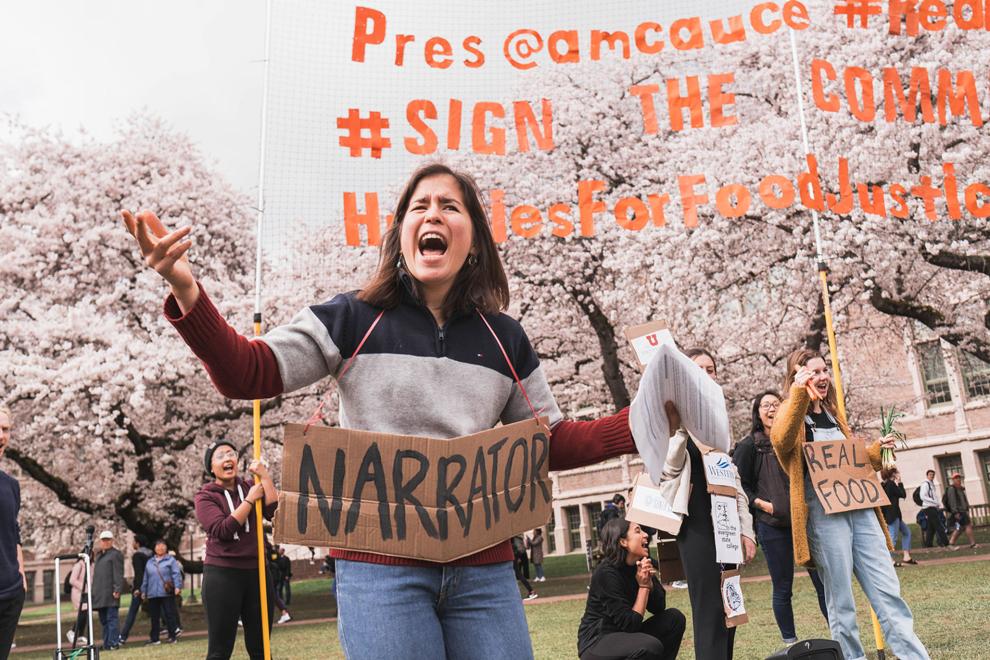 Students and visitors to the UW campus worked a little harder for their unobstructed cherry blossom photos on the Quad Wednesday afternoon. At noon, 14 students from the on-campus organization Huskies for Food Justice (HFJ) performed in a play at the Quad. The purpose of this play was to tell the story of "Big Food" and HFJ's multi-year effort to bring more "Real Food" to campus. This has involved an effort to persuade President Ana Mari Cauce to sign a commitment to bringing more Real Food to campus.  
HFJ uses a definition from the national organization, Real Food Challenge, to define real food as following the four criteria: being local and community-based, fair, ecologically sound, and humane. In contrast, in their play, HFJ characterized "Big Food" by using an actor in a suit, designed to represent Foster Farms, Trident Seafood, and Nestle.
One student organizer, Alex Wheeler, defined Big Food.
"It's sort of a 'catch-all' for the mechanisms in the food system, and a lot of the large agribusinesses in the food system that profit from how the food system is set up," Wheeler said. "We have a system set up where the U.S. government subsidizes monocultures and unsustainable practices. It's important to consider who is being exploited."
Before the play began, organizers hoisted a banner that read "Pres @amcauce  #RealFoodNow #SigntheCommitment." The performance attracted approximately 60 spectators and included musicians and costumes.  
As a general goal, HFJ works to "educate and engage students, faculty, and staff on social justice issues (including racism, heterosexism, and other overlapping systems of oppression) relating to our food system."
Wheeler explained that while HFJ had maintained a rather behind-the-scenes role in the past, they are now working to integrate more of the UW community into their outreach efforts. HFJ recently worked on a task force committee alongside members of the UW's Housing and Food Services (HFS), that concluded at the end of fall quarter. At the end of winter quarter, HFS notified HFJ that they had created a working group, and invited HFJ to join.
HFJ's work is not over.  
Several hours after the play, on Facebook, Cauce replied in a comment to a HFJ post, referencing projections that HFJ had put on Kane Hall and the pillars in red square, saying "Really cool signs! Just received your letter today saying you've withdrawn from the HFS working group. Will look into and respond." 
Wheeler explained that while the goals that came from HFS's recent incorporation of the Menus of Change program are complementary to the goals of the Real Food Challenge, they are still substantially different. HFJ would like to see increased concern with how food is sourced.  
"We attended the first meeting of the working group and communicated with President Cauce," Wheeler explained in an email. "In those conversations, it was made clear that they will not sign the commitment and commit to bold purchasing goals."
For this reason, Wheeler and other members of HFJ will continue to promote the Real Food Challenge while HFS implements their new dining standards. Wheeler encourages the UW community to learn more about the Real Foodcampaign: 
"Evaluate for yourself whether we should have 25 percent real food by 2020," Wheeler said. "Let President Cauce know why you think she should sign the commitment."  
Reach reporter Serena Baserman at news@dailyuw.com Twitter: @serenabaserman