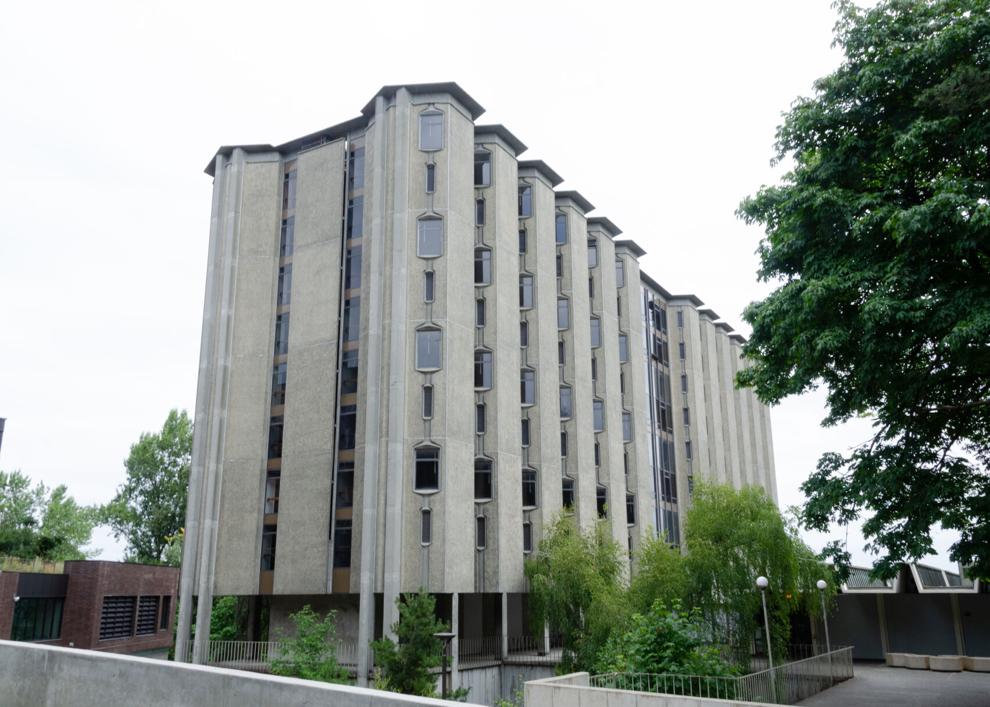 According to the 2020 UW campus climate survey, over 20% of all UW students last year experienced financial hardship regarding their housing. For many students, the most (or only) affordable housing option is older residence halls, like Haggett Hall. But with the high cost and demand for on-campus housing, many students are looking outside of Housing & Food Services facilities (HFS) for places to live. 
"Typically, as buildings get older, the rent comes down to the market rents, and so they become more and more affordable," Rob Lubin, director of UW Facilities & Capital Planning, said. "We're in a situation right now where we just built almost all new buildings and so the cost of the rent went up associated with that. But even with that, we're well below market in most cases."
Rent increases for student housing appear yearly to reflect the local housing market, Lubin continued.
"On campus we're not driven by what we can charge, we charge what we have to charge to pay the bills," Lubin said. "In the broader market, people are obviously profit-driven and there's been a shortage of housing in the market for years now. That's really what drives up the rents and why they went up so quickly, because there is a shortage of product." 
In order to address increases in both price and demand, Lubin worked with the ASUW and the Residential Community Student Association to create "designed triples and designed quads," adding that surveys indicate students in triples are equally happy as those housed in doubles.
Beyond the efforts of HFS to create affordable housing options, securing housing around the UW is a challenge. UW resources to help students afford and secure housing options include financial aid, emergency aid, and Dawg Houses. 
"One of the challenges with student housing is that a lot of the public subsidies can't be used on student housing," Sally Clark, director of UW Regional and Community Relations, said. "For instance, Section 8 [housing subsidization] vouchers from the federal government: Students are actually prohibited from being in Section 8 housing." 
To further reduce housing costs, Lubin said HFS is seeking to reduce energy and water consumption in the new buildings by using water restrictors and more efficient light fixtures.
"That's what we can kind of do moving forward, you know, continue to look for process improvements that don't add money, but save money," Lubin said. 
A year of online learning brought an unforeseen interest in on-campus housing. According to Lubin, the current waitlist for on-campus housing is around 500 people.
"That group of sophomores who didn't have the freshman on-campus experience, that's really increased the demand this year," Lubin said. "We think it's going to be a one year blip." 
Some students, including second-year students, have chosen to forego HFS housing entirely.
Daniel Leychkis is a second-year student at the UW planning to live in an apartment complex off-campus. After living on campus last year, Leychkis realized it was not the route he wanted to take.
"Namely, the rooms were very small. Living with another person in a small room like that and paying how much I was, it felt like a bit of a rip-off," Leychkis said, noting that he did enjoy the readily-available laundry and supermarket in the dorms. "Compared to what I could get on the off campus market for the same amount of money, it was just a total non-starter for me to do it again."
Fourth-year undergraduate Captain Gordenier originally looked into living on-campus, but found there was no promise their needs would be met. Gordenier is now living off-campus due to lack of accommodations. 
"I have a neurological disorder, [a] sensory processing disorder, which makes living in close proximity to people really distressing for me, so I will need a private room basically," Gordenier said. "I've gone through [Disability Resources for Students] and gotten accommodations from them, but trying to get housing accommodations … was almost impossible."
Reach reporter Huma Ali at news@dailyuw.com. Twitter: @humabali 
Like what you're reading? Support high-quality student journalism by donating here.