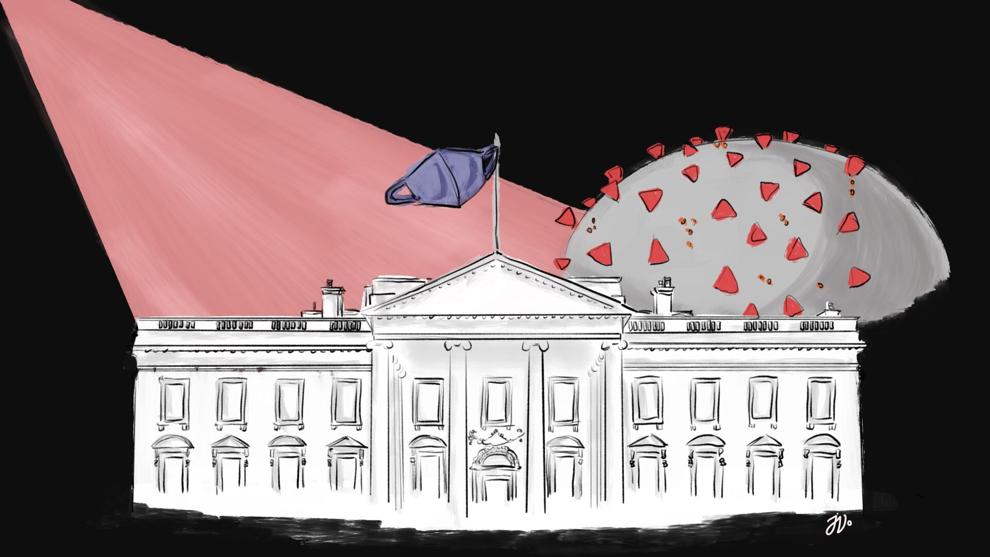 A poor response to the COVID-19 pandemic has left the United States disproportionately affected. Americans, who make up 4% of the world's population, account for 23% of the world's COVID-19 cases.
A study co-authored by Ben Brunjes of the UW Evans School of Public Policy & Governance, discussed the many faults in the U.S. government's response to the COVID-19 pandemic, and how they can be avoided in the future. 
The pandemic is a unique crisis in many ways, with unprecedented duration and scope. This put world leaders in a difficult position. Nonetheless, researchers agree that the United States' response was lacking.
Through examining three other crises in the United States — 9/11, H1N1, and Hurricane Katrina — researchers found three main areas for improvement: accountability, efficiency, and equity.
An important component of disaster response is procurement: the process of buying the necessary goods and services needed to accomplish an organization's goal. This was especially difficult in the United States due to fragmentation in both the government and the healthcare system. 
"Fragmentation, in this context, means sort of the ways that our systems are decentralized, that our systems are broken down into parts that allow for decision-making outside of the central level," Brunjes said.
Although fragmentation is not always a hindrance, it was problematic in the response to COVID-19, according to Dr. Sawsan Abutabenjeh, a co-author of the study.
"With the federal government falling short in the response, subnational governments — which is local and state governments — have been left to initiate and coordinate their own responses to COVID-19," Abutabenjeh said. "That really created confusion, created so many problems in the procurement process, because the state and local governments are now competing against each other to get those supplies."
These difficulties were worsened by the Trump administration's propensity for conflict. When the COVID-19 crisis began, tensions between federal and local governments were already high, making it difficult to coordinate a national response.
Trump's spread of misinformation and competitive approach to politics were also obstacles to an effective response, according to Brunjes. For the Biden administration, things are going more smoothly, although that is partly due to timing.
"Biden was lucky to take over a government where there was a vaccine ready to go," Brunjes said.
Public values are often overlooked during emergency responses. When an emergency happens, the first priority is to save lives. To do this quickly, a lot of red tape and regulations are removed, and values like equity and accountability may be ignored.
Normally, government procurement involves set-aside programs, which give preference to businesses owned by women, minorities, and veterans. These have largely been disregarded in the pandemic response.
"It often occurs that in the moment of disaster, we don't have a minority-owned vendor to hire, we don't have a woman-owned vendor to hire, so we go and we hire Pfizer, or we go and we hire the Red Cross," Brunjes said. "What we argue in the paper is that we need to spend more time now, planning for future disasters and building relationships with women and minority-business owned entities."
Equity has been a huge issue in the pandemic, with people of color being hit the hardest and having less access to the vaccine. Planning ahead to include these minority groups, and truly prioritizing equity, according to Brunjes, is essential for the success of the next emergency response.
"Until we recognize the importance of vendors, the importance of businesses in our government response, we'll never get much better," Brunjes said. "So I'd say that recognition of the importance of procurement, and the role of procurement in disaster response is a key takeaway."
Abutabenjeh highlighted centralization as a key improvement needed, and offered a potential solution.
"If we have this e-procurement platform centralized for agencies, for suppliers to go and find information — who needs the service and who provides the service or sells that product or services — that we all can go and find it, so that will be very helpful in terms of centralization."
The researchers agree that there is hope for future emergency responses, especially if we learn from our mistakes.
"In the years that followed [9/11], the Department of Homeland Security really rewrote the way that America responds to disaster, in a way that you see making a pretty big difference in Katrina and in other following disasters," Brunjes said. "We note that it is important and possible to learn from the mistakes in a disaster."
Reach contributing writer Samantha Ahlhorn at news@dailyuw.com. Twitter: @samahlhorn
Like what you're reading? Support high-quality student journalism by donating here.