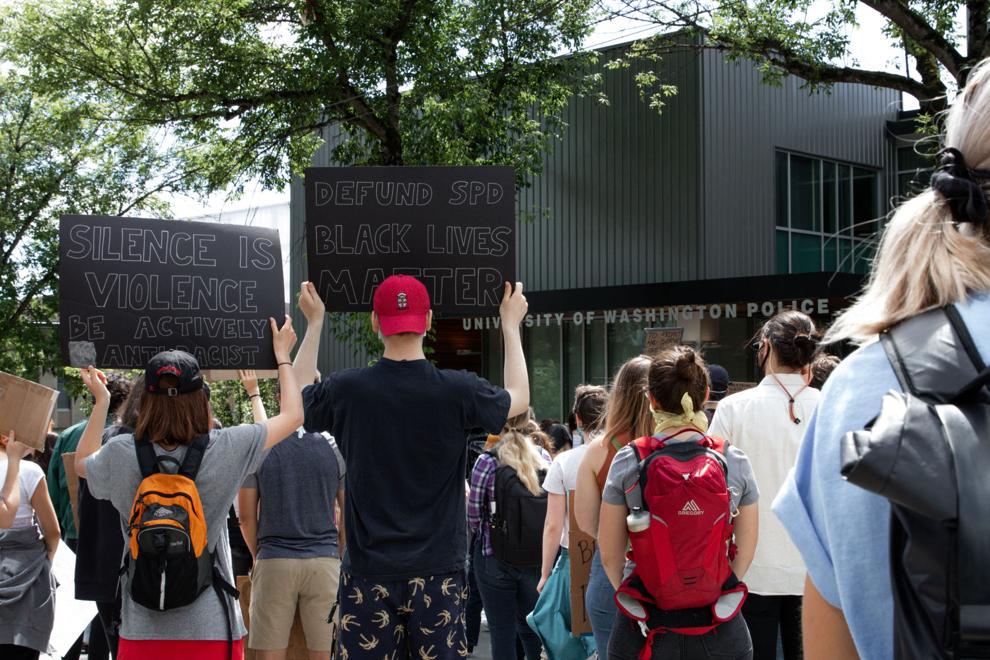 After several weeks of organizing by Black students, UW affiliates, and community members, pressure is mounting on President Ana Mari Cauce to meet demands to disarm the UW Police Department (UWPD) and cut ties with the Seattle Police Department. It's one of the many demands launched by UW's Black Student Union (BSU), as well as a broader coalition of Black students, faculty, and community members.
Cauce has been met with backlash by those who say she has downplayed the UW's relationship with the Seattle Police Department (SPD), as well as her power to change it. 
In a Board of Regents meeting this month, Cauce said that her power to meet the demand is limited, as the UW has no contracts with SPD, and that any partnerships are informal. UWPD's 2019 Security and Fire Safety Report, however, paints a slightly different picture. 
According to the report, "the UWPD maintains a close working relationship with the Seattle Police Department"; the departments "communicate regularly" at the scene of on-campus and off-campus incidents; detectives from both departments collaborate on joint investigations; officers occasionally have joint trainings; and the departments have written mutual aid agreements. 
"We have to make sure we're taking [the] administration's comments with a grain of salt," UW BSU President Mahilet Mesfin said. "Quite honestly, they have reasons as to why they're hiding this. They're hiding their relationship with SPD."
In the past, UWPD has partnered with SPD in efforts such as the U Way Project, which targeted loitering in the U-District. The project got pushback from the ROOTS Young Adult Shelter for disproportionately impacting people experiencing homelessness and giving them no place to safely exist in the neighborhood.
Many demands made by Black student groups are not new. Calls to disarm UWPD are familiar to those who were on campus in 2016, when a Seattle Central College student was arrested while on a tour with a Black academic adviser who told colleagues his students were profiled and humiliated. The demand for the UW to hire more Black faculty dates back to the '60s and has yet to be meaningfully met.
The push to cut ties with SPD, however, is a more recent development, inspired by the sustained protests against the department, during which SPD has aggressively used crowd control weapons like tear gas and rubber bullets against demonstrators. SPD also remains under a federal consent decree after an investigation raised concerns about racially biased policing and the use of excessive force.
UWPD also has a spotty history when it comes to transparency and officer conduct. Last year, two UWPD employees were arrested in Las Vegas for domestic battery, which was followed by a department-wide gag order.The same year, then-chief John Vinson stepped down just days before the release of an explosive independent review, in which employees described his "coercive, micro-managing," and retaliatory leadership style. 
Vinson continued to work at the UW, as the assistant vice president of campus and community safety, before his time in that position ended in late April.
After hearing from a panel of students, faculty, and alumni (including the high-profile advocate Nikkita Oliver) representing Decriminalize UW, Cauce seemed unwilling to meet the demands.
"We're not talking about 100% disarming the police," Cauce said. "[And] we cannot bar SPD from our campus. And quite frankly, we wouldn't want to." 
She did, however, consider the idea of sending out student employees instead of armed officers to reports of bike theft — one of the most common incidents on campus. 
But Cauce's moderate approach was met with pushback from regents. 
"I would be much more of a proponent for compromise or meeting them halfway if this wasn't overdue," Regent Blaine Tamaki said. "I do think you're empowered and enabled to think out of the box."
Regent Constance Rice echoed Tamaki's sentiments, urging Cauce to take bold and strong action.
Cauce cited several institutional factors limiting what she could do to reimagine campus safety, including the legal process of bargaining with UWPD's union. 
"If we do reach an impasse, they bring in an arbitrator who makes the final decision," Cauce said. "So it is not 100% in my power to say, for example, we will disarm you."
This sentiment was also met with pushback from Tamaki and students.
"We can also ask for the laws to be changed or the rules to be changed," Tamaki said. "I know you have a lot of constituencies to satisfy, but the most important constituent to me is the constituency that appeared this morning."
Sunya Kedir, a member of the UW chapter of Black Lives Matter, expressed similar frustrations, saying that Cauce is understating her own power and hiding behind institutional structures to avoid meeting demands.
"If she doesn't have the power as the president of the university, I know for sure she knows who does," Kedir told The Daily. "I'm pretty sure you know who the supervisor is, whose job it is — so why not use that information you have, which we don't have, to get in the room with those people and get it done?"
Some feel the administration is trying to exhaust and distract student organizers from their primary goals. For example, Mesfin and BSU vice president of campus affairs Navon Morgan described how Cauce has brought Black administrators to meetings instead of the specific administrators who can implement structural change — a move they see as weaponizing Blackness in order to avoid addressing legitimate concerns.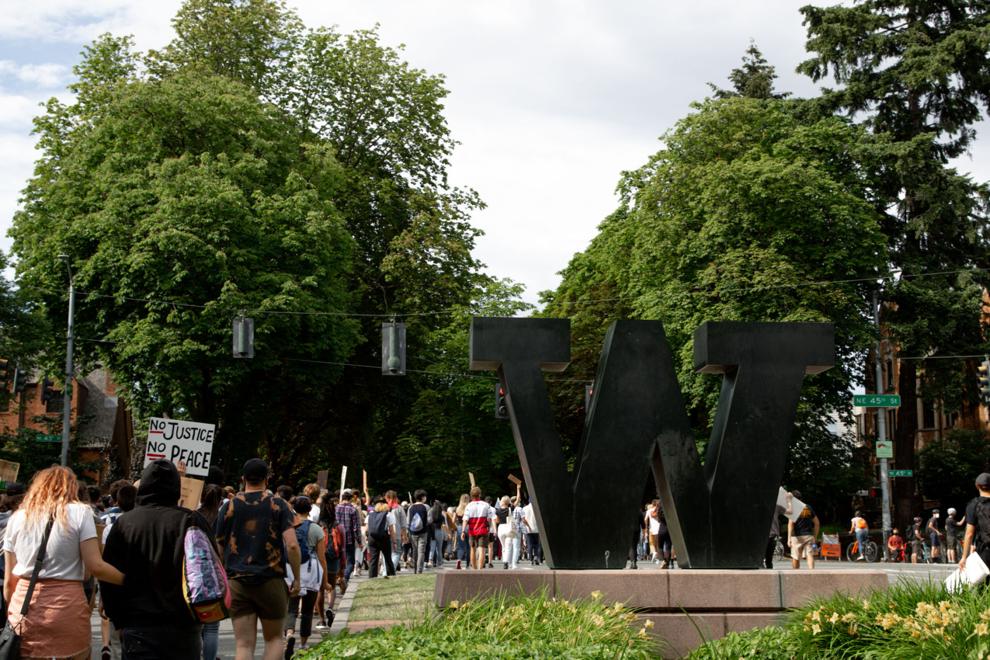 UW spokesperson Victor Balta pushed back, stating the faculty members included in meetings have "some direct authority over various decisions captured in the BSU demands," and that the provost, who was absent in past meetings, will attend any follow-up meetings on policing.
Representatives from the BSU and the African Student Association also described the recent creation of the Black Opportunity Fund as a short-term solution that fails to address structural racism at the UW. In an open letter about the fund, Cauce and vice president for Minority Affairs & Diversity Rickey Hall wrote that the donations-based fund was a result of "leadership conversations with the Black Student Union and Black faculty and staff, listening and learning where support is needed most," but Black student leaders say their advice on the fund was disregarded before its launch.
In an email, Balta contended that the fund was not created as a solution to systemic racism. 
"The fund's aim is to support our Black students by acknowledging the harm that systemic racism has on the Black community, take action to address these inequities and injustices and fund a strategic agenda that meets immediate and ongoing needs of our Black students, faculty and staff," he said.
Organizers are frustrated with how conversations have gone, and Morgan is skeptical that another meeting with Cauce would be productive.
"We're supposed to be this ultra-liberal city," Morgan said. "Not this regressive area of having this violent police force that is ten times the size it needs to be, handling issues it shouldn't handle."
This article has been updated to include further details.
Reach Reporter Claudia Yaw at news@dailyuw.com. Twitter: @YawClaudia
Like what you're reading? Support high-quality student journalism by donating here.