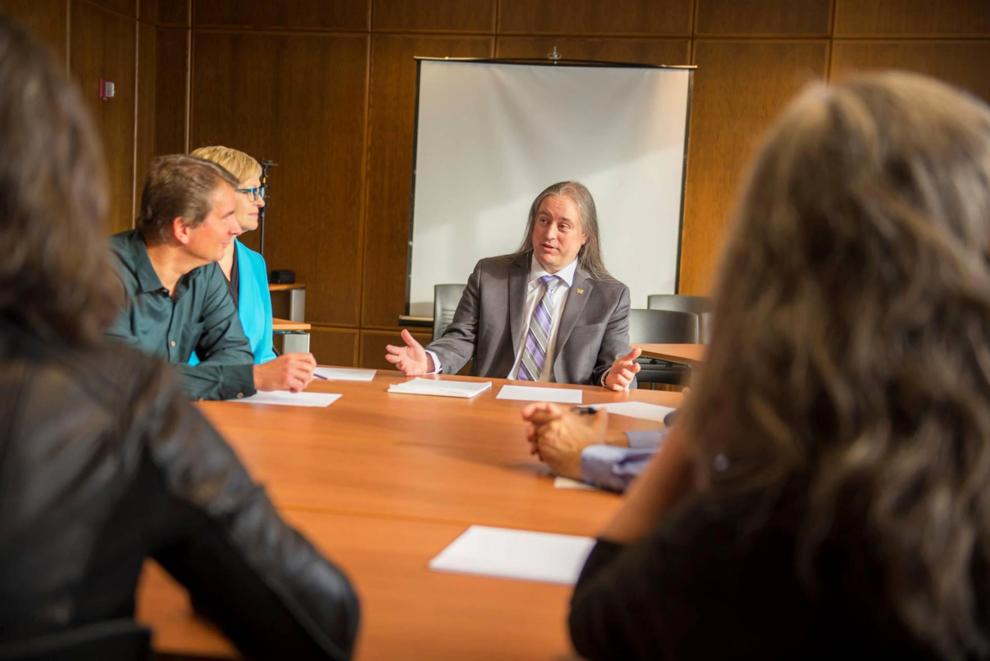 The first thing that comes to mind to most people when they think of the UW is that you only stay for four (or five) years to earn your undergraduate degree, and some may come back for a masters or even doctorate degree. The UW Continuum College tries to show students how they can reconnect with the UW all throughout their life by providing professional degree courses, certificate programs, and non-credit courses meant to help prepare students at whatever point they are at in their careers.
Many students may cringe at the thought of staying or coming back to the UW after graduating, but Rovy Branon, vice provost for UW Continuum College, says the college plays a critical role in a person's educational and career development.
"I think we're in a different world today," he said. "All of higher education is thinking about this. A new term of art is to help people understand it's no longer a two-year or four-year or masters curriculum. We have to think in terms of a 60-year curriculum."
That may come as a surprise to some students who question if the UW is preparing them enough for their careers or if there's an assumption that many will come back for more education. But Branon explained that the working landscape is simply changing so fast that students who enter the workforce through one job may decide that they want to switch later and may decide to come back to the UW.
He said some students say, "I have a great job but it's a startup, and it's not going to make it so I better re-tool so I have broader set of skills." 
Or someone may need a few more skills to be promoted within their current job.
"That could be a specific vertical to move up for example, computer science students needing to learn a new language in computer science," Branon said. "And it's a great partnership between us and engineering because they teach underlying theoretical components in computer science, but they can't possibly teach every language students need to know in the workplace."
Another reason students come back is to learn skills that are not specific to their industry, but nonetheless are important to their job, like project management, which is one of their most popular courses.
"That's a universal set of skills that works almost everywhere," Branon said.
The UW Continuum College has more than 110 degree programs they support and many more certificates that students can earn. The choice might seem overwhelming and confusing to someone who hasn't been in the classroom for a while.
That's where Risa de Gorgue's team steps in. 
"We've added a group in enrollment services," Branon said. "They're not recruiters, they're coaches to help with the complexity of that decision." 
De Gorgue's team helps prospective students determine which courses best achieve their educational and career goals, similar to how undergraduate advisors help students.
She also mentioned the wider role the UW Continuum College has.
"The role we play administering self-sustaining programs, where there is not state funding. Summer quarter being one of those," she explained. 
The UW Continuum College has courses for people across a wide variety of ages, with youth camps in the summer and programs for older adults too.
"Things are changing too fast to think one degree in my lifetime is enough education to last me for the whole time I might be in the workforce," Branon said. 
Reach reporter Emily Gilbert at news@dailyuw.com. Twitter: @EmilyG54321