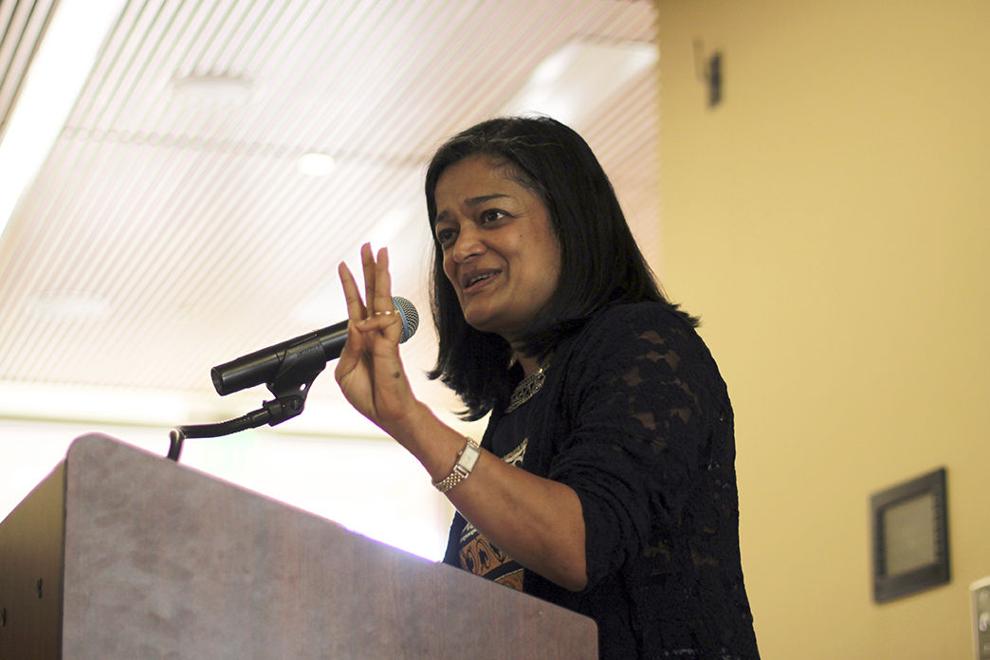 Rep. Pramila Jayapal, the Democrat whose district includes UW Seattle, recently condemned anti-Asian hate and structural racism in the aftermath of the March 16 shootings at Atlanta-area spas and the growing wave of anti-Asian discrimination during the coronavirus pandemic in an online press conference on Friday.
The press conference was held as part of the Stop Asian Hate National Day of Action and Healing, organized by Grace Meng and Evan Low, Democratic legislators from New York and California, respectively.
Jayapal, who was born in India, was joined by a number of panelists, including Grace Huang, director of policy for the Asian Pacific Institute on Gender-Based Violence, and Joon Bang, the president and CEO of the National Asian Pacific Center on Aging (NAPCA).
Jayapal said the conference followed a "very powerful roundtable" with Asian leaders, including state senators Bob Hasegawa, Joe Nguyen, and Port of Seattle Commissioner Sam Cho. 
"And the purpose really was to create a space for us, as Asian Americans, to share how we are feeling, not only in this moment in the wake of the horrific shootings in Georgia, but really as a community that has long experienced discrimination in this country," Jayapal said. 
Jayapal said the Zoom roundtable had identified "many of the major threads" in the discussion, such as gender-based violence, aging, immigration policies, and institutions that minimize hate crimes, such as the media. 
"The early police reports and the media reporting early last week was another example of that that completely erased our experiences of how we face racism," Huang said. "We can't ignore the reality that anti-Asian hate incidents and violence [are] disproportionately impacting women and girls." 
Huang continued that the Atlanta shootings were not an isolated incident, but took place against a backdrop of rising anti-Asian sentiment. Both Bang and Huang cited figures from Stop AAPI Hate that indicated 3,795 "hate incidents" have occurred over the past year, the majority of which were reported by women. Jayapal said that in Seattle, FBI data showed anti-Asian hate crimes had increased by "at least 100%."
Bang also cited a study conducted by the NAPCA and the University of California, San Francisco, of over 5,000 individuals, which found that almost 60% of Asian Americans surveyed felt that the country had become more dangerous for their ethnic group.
"Around the same time, what we also know is that the FBI put out a report expressing that they were anticipating hate crimes against Asian Americans and Pacific Islanders to increase because of the xenophobic and racist speech and language that was being used by the previous administration," Bang said. 
Jayapal said addressing anti-Asian racism "needs to be an ongoing conversation" and called on the media to keep efforts to address systemic racism in the spotlight. Huang argued for "culturally and linguistically relevant" support services and community investment to help prevent gender-based violence and for immigration reform. 
Also present on the Zoom call were Tarul Kode Tripathi, Nicole Vallestero Keenan, and Noriko Nasu, Asian women within the Pacific Northwest who have spoken up about their experiences with racist harassment and violence, and the difficulties they faced reporting it. Keenan and Nasu chose not to speak during the conference, while Tripathi simply wrote "Believe People." in the chat. 
Reach Assistant News Editor Matthew Hipolito at news@dailyuw.com. Twitter: @hipolmat
Like what you're reading? Support high-quality student journalism by donating here.