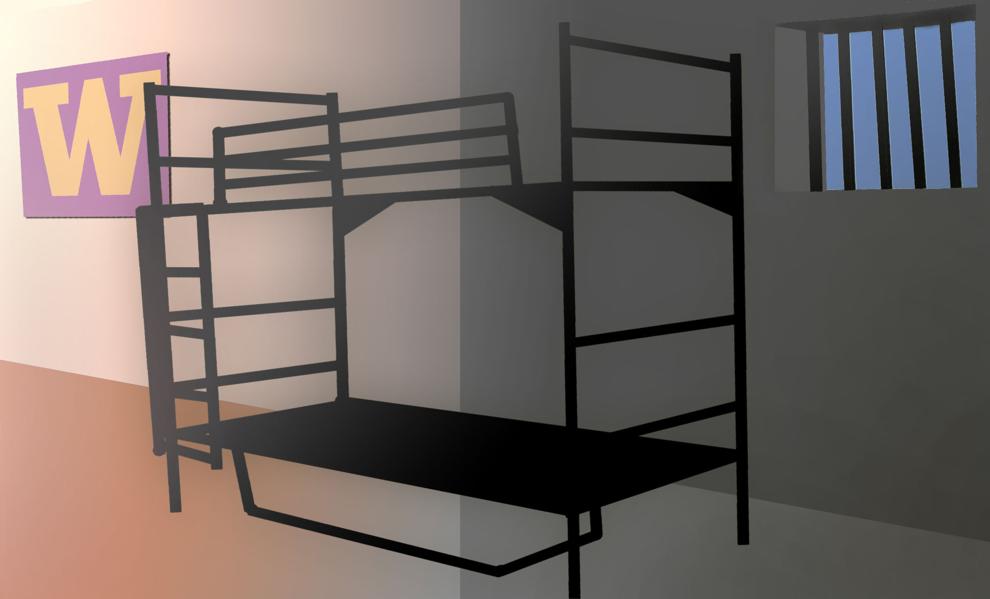 On a hot, breezy late August day, activist Amani Sawari spoke about the injustices of prison labor to a small crowd in Red Square, kicking off a nationwide prison strike. At that time of summer, the campus was practically deserted. Even UW President Ana Mari Cauce was not present when the group dropped off a letter of demands at her office.
According to UW spokesperson Victor Balta, office staff has no record of the letter's delivery and is unable to comment on it. This was but one of several efforts by students and activists to persuade UW administration to divest from prison labor. Three weeks after the official end of the national strike, some students still remain committed to change in the future.
Washington state law requires any public university (or other 'state agencies') to give preference to any supplier of goods produced by an inmate work program. In accordance to this law, between 2011 and 2016, the UW has purchased nearly $7 million worth of furniture from Correctional Industries (CI), a company that contracts with the Department of Corrections and facilitates transactions between prisons and state agencies.
Though Housing & Food Services (HFS) has refused to confirm the specific prison that supplies the UW with furniture, Stafford Creek Corrections Center –– located in Aberdeen –– is the only CI-affiliated prison that produces furniture for student residential living.
The work CI oversees has "class II work program" status, which is recognized by the state as an enterprise designed to "reduce the costs for goods and services for tax-supported agencies."
As of 2011, The Washington State Department of Corrections pays inmates in class II work programs on a gratuity scale, ranging from $0.55 to $1.55 per hour. This low compensation rate allows CI to sell its furniture at a competitive rate that private suppliers of the same goods cannot compete with. In the UW's case, although administrators have always reviewed potential suppliers through a formal competitive bidding process, CI has consistently outbid its private competitors.
The national prison strike was initiated by Jailhouse Lawyers Speak (JLS), an organization formed by incarcerated workers. JLS also crafted the 10 demands of the strike, asking for better inmate pay, improved prison conditions, repeal of racially biased sentencing laws, access to rehabilitation programs, among other things.
"We need to be thinking forward, instead of trying to destroy people," Sawari, who is also a spokesperson for JLS, said. "Our system right now … [should] focus on every individual's development rather than giving this … one-size-fits-all, long-term sentence to warehouse their bodies and exploit their labor."
Sawari graduated from UW Bothell in 2016. As a student, she was passionate about political engagement, but was also unaware of her own school's investment in the prison-industrial complex.
"A lot of students don't know that," Sawari said. "And once students find out, they are disgusted and repulsed by the fact that prisoners' labor is being exploited in order to provide them furniture. So it's very important at this stage for people to become aware of this … [and] also call on the decision makers at the university to say 'we need to divest from prison slave labor.'"
Students on our campus have been aware of the UW's purchasing practices since spring 2016. Over the years, various groups have attempted to convince administrators to divest from CI, but have come up against legal obstacles that stood in the way of effective change.
In early May 2016, the UW School of Public Health sent a letter to the board of regents (BOR), identifying mass incarceration in the United States as a "public health emergency," and urging Cauce to sign the letter in support of divestment.
Both president Cauce and Howard Frumkin, then the dean of the School of Public Health, refused to sign the statement. Frumkin claimed he did not understand enough about prison divestment, while president Cauce expressed her obligation to comply with state law as a limiting factor.
Later that July, the School of Public Health published a memorandum asking the UW to cease purchasing from CI using "all lawful means."
That same school year, the ASUW passed the Black Lives Matter resolution, which –– among other demands –– called for the UW to divest from prisons by the spring of 2017 and to re-invest any profits from prison labor in "students and community members who have survived incarceration."
Protests broke out at the BOR meeting May 12, in which students argued with regents before leaving with no clear resolution. Around the same time, the student group Divest UW posted an online petition for the same purpose, and received 1,182 signatures.
In October 2016, the BOR held a stakeholder meeting to clarify how the UW has purchased furniture from CI and to let student groups express their concerns. Following that meeting, there were no attempts to promote divestment until the fall 2017, when the ASUW passed LD-24-2.
The bill stands as formal student opinion and supports the repeal of various state laws that uphold the UW's investment in prison labor (such as RCW 39.26.250 and 39.26.251).
Ritika Jain, the current ASUW president, wrote the bill after learning about previous student efforts and researching state laws more deeply. The bill passed as a legislative directive, which is a type of document the senate can pass as a guide for student lobbyists to use in Olympia during the legislative session.
This approach was meant to be more proactive. Since there was nothing the UW could do independently, Jain hoped the ASUW could instead collaborate with administrators and state legislators to change the laws. But student lobbyists were unable to cooperate, claiming that because the issue does not directly concern student needs, they cannot lobby on it.
"Furniture is more of an administrative decision than it is something that students are consciously investing in," Jain said.
These days, communication between students and administrators regarding the UW's furniture purchasing practices remains limited. In response to The Daily's inquiries about HFS's business affairs with CI, Balta released this statement on behalf of UW administration:
"We fully recognize the inequities in the U.S. criminal justice system and are proud of the students, faculty and staff who are striving to end those inequities through their studies, scholarship and activism. Public universities and all state agencies in Washington are required by state law to include Correctional Industries (CI) as a bidder for relevant projects. All UW suppliers, including CI, are required to adhere to the Supplier Code of Conduct, which represents the UW's values and mission."
In the two years since the student call for prison labor divestment became known to the UW on a large scale, little tangible progress has been made. Students come and go through the university at such a fast rate that administrators cannot keep up with, but Jain remains committed to seeing through to the goal that students want to achieve.
"I've been told multiple times by faculty and administrators that change is happening," Jain said. "There is some sort of hope that, going into the future, [prison labor divestment] is something that will continue to be on the minds of the administration, of the regents, and lawmakers across the state."
Reach reporter Niva Ashkenazi at news@dailyuw.com. Twitter: @nivaashkenazi