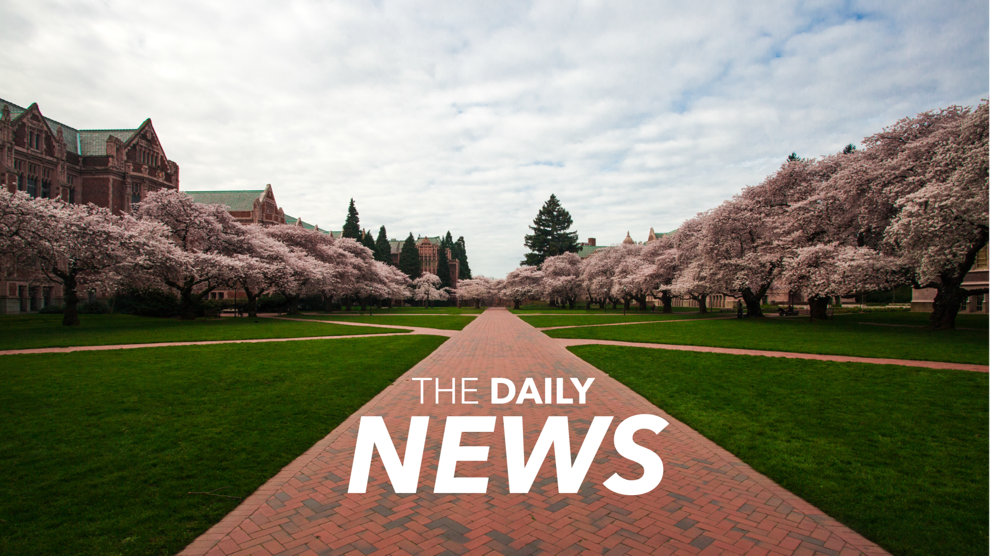 Students elected an array of candidates to top ASUW positions this week, including Mustapha Samateh for president and Kaitlyn Laibe for vice president.
All candidates ran unopposed under an informal ticket, Uplift UW.
Samateh, who said in a recent forum his top priorities include advocating for more equitable campus policies, expanding support for transfer students, and expanding U-PASS programs, won 57.3% (1,026) of the vote. One write-in candidate, Eggman7698, who gained steam on social media the past week as an alternative to the unopposed candidates, garnered 27.5% (492). Several variations of the late Husky mascot, Dubs I, also received over 7% of the vote.
The turnout was just over half of last year's, with only 1,792 votes counted, compared to nearly 3,000 in the 2020 race. 
Samateh is currently vice speaker of the student senate and will begin his term in late June.
Laibe, currently serving as the director of the Womxn's Action Commission, won 67.0% (1,102)  of the vote for vice president. Laibe said she wants to expand support for ASUW employees and update language in ASUW bylaws to "create a more inclusive environment." Laibe will also begin her term alongside Samateh in late June.
Lukas Illa, who was running on a platform which includes expanding access to remote-learning technology and bringing holistic admissions to all departments to combat inequities that arise from the capacity constrained program, won 68.1% (1,112) of the vote to be the next director of university affairs.
Nicole Hishmeh will be ASUW's next director of internal policy, winning 68.9% (1,124) of the vote. Hishmeh's priorities include creating a "hired student defender position" from Student Legal Services or the UW School of Law to defend students unable to provide a lawyer for themselves.
Shewit Alemayehu, an ASUW senator and board member for the Black Student Union, will be the director of diversity efforts next year, winning 69.7% (1,131) of the vote. Alemayehu has said she wants to develop programming to "expand students' perspective of diversity" and increase the diversity credit requirement.
Ruba Ayub won 69.3% (1,114) of the vote for director of programming. Ayub ran on a platform focused on increasing "representation of marginalized communities by addressing organizational inequities and accessibility gaps," and facilitating an easy and safe transition back to on-campus learning. 
Geeta Iyer will serve as the newest director of community relations, focusing on increasing collaboration within the Greek Community, and increasing accessibility to off-campus housing. She won 69% (1,124) of the vote.
Michael Saunders, who recently said he hopes to reduce the university's reliance on the UW Police Department (UWPD) by expanding mental health responders and support, will be the next director of campus partnerships. Saunders earned 69.2% (1,117) of the tally. Saunders is also a co-sponsor of a recent senate measure calling for the UWPD and UW to break all ties with the Seattle Police Department.
No candidate won over 70% of the vote, despite all running without declared challengers. Except for the president and vice president, all newly-elected board members will take office in the fall.
Assistant News Editor Annie Denton contributed to this report.
Reach News Editors Ash Shah and Jake Goldstein-Street at news@dailyuw.com. Twitter: @itsashshah @GoldsteinStreet
Like what you're reading? Support high-quality student journalism by donating here.