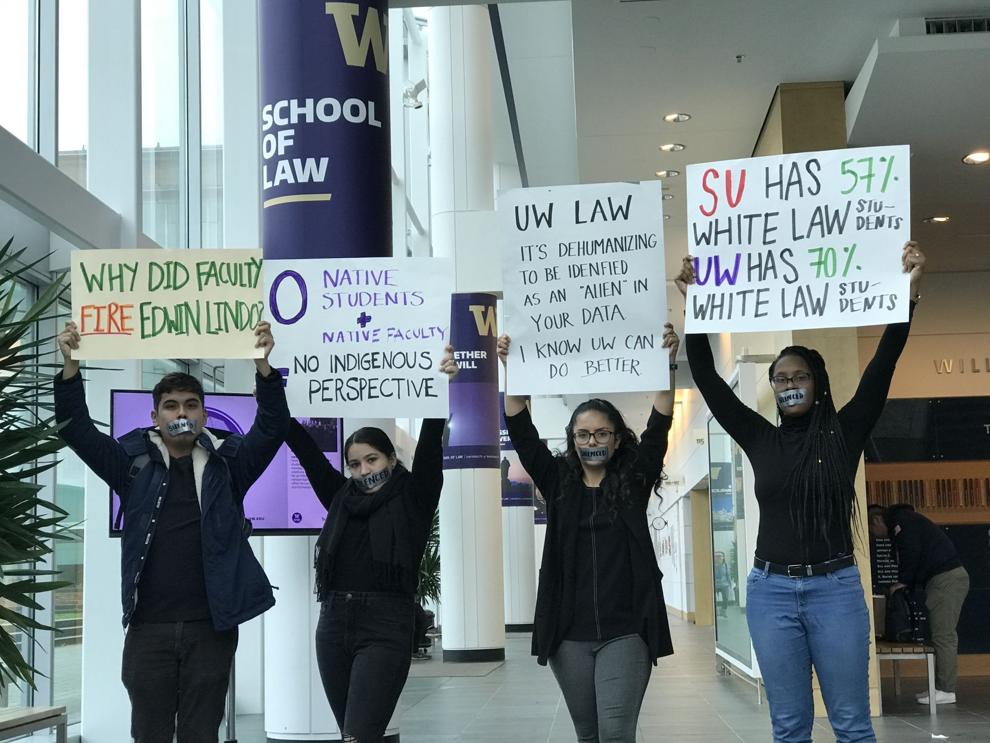 As the UW School of Law celebrates its seventh annual Diversity, Equity, and Inclusion Week, students continue to clash with Dean Mario Barnes and his administration over their response to demands for a more representative law school program.
At the start of the quarter, first-year law students (1L) held a demonstration at a seminar to demand a more diverse student body, faculty, and core curriculum. 
Participating students wore black clothes, held protest signs, and wore tape over their mouths with the word "silenced" written on it. Many second and third-year law students (2 & 3Ls) skipped their classes to attend in solidarity.
For students in the UW's three-year law school program, the one credit "Introduction to Perspectives on the Law" seminar that the students chose for their site of protest is the class where they can learn a basic framework for understanding the relationship between race, class, gender, sexuality, and the law. 
The four organizers of the demonstration — 1L students Cristina Rodriguez Rico, Wendy S. Martinez Hurtado, Christian Santana,  and Marcena Day — in partnership with the UW Chapter of the National Lawyers Guild, demanded a stronger student voice in hiring, more professors who are people of color, and critical race theory training.
"The fact that we're asking for a better quality of education is not just for us," Martinez Hurtado said. "But it's literally for every student on campus. It impacts everybody."
Jagdeep Sekhon, another student who spoke at the demonstration, added that aside from the Perspectives class, students are only being taught the black letter law with no understanding of how it affects people of color.
"Your clients will come from different backgrounds no matter what area of law you go into," Sekhon said. "In order to address those needs, you have to be able to understand those problems in the first place."
These issues are not uncommon in the UW School of Law. The seminar course was implemented during the 2016-2017 academic year as a response to student feedback.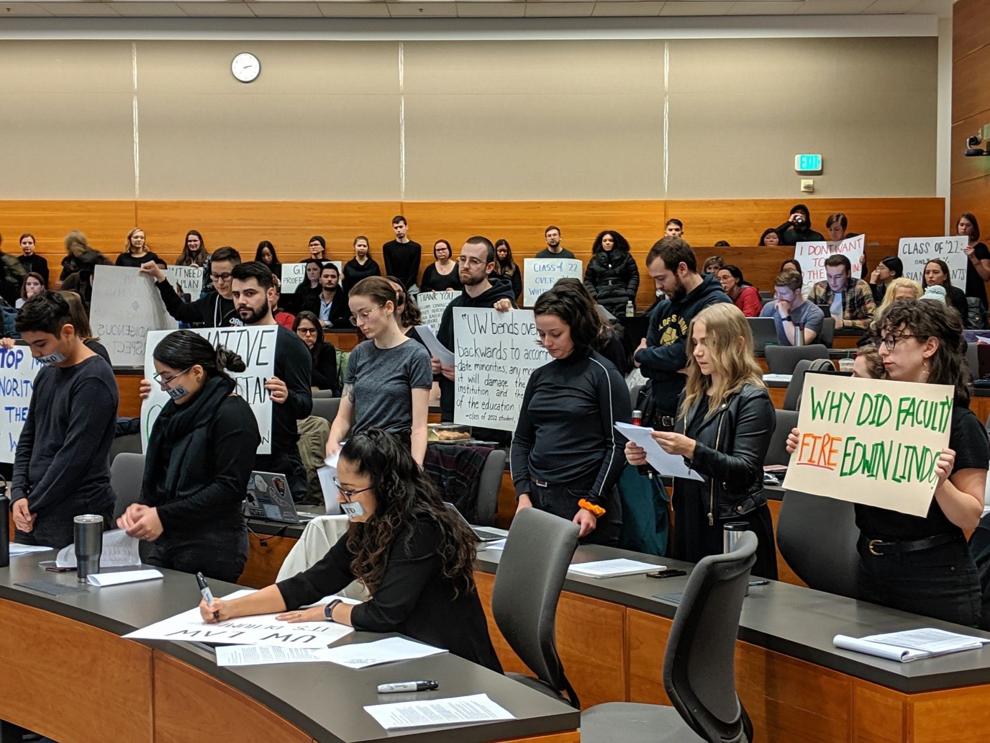 A few weeks after the Perspectives demonstration, a hate message was discovered on a Daily newsstand in the entrance of the law school.
The message read: "WHITE LIVES MATTER MORE THAN 'ANTI-RACISM.' TRUST NO NEGRO"
President of the Black Law Student Association (BSLA) Mary Ruffin felt it could be linked to the demonstration because diversity has been a "big conversation lately."
"It was so targeted," Ruffin said. "I don't think the timing was coincidental."
Ruffin reached out to Dean Barnes to address the issue. According to Ruffin, the idea of hiring a diversity consultant, conducting quarterly meetings with groups like BLSA to foster more transparency, and conducting another UW School of Law climate survey to help determine specific needs are all being explored as potential options.
"The day that message happened, I remember in class my professor came up to me and was like, 'Why aren't you paying attention in class?'" Ruffin said. "No professors even acknowledged it in class knowing that they have students of color, that they have black students. It was extremely hurtful and traumatizing and they just ignored it."
The four students who organized the demonstration also felt like they were being ignored.
"I feel like what they're trying to do is wait us out," 3L student Karla Davis said. "They kind of relied on us not passing down what has happened already in terms of organizing to new students so that they can just pretend it was never an issue."
In a typed letter addressing the students who organized the civil protest, the office of Dean Barnes cited financial challenges as the primary reason why they cannot hire any more tenured faculty, also stating that they cannot make race-based hiring or admissions decisions, per state law.
The letter also addressed the concerns of why only four students who identify as American Indian or Native Alaskan have enrolled in the UW School Law since 2015. "[UW law] engage[s] in many outreach opportunities during the year in an effort to connect with prospective students who identify as American Indian or Alaska Native," the letter said. 
The office of Dean Barnes further offered some changes to the Perspectives course. For example: Including a "much-expanded 3-credit version" of the program and having students choose from classes such as critical race theory, feminist jurisprudence, or poverty law.
But the organizers of the Perspectives demonstration said their offer is not enough. The group agrees that giving students the option to choose from classes may result in many avoiding crucial topics.
"First of all, we can all get that education," Rodriguez Rico said. "And then secondly, with the hopes that when we learn about these things, it can stop a lot of the microaggressions that are going on in class, or that are going to continue once we graduate."
It is uncertain whether any significant changes can be made to the Perspectives course for next year, or to bolster a more diverse student body and faculty. No matter the result, students at the UW School of Law plan to continue to advocate for their peers.
"I really hope that 10 years from now, or even five years from now, when I talk to law students, that they're not facing the same issues that I'm facing, which is something else that pushes me to be loud and vocal, because I want to see change," Sekhon said.
Reach reporter Ray Alfonso at news@dailyuw.com. Twitter: @AlfonsoRaymondD
Like what you're reading? Support high-quality student journalism by donating here.