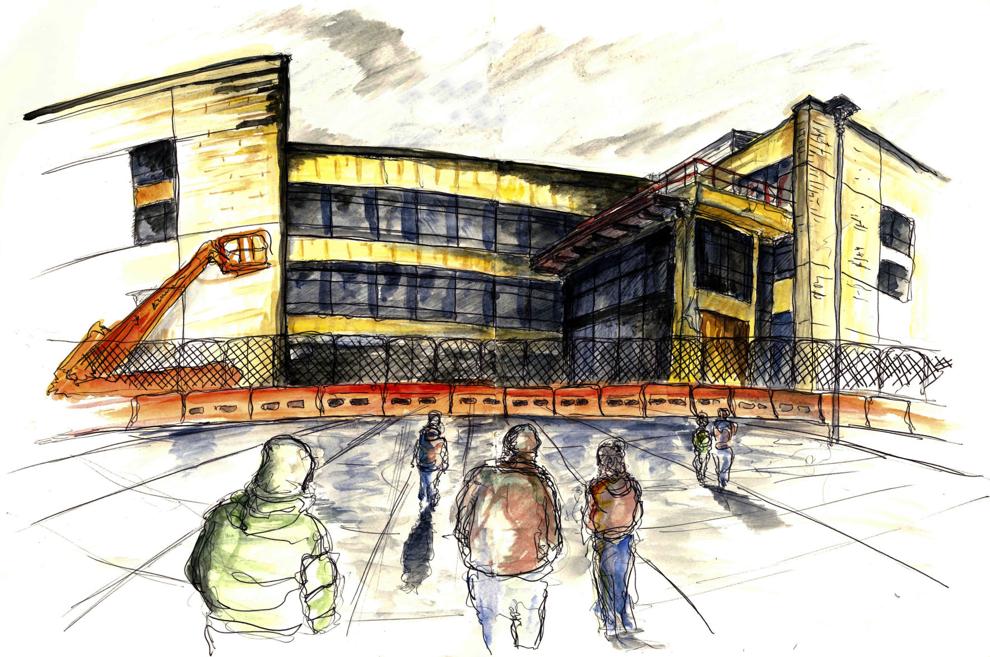 Oloth Insyxiengmay remembers being face down on the ground with his hands behind his back when a police K-9 attacked him. He'll show you the scars if you ask — there is a series of them on his right arm. They range from small shadows to one gash several inches long. When he flexes, a chunk of muscle is still missing from his forearm.
He was 12 years old at the time.
Shortly before the incident, Insyxiengmay and his mother were evicted from their low-income apartment in Tacoma, Washington. He had been sent to live with his older brother, but with little adult supervision, he joined a gang within a Southeast Asian community in Tacoma that warred with the Hilltop Crips, a rival gang associated with the infamous Los Angeles group.
At the time, he didn't understand the institutionalized structures that pitted the two groups against each other. The way they saw it, the culture of violence — pervaded by guns and drugs — was a fight for survival.
"Of course when you have folks with limited resources, and we're all fighting for the same resources, there's gonna be conflict," Insyxiengmay said.
The reality was this: Insyxiengmay remembers being one of the youngest in the gang, but not by much. Insyxiengmay and many others in the gang were young runaway kids. They existed in a gray area, not quite homeless but still severely lacking family and school structure. They were the forgotten kids — no one really cared where they lived or what they were doing until it was time to punish them.
The same year Insyxiengmay was mauled by the K-9 —1991 — the FBI labeled Tacoma the most dangerous city in Washington state. As one Tacoma News Tribune article put it, "In the early 1990s, a war raged in Tacoma. Bullets pierced the air. Dozens of bodies fell."
Insyxiengmay recalls a series of run-ins with the police when he was a young adolescent. Each time the system meant to serve and protect him instead chased him down and drove him further into "running the streets."
Caught up with "gang-banging," he dropped out of school at the beginning of seventh grade and eventually just stopped going home.
Eventually, one of the bullets that swept the Hilltop neighborhood in Tacoma struck Insyxiengmay behind his right ear and came out of his left cheek.
He was in a hangout with his friends when he heard the spray of bullets. He didn't know he had been hit at first. He heard ringing in his ears, put his hands to his face, and when he looked down at them, he saw the blood.
At just 13 years old, Insyxiengmay remembers finding himself in the intensive care unit (ICU) after being airlifted to Harborview Medical Center.
He was in the ICU for a month, his jaw wired shut and a gaping hole in his chest from where the emergency tracheotomy had been performed.
A few months later, he was back on his feet, "hustling," as he called it.
He said he felt invincible.
Within two years, he was in prison for what seemed like would be the rest of his life.
*****
Insyxiengmay is now a junior at the UW studying comparative history of ideas. After over 23 years in prison, Insyxiengmay has been "system-impacted" — someone at the mercy of, and failed by, systems like child protective services, school, prison, or the police — since youth. Nowadays, he's a core organizer for the No New Youth Jail (NNYJ) coalition.
"There's a saying," Insyxiengmay said. "Be who you needed when you were young."
For Insyxiengmay, this would have been someone who understood his numerous challenges: Falling somewhere between two cultures as a refugee from Laos while also living on the edge of being kicked out of school, homelessness, and prison before he was even a teenager.
Insyxiengmay's work with NNYJ focuses on protesting King County's new jail, also known as the Children and Family Justice Center, which is set to open this year. Activists attempted to block the jail's construction, which cost over $200 million, but the Washington Supreme Court ultimately ruled against them late last year.
The jail is being built despite the county's "zero youth detention" goal — a contradiction that prompted intense pushback from activists, Seattle City Council officials, and several UW faculty members.
Omid Bagheri, a clinical instructor in the UW School of Public Health, has worked with NNYJ and has been outspoken about the community health impacts of juvenile incarceration. Bagheri also teaches a class on structural racism in public health in which he encourages students to think about why carceral systems are in place, who they aim to serve, and who they harm. Oftentimes, the harm takes the form of exacerbated homelessness among youth.
Bagheri said that, as a public health practitioner, he has seen the research demonstrate how "marginalized groups, people experiencing homelessness, people with mental health issues, communities of color … are criminalized and policed in ways that also perpetuate health inequities in those marginalized groups."
In an opinion piece published in the Seattle Weekly last April, Bagheri pointed to the health effects of incarceration on kids.
"Youth who've been detained have a three-times higher risk of disease, disability, social problems, cognitive impairment, and early death than non-detained youth," Bagheri wrote. "Black, brown, and Native communities disproportionately suffer from these diseases, just as they experience higher rates of incarceration here in King County. Youth jails perpetuate these racial health inequities."
In response to community pushback against the youth jail, King County Executive Dow Constantine shifted oversight of the jail to Seattle and King County Public Health. Although Bagheri stresses the connection between incarceration and health concerns, he's unsatisfied with Constantine's response.
"A jail is a jail," Bagheri said. "Calling it a public health approach to caging kids is not going to change what that impact is going to be."
*****
As a kid struggling with home instability, Oloth's interactions with the police became routine, with officers releasing him back to the street with no concern about where he went afterward.
"Do you know your way home?" Insyxiengmay remembers them asking whenever he got arrested. "Yes? OK, we're going to give you some bus tokens and you find your way home."
According to Eric Trupin, psychologist and director of UW Public Behavioral Health and Justice Policy, this is typical.
"There's a high percentage of young people who end up being detained when they're having either difficulty going back to their parents' home or to foster care," he said.
In 2017, Trupin was commissioned by King county to write a report on the proposed structure and programming of the jail.
In the report, Trupin called for the county to stop admitting "status offenders" to jail. Status offenders, Trupin explained, include juveniles who miss school days or run away from their foster parents. This practice, Trupin says, creates a cycle of homelessness and incarceration.
The Washington state Legislature passed a bill last year that aims to break this cycle. The law requires the Office of Homeless Youth Prevention and Protection Programs and the Department of Children, Youth & Their Families to develop a plan so that "no unaccompanied youth is discharged from a publicly funded system of care into homelessness." This plan doesn't have to be implemented, however, until December 2020.
Meanwhile, kids are still shuffling between missed school days, housing instability, and incarceration.
"It's an absurd consequence for a young person to be put in essentially jail for not going to school," Trupin said.
Trupin also believed the proposal for the jail is a "much larger facility than is necessary" and called for the jail to be significantly downsized.
"The consequences of being detained or incarcerated are that the kids label themselves no longer as young people who are trying to deal with these problems," Trupin said. "They perceive themselves as criminals."
Although Trupin acknowledges the traumatizing effect that incarceration has on young people, he still believes there is a need for the jail.
"There are times when a young person needs to be in a secure setting," Trupin said. "It should be very rare … but I don't agree that there's no need for any facility."
Activists at NNYJ, however, disagree. Insyxiengmay expressed that Trupin's recommendations only work to legitimize the carceral system.
"You put makeup on a pig, it's still a pig," Insyxiengmay said. "It's the same with prettier or nicer jails."
Instead of trying to improve the existing structure, Insyxiengmay is pushing for the total abolition of the prison system. The prison abolition movement is founded on the belief that the prison-industrial complex (the government's use of prisons for economic and political benefits) is a continuation of slavery and the Jim Crow era.
"When we talk about doing abolition work we're talking about a struggle against a racist pillar that upholds white supremacy," Insyxiengmay said. "[Prisons] don't do anything to address systemic issues that leave people homeless, leave people criminalized, or having to sell drugs."
Whenever Insyxiengmay was caught by the police, discretionary power allowed the police to just tell him to go home. At 15 years old, however, the violence reached a boiling point.
Around a year and a half after Insyxiengmay was shot in the head, he was involved in another shooting. On the evening of August 24, 1994, Insyxiengmay was at what his gang called the "snake house," their regular hangout.
That same evening, two Spanaway, Washington 17-year-olds were driving around the neighborhood egging cars and houses. When they struck the "snake house," Insyxiengmay and his friends said they thought they were being attacked by a rival gang, as was usual.
Someone grabbed a shotgun, two children ended up dead, and Insyxiengmay was sentenced to over 72 years in prison.
From an article in the Seattle Times in 1995, "In the end, a jury decided it didn't matter that 15-year-old Oloth Insyxiengmay was abandoned in the sixth grade and grew up with gangs on the streets." The Pierce County Superior Court jury found Insyxiengmay guilty within a few hours.
"A couple years ago, my mindset was, 'I'm dying in prison.'"
*****
Instead of improving the county's jail, both Insyxiengmay and Bagheri suggest repurposing the institution to better address structural issues within the community. Insyxiengmay suggests turning it into a shelter or a facility to house community-based social services.
NNYJ also supports divesting from the prison system and funding diversion programs instead. One such program is Choose 180, a community-led county initiative that works with juveniles and young adults who have been charged with a crime in order to keep them in school and out of jail.
After attending a Choose 180 workshop, participants' charges are dropped and they receive resources to help them overcome underlying issues that led them to the criminal justice system.
According to Sean Goode, Choose 180's executive director, many of the program's participants have committed "crimes of poverty." For example, Goode has dealt with several UW students who have stolen expensive textbooks from the bookstore. To address underlying issues, Choose 180 can provide individuals with funds to help cover textbook costs or even rental costs.
Goode explained that the program helps individuals avoid their first encounter with the justice system — an interaction that, statistically, leads people back into it.
So far, the program seems to be effective: Between 2017 and 2018, Choose 180 served 245 young adults. Out of that group, only eight have been convicted of a crime since their participation in the program.
"What that proves to me is that that's a room full of underdeveloped possibilities, that simply needed a moment to pause, reflect on the choices that they were making, commit to a new direction, and be given the support to honor that direction," Goode said.
During his work with Choose 180 and as a juvenile detention chaplain, Goode has seen the number of incarcerated kids drop throughout the years. He believes that Choose 180 and programs like it are key to making prisons obsolete.
"I've watched the counts go from the 100s … down to the 40s," Goode said. "So do I think we can get to zero? Yes."
Goode pointed out that most people who end up in prison haven't finished high school — a fact that highlights the correlation between incarceration and a flawed education system.
Suspensions are one major flaw, Goode noted. The punishment leads to learning loss and an increased likelihood of dropping out, ultimately forming a school-to-prison pipeline.
Insyxiengmay himself was suspended several times from his school. The punishment made him feel disenfranchised; as much as he enjoyed school, he felt his teachers didn't care whether he was there or not.
*****
Insyxiengmay was released after 23 years when UW law lecturer Kim Ambrose, leading the Race and Justice Clinic, picked up his case and advocated for his release. After that, Insyxiengmay says he continued his activism work, which he had begun while still inside prison.
Insyxiengmay lived the link between a broken education system, incarceration, and housing instability — his goal is to break it for other kids.
At the UW, Insyxiengmay is starting an RSO to advocate for educational justice. He says he wants to help system-impacted youth envision a future beyond the institutions that failed them.
Insyxiengmay said he has already found roughly 30 students that want to be in the RSO.
"I wouldn't be in school myself if I didn't have connections with faculty," Insyxiengmay said. "Nobody in my family has ever been to college."
He highlighted the importance of being able to see yourself in college, which, growing up, he didn't. "I didn't envision nothing beyond my neighborhood," Insyxiengmay said.
It was hard for Insyxiengmay to navigate the college application system. After transferring to the UW from Seattle Central College, for a while he felt as if he didn't belong here until he decided, "Fuck this shit. I belong here just like everybody else." He hopes to help other kids from disparate backgrounds feel they same way when they envision the UW campus and to start to see themselves here.
Reach reporter Claudia Yaw and Health & Wellness Editor Manisha Jha at news@dailyuw.com. Twitter: @yawclaudia and @manishajha_
Like what you're reading? Support high-quality student journalism by donating here.
An earlier version of this article incorrectly stated that Oloth Insyxiengmay was in prison for 25 years. It was updated on April 29 to reflect that he was in prison for 23 years.
An earlier version of this article incorrectly stated that Insyxiengmay's K-9 attack happened after he and his mother were evicted; it was updated on April 30 to reflect that the attack happened before the eviction. It has also been updated to reflect that Insyxiengmay began his activism work while still in prison, as an earlier version suggested that he began such work upon his release. It has also been updated to correctly reflect when Insyxiengmay dropped out of school.