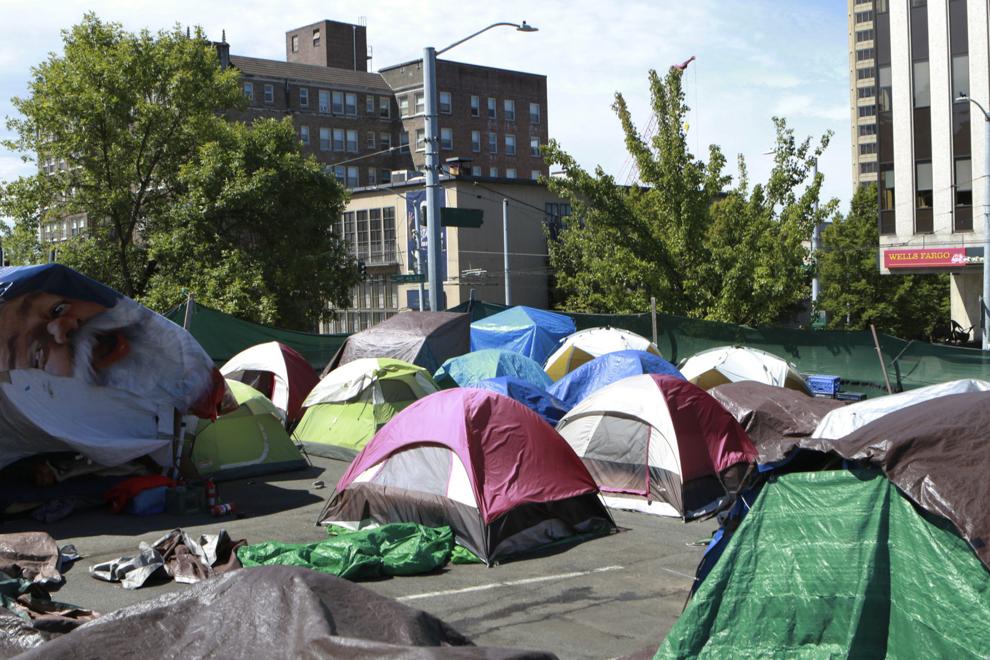 Even prior to the COVID-19 pandemic, Seattle Pacific University (SPU) sociology professor Dr. Karen Snedker had a long-standing interest in studying homelessness, specifically tents. 
"Since I went to graduate school in the 1990s, the issue of homelessness often became indirectly relevant to things that I was studying," Snedker said. "But it wasn't until SPU hosted Tent City 3 for the first time in 2012 that my interest in it became also an academic or a scholastic interest rather than personal concern."
Tent City 3 is a sanctioned tent encampment that is a portable, self-managed community for up to 100 people experiencing homelessness. It is currently located at the University Congregational United Church of Christ on 16th Avenue Northeast. 
In recent years, the number of tents in Seattle has steadily increased. 
Snedker wanted to be able to quantify the amount of tents in Seattle but needed more reliable data. So from April to August 2019, Snedker and a group of seven students began conducting research on the status of homeless populations by gathering data on the quantity of tents within Seattle.
"We literally looked at a paper map and started to highlight," Snedker said. "We used that paper to help us navigate where we'd been and where we hadn't been, highlighting as we went."
Snedker's students did the work of going through every street in the city of Seattle to document the presence, quantity, and geolocation of tents. After finding there were indeed many clusters of unsanctioned tents, Snedker decided to do a resample of just the high-clustered areas. 
"It won't surprise you: The high-clustered areas were along I-5 North and South and a couple of key pockets like the Ballard neighborhood," she said.
The group conducted a second count of these areas in October and December 2019.
Then the pandemic hit.
Due to the health and economic crises induced by COVID-19, tent cities began increasing drastically. Snedker and her students, along with researchers from the UW, did a third count in July 2020 at the same highly populated spaces and found a 50% increase in the amount of tents from the first re-sample to the next count.
"But you do have to keep in mind, the first sample was in the fall and the second was in the summer during a pandemic, which is conflated with better weather," Snedker said. "So I don't suggest that all of that increase is due to the pandemic … You're always going to have higher numbers of unsheltered homelessness in better weather months than you would in a cold month."
With a lot to consider in terms of quantifying the data, Snedker and her group found a few takeaways. 
"One, there are a lot of tents." Snedker said. "Second, there are clear spatial patterns in where the tents are located, and the majority of tents are a part of unstructured, unsanctioned clusters — that is, groups of tenants that are associated with an organization. The fourth takeaway is that it looks like the number of tents is increasing based on the first and the second recount, even if we reduce that based on seasonal variation."
The data from the survey shows homelessness in Seattle was high before the COVID-19 pandemic and became even worse when the public health and economic crises hit. 
But Snedker describes the state of people experiencing homelessness in Seattle as much more of a chronic issue than a crisis. 
"As a city, we are spending a lot of money on this issue, and I'm not sure a lot of residents who are housed and unhoused are seeing all of the benefits of the resources," Snedker said. "And I hope we can move away from seeing these two groups as competing interests. I think that we need to rise above both of those and see this in a more universal way that affects all of us."
Reach reporter Beth Cassidy at news@dailyuw.com. Twitter: @_BethCassidy_
Like what you're reading? Support high-quality student journalism by donating here.