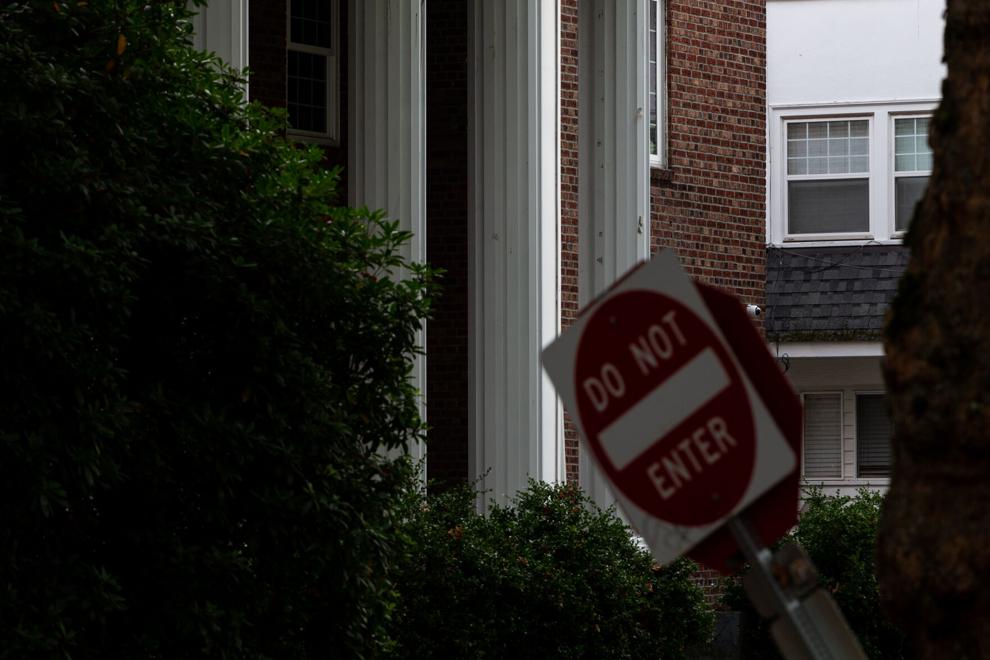 The second coronavirus outbreak on the UW's Greek Row has surged to 212 cases across 15 fraternities and sororities Wednesday afternoon, an increase of more than 30 cases in a day, according to the university.
The outbreak has shown no signs of slowing down after a reported 88 cases in fraternities and sororities on the first day of classes a week ago. The university reported 184 cases Wednesday morning and added another 28 to that total in the afternoon. This surge comes as members of three new chapters have had positive coronavirus tests in the last several days.
There were 117 cases reported Friday and 144 Saturday.
The first cases in the Greek Community outbreak were found Sept. 11.
The university has urged members of the Greek Community for days to get tested through the Husky Coronavirus Testing Program. Since its Sept. 24 launch, the program has conducted 3,107 tests, and 59 have come back positive, as of Tuesday. This amounts to a positivity rate of 1.9%.
Fraternity and sorority members were specifically tested in September upon moving in, with only four cases identified among 1,256 students tested, according to university spokesperson Victor Balta.
Student occupancy in Greek Community housing has dropped from about 3,400 to under 2,000 across 42 chapter houses this fall, according to UW Fraternity & Sorority Life director David Hotz. Over the summer, about 1,100 students lived across 25 Greek Community houses.
Not all of the students who have tested positive live in chapter houses, and some reside in live-out facilities. Each chapter has varying numbers of people living in their houses, ranging from less than a dozen to over 50.
Students and U-District community members have shown frustration on social media and elsewhere with continued gatherings in fraternities and sororities despite strict social distancing guidelines and internal rules prohibiting social events. One student who is immunocompromised sent a letter to UW administration calling on the university to "create harsher consequences" for students hosting parties. 
"Ending these parties before they even begin could save numerous lives," the student wrote in the Oct. 5 letter. 
Students living in Greek system housing are required to wear face coverings and practice social distancing in all common spaces, both inside and outside. 
In a message to Interfraternity Council and Panhellenic members, Vice President for Student Life Denzil Suite and Public Health – Seattle & King County (PHSKC) director Patty Hayes, outlined disciplinary action the university would take if students failed to comply with public health guidelines.
The first of these is an investigation through the UW Student Code of Conduct. Students who are repeatedly reported to be engaging in activities prohibited by university guidance such as parties or large gatherings may be subject to a disciplinary investigation.
"Outcomes of the process may result in disciplinary sanctions which range from reprimand to suspension or dismissal from the University," the message reads.
Similarly, the university and public health department can reach out to landlords of houses that continue to disregard COVID-19 precautions. Threats to public safety can potentially be grounds for legal action.
PHSKC can issue a legal mandate — which can be specific to a fraternity or sorority, or to an individual — to comply with COVID-19 prevention measures. Failure to do so can result in a King County Superior Court Order for compliance issued by a judge.
"This isn't the college environment anyone was expecting, but COVID-19 is a reality we need to adapt to by changing our behaviors and activities for the foreseeable future," the message reads. "We know UW students are up to the challenge. In this coronavirus pandemic individuals, families, communities and institutions are called upon to step up for each other."
The message goes on to remind residents that gatherings are limited no more than "[five] people outside your household unit per week," adding that a "household unit" in the case of fraternities and sororities refers to the group of people in a shared sleeping space, not the entire house. 
An earlier outbreak in June on Greek Row resulted in 154 positive cases across 15 houses in a matter of weeks. The university overall totaled 549 coronavirus cases Tuesday, with 476 students, 63 staff, 10 faculty members testing positive since late February, according to the university's environmental health and safety department (EHS). This number will be near 600 when new fraternity and sorority cases are included.
UW EHS and PHSKC will be hosting two Q&A sessions with sorority members, one Oct. 8 and the other Oct. 13. Both events start at 5:30 p.m. and will be hosted on Zoom.
Reporter Annie Denton contributed to this report.
Reach News Editors Jake Goldstein-Street and Ash Shah at news@dailyuw.com. Twitter: @GoldsteinStreet @itsashshah
Like what you're reading? Support high-quality student journalism by donating here.